Are the low cost dhb R1.0 Road Shoes any good?
The Wiggle in-house brand, dhb have made a name by offering technically advanced equipment at attractive prices. The R1.0 is dhb's entry-level road shoe and comes in white or black (both with red highlights). While it has a limited feature list, it sits at a very attractive price point – currently around AUS $62.
They are a simple, velcro 3-strap shoe with a fibreglass/nylon sole. dhb go to a lot of trouble to claim the internal (i.e. invisible) structure of the sole gives excellent stiffness and power transfer. I didn't cut them open, but I'm always sceptical of such hoopla.
To address the issue, the shoes just don't flex – certainly not enough to be noticeable. And call me a troglodyte, but to date I haven't come across a cycling shoe that did flex enough to be noticeable, even while sprinting at up to 1300 watts. Until I find a "flexy" shoe, I'll remain convinced that most riders simply feel what they want to feel.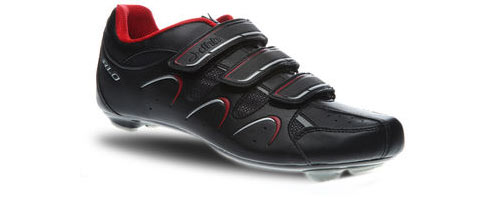 What is important, however, is the fit and feel of the shoes. Having no buckles, it's a little difficult to get strong, symmetrical tightness on both sides. It is what it is and while a ratchet would be convenient, it's still a perfectly tenable arrangement.
As you can see from the photos, these shoes weren't designed with airflow in mind. Being winter, this hasn't bothered me at all – indeed, even in summer I rarely have a problem with hot-foot. However, if you normally do require good airflow, you may find these shoes a little claustrophobic.
I found the shape of the upper quite interesting. The shoes feature a big wide tongue that spreads the pressure from the velcro straps across a large area. In addition, the shoe's upper wraps tightly around the ankle and the top of the foot, giving a snug feel. However, for my foot at least, it was a little too snug. The sides wrap around so tightly that they dig into the front of my ankle as it flexes (see image below). The solution? Well, you could just get used to it (as I did after a while) or you could make sure you don't go too big in size, as I believe this was a contributing factor. Either way, it's something to be aware of.

Some feet may find dhb R1.0 shoe upper too large and find this presses into the ankle
All in all, the R1.0 road shoes represent good value for money. There are few competitors at this price point and the trade-offs are fairly par for the course. If you want, for example, to upgrade to a ratchet system, the R2.0 is available at around $110. However, if you're happy with a shoe that looks nice, seems to be well-built and won't cost the earth, the R1.0 will do nicely.
View Online: dhb R1.0 Road Shoes
6 responses to "Are the low cost dhb R1.0 Road Shoes any good?"