dhb Aeron Race Bib Shorts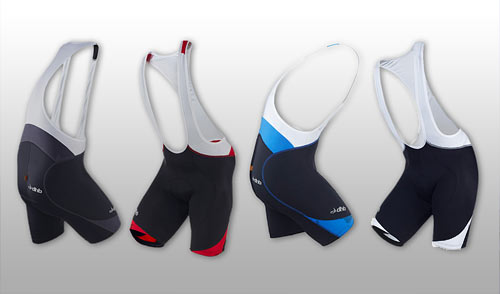 I didn't check the price of these knicks until I sat down to write this review. My honest assessment was that I'd have been happy to pay $120 for them, though I guessed in a bike shop they'd have been around $150-$160. You can imagine how I felt when I noticed the price was well below this. The Aeron Race Bib from dhb sits in the middle of the bib knicks price spectrum at around $74 from Wiggle. If you want the summary, then let's say right up front that these knicks represent fantastic value.
The "Aeron" monicker gives the impression that they are particularly aerodynamic. I don't know if this is actually the case, but even if it was, would the advantage be  significant? What I did notice is that the lycra used in the knicks has a very slick feel to it and there are two side-effects of this.
Firstly, it becomes very easy to move around on the saddle. Speaking for myself, I consider this to be a benefit enabling me to shift my weight around and avoid pressure spots. For others, this may be distracting but you probably already know which camp you belong to. Secondly, in winter the wind whips through them like they're not even there; they are almost unwearable in temperatures below 7 degrees. I suppose, however, that if this was a summer review I would be waxing lyrical about how cool they are. Again, neither good nor bad, just details you don't get from a picture on the internet.
The cut of the bibs are great. For the size of the shorts, the braces are nice and snug – designed for the riding position, not the coffee shop. Otherwise, all the panels followed my body's contours nicely and they didn't bunch or pull while riding. One other nice thing is that they don't strangle my thighs, yet still stay where they're supposed to.
Finally, the chamois is really nicely done. There are thicker ones in the Aeron range, however the high density makes this one very comfortable. It's a good size, too – wide enough but not too big. Again, it's designed to be comfortable on the bike, not necessarily at the cafe.
I highly recommended these knicks and would probably go so far as to extend that endorsement to the rest of the Aeron range, based on the quality of the chamois and the fit of these.
View online: Aeron Race Cycling Bib Short
3 responses to "dhb Aeron Race Bib Shorts"