Book Review: Racing Bicycles – 100 Years of Steel
Published: 8 November 2012
There is a passionate group of cyclists who argue that "steel is real". They have more time for timeless steel racing bicycles than for the latest carbon fibre or aluminium hydro-formed masterpiece. Behind a good steel frame is a good frame builder and good quality steel; this book is a celebration of those classic steel racing bicycles.
The author, David Rapley, is an Australian and this book concentrates on classic bicycles in the hands of Australian collectors. The bikes featured come  from Europe and the US, as well as a healthy offering of Australian bikes as well. This hard-cover coffee-table book is less an encyclopedia and more a collection of bikes and their stories; it's more like a museum in print.
Racing Bicycles: 100 Years of Steel begins in 1902 and continues (over 236 pages) to 1996 where it concludes with a slight deviation from steel, acknowledging the popularity of aluminium and carbon fibre and presenting a few bikes that demonstrate the racing world's move away from steel.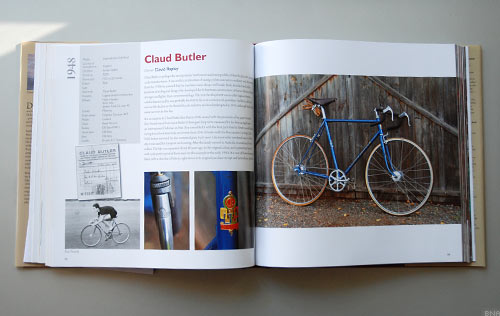 Each bike shown has a small fact sheet that details the bike's origins, model, condition (original or restored), frame size and a listing of all of parts. The author then demonstrates his extensive historical knowledge with a small writeup that reveals details of the brand and the bike; it's informative enough to drag you in, but concise enough to keep your interest.
As you would expect from a coffee-table book, there are plenty of photos. We see each bike in all its glory as well as close-ups of important details, such as the 'cut out' bottom bracket of a Raleigh track bike (which would save a few grams), the artwork on an Australian Team Hartley track bike, and the chain ring and cranks of a Super Elliot (as shown below).
The bikes included are owned by private collectors in Australia and I found that the book's crystal clear photography offered a unique insight into each collector; the bikes are set in scene, on location at their owner's house. Mario Romeo, for example, has all of his bikes pictured in front of a red brick wall, Alan Telfer's bikes are all shot in front of his garage or a grey garden wall, whereas the book's author, David Rapley, presents his bikes in front of a wooden gate.
Modern cycling owes a lot to its history and traditions, and I found Racing Bicycles: 100 Years of Steel to be a fascinating read, particularly because of the Australian context. For collectors and aspirational collectors it is a must-have, for cyclists who recognise beauty in craftsmanship, you will more than appreciate this book.
Racing Bicycles: 100 Years of Steel is published by The Images Publishing Group and is available across Australia in all good book stores for RRP $69.99.
2 responses to "Book Review: Racing Bicycles – 100 Years of Steel"