Mountain Biking in Rotorua: A Ride You Won't Forget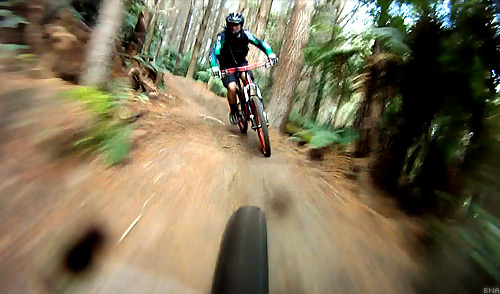 Published: 3 November 2012
After my last road cycling trip to New Zealand, some of my mountain bike friends started asking about mountain biking in Rotorua. When I was invited to return to New Zealand to preview the Lake Taupo Cycle Challenge, I asked about the mountain biking in Rotorua and from there everything fell into place.
There is a direct flight from Sydney to Rotorua twice a week with Air New Zealand, and it's the most convenient flight for road riders and mountain bikers heading to the Cycle Challenge 80km away on Lake Taupo. It's a three hour flight and, as customs in New Zealand are just as strict as in Australia, I made sure all of my gear was clean (that means making sure your bike is free of dirt and vegetable matter). Through the gates, no worries; I was looking forward to getting a taste of Rotorua, home of the World Downhill course and fantastic trails to suit all levels.
My accommodation was 30 minutes away from the hustle and bustle of town, on the fair side of Lake Rotorua, in a lovely lodge called Hamurana Lodge. It is the type of accommodation where the duty manager spots you as you drive along the long driveway, past sculptural artworks, and comes out to welcome you in person. It is authentic and local; their restaurant, for example, sources all produce from local suppliers. All in all, very classy accommodation for a mountain biker.
Early the next day it was off to the Redwoods, home to the two wheeled folk, and not that far outside of Rotorua. When you arrive at the big parking area, although you can't see the trails hidden in the forest, it is obvious that this is the place to be. I dropped into MTB Rotorua to meet my guide for the day and borrow a mountain bike. My guide Jeff set me up on a 26″ full suspension Santa Cruz and in no time and I was heading out to ride.

Mountain Bike Rotorua at the foot of the Redwood Forest

MTB guide Jeff leading the way
The advantage of having a local guide is that you eliminate the guess-work and map reading. Jeff is a rower, and in the off-season works with MTB Rotorua. He guided me through some easier sections first to test my ability. The trails were well groomed and twisted, left and right, up and down through the redwoods. I followed his lead and took advantage of being able to follow his line through the 'cruisey' trails.
Jeff explained that the area is shared between mountain bikers and the logging companies. As we exited the easy trails and started  up the hill, huge sections of recently deforested areas were revealed. When logging begins the trails in that area are lost, but when the clearing is complete, the local trail-makers return and carve new trails.

Your author dismounts to climb a steeper section through a recently deforested area
We decided to head straight for the downhill course. Some mountain bikers opt to ride up along the bitumen road to the start, though a far easier option is to take the shuttle where bikes are loaded and secured on a long trailer and a colourful array of mountain bikers cram into the minibus. There is a broad range of riders from the hard core downhillers with full face helmets, neck braces and spinal protection through to recreational MTB riders, though you wont spot many hardtails up here.

The shuttle drop-off finds Mountain Bikers chillin' before the descent
At the top it was quiet, with everyone waiting for the faster riders to start so that they could avoid holding up MTB traffic behind them. It was soon time for us, and Jeff led the way on our first run down into pure MTB joy. I was a little apprehensive, wondering what lay before me; while confident in my bike handling skills, big air is a different thing.
As gravity took over and the trail descended into the forest, big air wasn't a problem as there were always escape routes for anyone who didn't fancy flying high. The jumps were quite forgiving and you could take them hard or soft. As my confidence grew so did my time in the air. The twisty courses are filled with banked switchbacks and this is where I had the most to learn; my cautious braking sacrificed speed and flow. I call it self preservation, but this demonstrated to me the extreme skill that the professional downhillers possess and the level of confidence that they achieve.

Fast downhill section with jumps and turns
These trails were fantastic. Concentration is key, as a small lapse will have you slip off the edge or slam into a tree close to the windy single-trails. At speed you hardly have time to think; you tackle the current obstacle while looking ahead, ready for the next. Further down the trail kept splitting and I followed Jeff's lead; he seemed to know where he was going. The trail rushed past as we took a final steep curve and drop; as my wheels started slipping in the soft mud I made a mental note to take this faster the next time.
We went straight back up in the shuttle and this time I was in the lead. Though I didn't memorise the trail on the first run, my experience showed and I felt myself getting faster through the tight switchbacks. It was a great feeling rushing down the trails and on a whim choosing to take the path left or right. And then it happened.
I was anticipating the muddy left turn, but when it actually came I entered too slowly. I remember thinking that, at this painfully slow pace, I can take more care. A rock in my path, however, had different ideas; without sufficient momentum, it got the better of me and in slow motion I plunged forward and tumbled over the handlebars. Though it was a soft landing, I couldn't unclip from the pedals and I knew there were five MTBers not far behind. It's all on video so take a look:

Link: HD video with better quality
After the downhill runs we opted to head for some lesser known trails with great views across Rotorua. The downhill had taken its toll on our gear – I was having trouble clipping-in while Jeff's gears were all over the place. This was XC country and we found the way to the top to find young pine trees blocking what would have been a fantastic view over lake Rotorua. There were a few more scenic opportunities further along, though we were here to ride. The trails in this area were tougher; fewer MTBers were about so trails were covered in leaves, pine needles and pine cones. These trails felt more natural as they followed the contours of the land while offering plenty of challenging turns and descents.

A lesser travelled trail with pine needles to keep you on your toes

It is more fun when you arrive fit enough for the ups and downs
We made it back to an area from which trails departed in every direction and this time chose a new trail in a recently cleared area, which Jeff said was his favourite. It was a hard packed single-trail with jumps and berms coupled with an unobstructed view ahead; it lent itself to speed. Descending into the the lower pine forests, we reached a section of gentle trails and started to encounter families on their mountain bikes. The diversity of the trails welcomes a broad crowd of cyclist and offers fantastic variation. As our energy levels and concentration dropped, these broader and windy trails along the forest floor created a nice warm-down before heading back to base.

The easier trails on the lower levels make for a nice finish after a hard day of riding
The MTB Rotorua team were still busy getting hire bikes ready for a stream of new arrivals, though they had time get a copy of my video footage on their iPad. Of course, they took great delight in watching my crash, over and over and over again, but at least I was welcomed with a coffee and chocolate slice. I was exhausted for the day, but the Redwood forests in Rotorua are definitely worth writing home (or an article) about.
Thermal by Bike
For a different type of riding, there is a new 74km cycle trail, starting at Rotorua, which leads recreational and touring cyclists past a number of geothermal hotspots through to Orakei Korako on the Waikato river. The Thermal by Bike trail is one of the new New Zealand Cycle trails and is suggested as a 2 day easy ride. Large sections follow roads though cycle paths and take cyclists comfortably away from the traffic. Rainbow Mountain, along the route, features off-road and downhill trails, though is suited to riders who drive directly to the trails rather that touring cyclists.
Activities in Rotorua
I find it fascinating to watch steam rising from the ground and in Rotorua there is a well known geothermal park called Te Puia. I remember visiting it years ago and was invited there to join an evening event, a Maori Feast. I wasn't sure what to expect,  but found it to be an enjoyable and entertaining evening. The park guides and hosts had so much humour and soul that it was something I would do again. The highlight was the traditional hangi (earth cooked meal), which was incorporated into an unexpected fine-dining experience.
Brand new in Rotorua are the Canopy Tours, and though you might hear the terms flying foxes and swing bridges associated with them, they are more of a nature lovers activity than something for thrill seekers. There is a lot of preparation and anticipation as you get kitted up at their base in Rotorua before being bussed up to a semi-secret location that takes you into virgin forest. This is a slow paced tour that takes the group up into the canopy, moving from tree to tree with ziplines (flying foxes) and suspended bridges. The highlight is a 220 meter flying fox through the tree tops. The canopy tour have been well planned and incorporate a strong conservational aspect. Aside from the beauty of the nature, it is the friendliness, knowledge and humour of the guides that make this worthwhile.
Stay tuned for Mountain Biking in Taupo with the W2K and Huka trails.
2 responses to "Mountain Biking in Rotorua: A Ride You Won't Forget"