In the Heat of Battle: MyTinySun Sport 2700x Mountain Bike Trail Lights Part II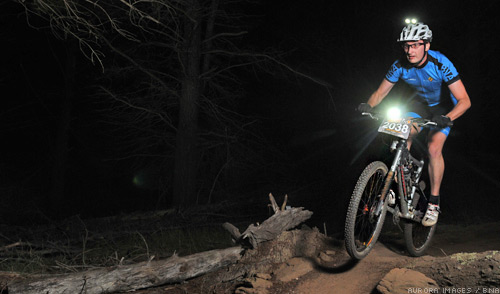 This year's Mont 24hr mountain bike race was totally different from the generally miserable time I had the previous year. Not having to crawl out of a sleeping bag to face 1 degree centigrade temperatures and the wind at 4am certainly helped, but the biggest improvement was made by the MyTinySun Sport 2700x trail light that allowed me to really see where I was going. This update on these lights has been a while coming (the first part, MyTinySun high powered light review, was done in December last year), but giving these lights a proper workout was important, for journalistic integrity and so on, and absolutely not to give me a performance advantage. Honestly.

Previously, at The Mont 24…
In 2012, my then 3-year-old Ay Ups seemed perfectly adequate for the race ahead. They were great for night commuting and the occasional fire trail social night ride I'd been doing with mates. Indeed, the previous year at my first ever Mont, they really did seem fine. It was an unpleasant surprise to find then, come race day, when scooting through the twisty Kowen Forest singletrack, their weaknesses jumping out like a hungry drop bear.
Mounted on the handlebar, the bright Ay-Ups' intense hotspot and rapid drop-off to the sides created a tunnel vision effect. This forces the rider to scan with the helmet light and fill in the gaps between the hotspots and front wheel from memory. I found this very tiring and difficult to maintain at race speed on twisty rerrain.
Sections like Kowalski's Sideshow and Rolling Thunder became particularly difficult at night, with the bar light pointing out into the inky black off the side of the hill around the fast banked hairpins. This left no choice but to use the helmet light on the foreground instead of looking around the corner.
The Ay-Ups just weren't doing it. It was an unpleasant slog. I wasn't sure if I was up for putting myself through that again.

Jump forward 12 months: a new toy arrives
When the MyTinySun light arrived late last year, I felt like 007 getting his new toys from Q before a dangerous mission. My manic work schedule (yes, I have a real job) meant midweek practice trail rides with the new kit didn't happen. Nevertheless, I was quietly confident I had a secret weapon in my hands. For the Mont 24 MTB race in Canberra, the Ay-Ups were relegated to helmet light duties where the hotspot would be handy.

Turning night into day
Come the first night lap, I knew early on I was going well when I noticed how far forward I could plan lines and how relaxed I felt. The full, even beam from the MyTinySun meant peripheral vision could handle the load as in daytime and I no longer had to ride by memory. This set in motion a virtuous cycle. Not being constantly surprised, and being able to stay off the brakes much more when setting up for corners, helps maintain momentum instead of wasting energy. The increased speed and lower effort means flowing lightly over obstacles, if not popping the bike over them altogether, instead of having to grind and bounce my way through every rock garden and mass of tree roots.
Sections like Kowalski's Sideshow that were tricky to ride fast, still required full concentration but were a blast to ride. The Sport 2700x allowed you to see clearly the exit line you were aiming for while still giving you a great view of the foreground and everything to the side and in between. This freed up the helmet light to do its job of searching ahead for what was coming next.
The result was a first night lap that was my fastest of the event: 1 hour 8 minutes-odd, according to the Garmin, on a course two kilometres longer – a massive improvement of 26 minutes over the last year, in the same conditions. This compared well with the elite's night laps at around the 53 minute mark. Not bad for an old fart.
On the second night lap I found myself struggling a little, until I figured out I'd been running the 2700x in half-power mode for the first half. Out of habit I'd dimmed the light to conserve battery on the first long slow climb. In the rush to hit the mode button before arriving at the next fast technical section I had somehow missed clicking it properly.
Back on full beam, confidence returned. Shape-making on the bike and line selection improved and speed through the winding singletrack just seemed to lift of its own accord without extra effort.
A check on the Garmin as I crossed transition showed 1 hour 14 minutes and some seconds. Not at all bad, considering the first half. My last lap, in mid-morning Sunday sunshine, would come in at 1 hour 12 and some cramps. Consistent!

MyTinySun Sport 2700x light beam (on high)

For comparison, Ay-Up V4 Adventure Helmet + Handlebar kit
(Photos: Canon EOS 600D, set at F9 and ISO400 with a 21mm focal length for 15 seconds)

Excellent battery life
Why I felt the need to dim the light on that climb I am not quite sure. My lap times were never going to threaten the 2 hour 47 minute run time on full beam specified on the light's spec sheet. The battery status indicator only just tripped over to indicating 75%  capacity ten minutes or so before hitting the transition area on the first lap, so the spec sheet run time seems quite realistic.
The light head does get more than a little warm on full power when standing still, but even spinning up steep gradients at 6-7km/hr seems to provide enough airflow to keep it no more than warm to the touch.

Mounting hardware that works
Despite spending several weeks fixed 24×7 on my commuter bike, the O-ring light head mount was just as secure on the Easton carbon bars of my race bike on the rough stuff. I shifted the aim up and down slightly a couple of times during the lap to suit the terrain, but this was a plus not a minus.
The Velcro fasteners kept the battery securely nestled up front between down and top tubes, and the cable connectors behaved perfectly.
The connectors are difficult to pull apart, which is confidence inspiring as the last thing you want on a fast rough descent is for your light to suddenly wig out from a dodgy connector. Gripping each connector end firmly and flexing from side to side loosens the connection easily without stressing the wires. I managed to deduce this by studying the plug's design, and this omission is probably the only complaint I would have about the instruction sheet.

With great power…
One consequence of having so much light at one's fingertips is that it imposes a responsibility to be careful with its use. The instructions carry a warning against looking directly into the beam when handling the unit due to the risk of permanent damage to your vision, and they're not kidding.
On one occasion commuting home, after hitting full beam on a fast descent that is periodically prone to having oil sprayed across the kerbside lane by government buses, I came to a sudden stop behind a small hatchback at the red traffic light at the bottom of the hill. The full 2700 lumens fired straight in the back window. An almost instant  "What the hell is that?!" exploded from the driver (I've cleaned up the language) followed by a sheepish mumbled apology from me and my hand quickly covering the light while I bumped the intensity down.
Light Modes
As noted in the race report above, it is still possible to get confused about which light mode you're in. In a race situation stopping to check is not something you prefer to do, and taking one's hands off the bar to dab the button carries some obvious risks! This is no different to any other competitor's light and so can't be highlighted as a disadvantage, rather it's something I would like to see addressed in any MTB light set up.
My other suggestion about the modes involves the flashing mode, or rather the lack of a regular one. The only flashing mode available gives you an SOS morse code signal that cannot be disengaged without unplugging the light. It is obvious that MyTinySun are not aiming this light at the city commuting market, rather it is intended to attract the serious mountain biker or back-country rider. Having a light that can be more useful on commutes, however, would help to justify its price.

Conclusion
My experience at the Mont speaks for itself. For their intended use as off-road trail lights, the Sport 2700x really hits the mark. The remarkable light output with a wide and even beam spread changed my riding from grinding and picking my way carefully around barely-seen obstacles, to flowing my way to bettering my night time lap speeds. Even with a whopping 2700 lumens, these still work best in combination with helmet mountain light which can be a lower powered light with a hotspot.
I'm really grateful to the importers for the opportunity to test this light, as I had almost given up on night mountain bike riding. It transformed a challenging, unpleasant and tense experience into the brilliant fun it always should have been, and has restored my appetite for night racing. I can't wait for the next event!
MyTinySun also have handlebar remote versions: Pro 2800x (also with 3 Cree LEDs) and a dual lamp (6 Cree LEDs) called the PRO 3600X. Yes, that's right, 3600 lumens of light. That will burn holes into the landscape!
Great:
• Wide, even beam spread.
• Awesome total light output and punch
• Outstanding run time
• Easy to use
• No "off" phase when switching between intensity modes.
Not so great:
• No flash mode for commuter use
• Easy to dazzle other road users if you're careless
MyTinySun lights are available directly from the Australian MyTinySun website, the Sport 2700x as review retails for $629 the 5.8Ah battery pack.
Photos 1 & 4 expertly taken by, and used with kind permission of, Aurora Images www.auroraimages.com.au, official event photographers for the Mont 24 Hour Race.
3 responses to "In the Heat of Battle: MyTinySun Sport 2700x Mountain Bike Trail Lights Part II"