Blinded by the light – Knog Road 2 Blinder
"Blinded by the light – wrapped up like a douche you know the river in the night"
Well that's what I thought I heard in the classic song made popular by Manfred Mann in the 70s. Those lyrics, and Bruce Springsteen's actual ones, came to mind when I was trialling the Knog Blinder Road 2, and the real lyrics make much more sense in context: Blinded by the light, revved up like a deuce another runner in the night. Picture it, a red hot cyclist blazing through dark streets with the Knog Road Blinder lights front and back – a runner in the night, indeed!
The Blinder series was first released as bright squarish shaped lights that were USB rechargeable, you can read my original review of the Knog Blinders. The Blinders had evolved from the pioneering Knog silicone type lights to LEDs incorporated in an anodised aluminium housing, and the much loved silicon straps for fastening evolved into a clasp. When I visited Knog Headquarters last year I saw an early prototype of these new lights and was eagerly awaiting their release. The Road 2 Blinders arn't just a tweaked version of the original Blinders, instead they have been created especially for road cyclists, and the resulting product puts Knog ahead of the bunch in this category.
Typical bike-lighting for road cyclists is either high-powered lighting in two parts, the compact head unit and the bulky battery pack, or long torch-shaped lights that mount on the handlebars. Knog have done their magic in rethinking the entire setup and have integrated the battery inside a compact and lightweight unit complete with two light beams, which mounts easily while looking and feeling good.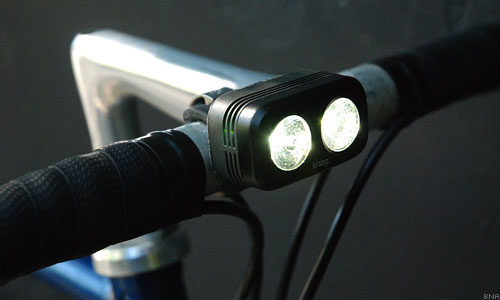 In terms of light power – I would regard this a semi-high-powered light with its 200 lumen output (depending on the mode). It is bright enough that you don't want to look straight into the beam, and other traffic won't overlook you either for being too dimly lit.
Whether this is a light for seeing or just to be seen will depend upon where and when you ride; in brighter areas with city lights and street lights its impact as a light to see is not as high as in pitch-black conditions. Yes, you will see more if you have previously just relied on simple LED flashing lights and this will give you enough light to see the obstacles you need to see for general road riding. It makes the Knog Road 2 Blinder an all-rounder – and well suited to the average road rider and riding conditions. If you are buying a light because you really need to see then you will be better-off choosing a higher powered light with external battery pack.


It is all in the details
Operating this light is fairly intuitive, though you will probably need to play around with it – a long press on the left button turns the light on and then it toggles through four modes. The right button toggles between high/low power and in combination gives you eight light modes including single beams, dual beam and flashing options. I generally don't change light setting while riding, and operating this with winter-gloves is a bit tricky, but for me it is a non-issue. A long press on the left button turns this light off again.
Next to the buttons are coloured lights that indicate whether you are in the high powered (blue) mode or the low powered (green) mode. A low battery charge is indicated by a seperate red light, and when it becomes fully charged the red light turns green so you know it is finished. The buttons and indicator lights are conveniently placed on the top and are viewable with a quick glance while riding.
The best thing of all in this dual LED light is a light mode that I have been waiting for for so long: the steady and flashing mode combined. I am convinced that, in combination, the blinking LED gets you noticed by other traffic while the steady LED gives other traffic a perception of your speed and distance. In my opinion it's a much safer lighting option, but required two separate lights on your bike, until now.
In addition to the separate light modes, Knog have cleverly built in two beam patterns. The left and right LED and reflectors differ to give you a narrow and a wide beam. This is quite subtle, but it means that if you are using the single beam options, you can choose the narrow beam to better see the road ahead or the wider beam for a softer spread of light.
The Road 2 Blinder sports the same type of USB connecter as the original Blinder, that is, the same one I complained about in my other review as it can become difficult to plug in when you have limited access to your computer USB ports. Knog now deliver a small extension lead that solves this problem – well done Knog.
The Road 2 Blinder is waterproof, which is to be expected nowadays, and it is lovely to watch it flashing away submerged in a glass of water. I tested it for four hours until the battery ran dead, and it recharged and worked with no problems.
A helmet mount accessory comes with the light but, quite frankly, the blinder is better suited to the handlebars. If I needed something on my helmet for road cycling or communting it would be a secondary light, such the silicone Knog Frog strobe.
As this is best suited to handlebar mounting, and some cyclists have thicker handlebars, Knog deliver two detachable straps. Changing the strap over required a disconcerting amount of force, it felt more like a brutal effort. For fear of permanently breaking it, I first tried more gently, but enough that my fingers hurt. It does say PUSH but it was unclear whether this meant push-down, push-across or press. It isn't obvious at first but after you have succeeded once, it is a cinch.
One of the advantages of the removable strap is that this is the part of the light most prone to breaking. On the original 4V blinders that I reviewed,  the silicone fastener split, which was disappointing as it rendered an otherwise perfectly fine light useless. With this removable strap, I can imagine that if it ever becomes worn or split that Knog can deliver a new one.
[Update – please read the updates on the straps below]

Lighting Up
On the road this is a good light; it mounts easily and quickly and in my favourite mode (steady/flashing) it was bright enough that other traffic were generally courteous. With a bright light I notice that other vehicles take a bit more care around me and often wait for me to pass before pulling out dangerously from a side road ahead of me.
With the earlier 4V Blinder GT  light, I found it irritating that the edge of the flashing light was in the field of vision. The Road 2 Blinder thankfully doesn't have this problem and occasionally I would run my hand in front of the light and catch the beam during daytime riding to confirm that it was still on.
The run-time however was disappointing  – on full-beam (two LEDs) I had just over 1 hour and on half-beam I got 2 hours, which is a bit short for average weekend rides. Strangely, the single beam run-time was identical to the dual beam run time, so you couldn't extend your riding time just by switching from dual to single. Well, all this really shouldn't matter to me as I would stick to my favorite steady/flashing mode which is meant to have four hours of run-time. Great, I thought, until after a weekend ride when I arrived back home and wondered why the light was off… and how long it had been off.
I decided to test this out and discovered that the steady/flashing mode runs for just under two hours and then it automatically switches itself to flashing/flashing mode with a total run-time of just under four hours. The website said four hours,  but I have come to the conclusion that it is a communication issue, since the other run times are spot on to what the website said. I would happily accept a slightly larger unit and a few grams more to get three or more hours run-time on the steady/flashing beam. Because of this, the Road 2 Blinder doesn't get full marks.
For cycle commuters with a 1 hour ride, the run-times mean that the light can be recharged at home and at work. The charging time is quite long at four hours, though I don't mind giving this the time it needs to recharge for the advantage of having a semi-high-powered bicycle light. While I would love to see longer run-times, this is still a very compact and lightweight light which a lot of roadies will appreciate and I feel now sets the benchmark for this relatively new segment of semi-high-powered road bike lights. What's more, for $89 it is competitively priced.
High-lights
• Improved USB charging with extension cable
• Compact, integrated, lightweight and good looking
• Intuitive
• Cleverly integrated wide and narrow beam
Low-Lights
• Run-time for the steady/flashing mode much lower that expected
• Run-time for high-beam and low-beam modes are too short

Road R Blinder Rear Light
You would be easily forgiven for confusing the new Road R Blinder rear light with the older 4V version. The obvious difference is a slightly larger LED at the bottom of the Road R Blinder, which is a super-bright CREE LED that will make it impossible for other road users from behind not to notice you. A subtle difference however is that the new light glows along the sides giving you a slightly bigger visual footprint in traffic.
This is a very bright rear light, if you are riding in a bunch you can drop to the back and protect the entire bunch or stay up front and select the steady light mode (which excludes the super-bright LED, so as not to distract your riding partners). My favorite mode has a pulsating effect and is quite different from blinking modes you usually see, though there is also an aggressive super-fast flashing mode that will get you noticed in heavy traffic and will find favour among commuter cyclists.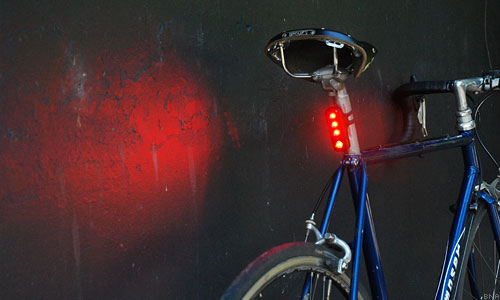 As with the front facing Blinder, this light also comes with a USB extension for charging. It was been designed to mounted well on a road bike, angling slightly when fitted to the seat tube. It is worth noting that the bright CREE LED is angled up and directly points at the traffic behind you so even SUV drivers will see you.
I found the clearance between a saddle bag and the light to be quite good however the clearance will depend upon how much seat post you have exposed. It unfortunately doesn't mount elsewhere such as on a saddle bag or seat stay, and it also prefers a round seat post which means that if you have an aero seat post, you may have a problem.
At $59 it is a pricey rear light however, if you are serious about getting noticed on the road, you will generally be looking at a rear light in the $40 plus price segment. This one is very high quality, convenient and will have a long lifespan.
High-lights
• Ultra bright CREE LED
• Some visibility from the sides
* High quality
Low-Lights
• Only fits on a round seat post – can't mount elsewhere
Both Blinder Road lights come in four colour: gunmetal, black, red and purple. Keep an eye out for the double-pack, which I have not spotted in retail yet, but which offers better value. Further details about the Road 2 and Road R Blinder bike lights on Knog.
Update 05.08.2013
The front blinders are best charged shortly before using them, if you charge and wait a few days then the charge drops so it switches over to a power conserve mode sooner.
A more series problem however is on faster decents, the clasp has unfastened while hurtling down the bumpy descent. Slightly wedged by a a gear cable, it didn't fall off and after attaching again and checking, it then happened again. With larger bars, I have chosen the larger strap and while it is in the tolerance, it is stretched to put the clasp under enough pressure that it snaps open if there is a jolt from the wrong direction.
Update 27.08.2013
The strap has now repeatedly 'unbuckled' itself while riding – it tends to happen riding over bumps rather than on a smooth surface. As much as I like the light, this unfortunately makes it unusable and although my handlebar diametre of 32mm is well inside the 29-35mm range for the long strap, I am guessing that it has to do with fatigue of the silicon where it loses its elasticity. The light was only 'mounted' during use – so was 'on the desk' most of the time. I am awaiting comment on this from Knog.
7 responses to "Blinded by the light – Knog Road 2 Blinder"