The Oakley Experience: Customise your Cycling Sunnies like a Pro
Oakley are really proud of their new in-store sunglass customisation service and said to me "Christopher, you have to check it out". It's really straight forward: colour customisation for your sunglasses. Let's face it, when you go out riding it feels good to look the part, and pro cycling teams colour-match their bikes, cycling wear, sunnies, and accessories; why not you? The Oakley online store offers customisation, but having this available instore makes sense… as you will find out.
Dylan, an Oakley Brand Ambassador, personally greeted me as I arrived at the Bondi Junction O-store in Sydney. At a glance, the entire store presentation is a different world to that of road cycling; urban and industrial, and Dylan and his colleague Liston fit right in. But as I sat down to chat about the new in-store customisation concept, it was obvious that Dylan knew a lot about cyclist's requirements for sunglasses and was on the mark discussing lens selection, fit, and fogging.

Oakley 'brand ambassodors' Dylan [left] and Liston [right]

Good old customer service at the O-store
Up til now, if you were getting new sunglasses in-store, there was a predefined selection of colours and lenses available to chose from. The customisation option was launched in December in the Bondi Junction O-store and customers can build their perfect sunglasses on one of the tablet devices, press the "print order" button, and the staff will then build it up for them. It is pretty straight forward and for the $20 surcharge you get exactly what you want. This doesn't sound groundbreaking, but as I went through the process, I had that "Ah ha" moment (no, not the band). So what happened?
Though Oakley Radarlock Path sunglasses are my preferred cycling sunnies, I wanted to try something different and I remembered trying on some Oakley Jawbones a few years back; the fellow who loaned them to me said they looked awesome. These glasses have a distinctive look and have regularly appeared in the pro tour on the face of Mark Cavendish, Chris Froome, Bradley Wiggins, Thor Hushovd, George Hincapie, and so on in a seemingly never ending list.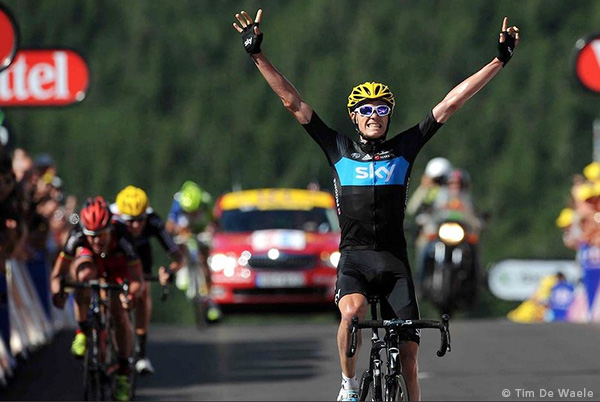 Chris Froome wins 2012 Tour de France Stage 7 (photo © Tim De Waele via Oakley Australia)
This model received a minor design update and a major name change and are now known as Racing Jackets. I decided to turn my back on the classic style wrap around cycling sunnies and go for awesome.

Bicycles Network Australia custom Oakleys: blue, black, white, and a touch of yellow

Pressing "Print Order" sends the staff off to collect the parts for your custom sunnies
Inside the O-store, there is a table of Samsung tablets which let you select the model (i.e. Racing Jacket) and then choose the colours and lens types. I went for BNA colours: cyan/dark blue, black, while, and a touch of yellow. The sunnies would the match my BNA cycling kit and my bike, so when I was ready to proceed I pressed "Print Order" and Dylan went to collect all of the bits.
The glasses are assembled in front of you and when the frame came out I noticed they were quite different a different shade of blue that depicted on the screen. The 'real life' frame colour was much darker and a different tone of blue, plus the lenses were not just blue tinted, rather they were a mirror blue (iridium). The combination just didn't work. A little like microwave food, product images are different from the reality.
And now we come to the "Ah ha" moment; I was allowed to rethink and choose another combination that worked (obviously before the glasses are assembled). I opted for a predominantly white version with orange lenses and cyan coloured dots on the hinge.

The new and improved customised BNA Racing Jacket

Assembly takes about 10 minutes
These are the finished customised sunglasses. Whether or not these sunnies can elevate me into the realm of awesomeness is a matter of opinion. Colour selection aside, the Oakley Racing Jacket is extremely comfortable and, despite the thick frames, the viewing area is far better than I expected.

The final product, not too suble but very fast!

Your author sports a totally new look, is this the beginning of something awesome?

When I am spending hundreds of dollars on cycling eyewear, I want to try on the sunnies first. They have to be comfortable and suit me, so I go to a store anyway. Being able to personalise is a bonus, especially when the sunglasses are assembled in front of your eyes and you walk out with them rather than return days later. In the 3 months that the Bondi Junction O-store has been open, about 45% of the customers choose customised glasses.
This O-store inside Bondi Junction Westfield shopping centre has the biggest range on offer for the customisation service. Although this is a new concept, I assume that it wont be too long before other Oakley stores start expand their 'custom bars' and range. If you want to explore the customisation options online, head to the Oakley website.
edit: updated details on custom bars in other Oakley sunglass stores
Related: