Henty Wingman backpack – suited-up for business
Once I've completed my bi-weekly cycling commute, I become the Chief Executive Officer of a small business in regional Victoria. That means I am one of the be-suited business brigade.  A non-cycling friend recognised the potential of the Henty Wingman while visiting the Salamanca Market in Hobart and picked up a brochure for me. After checking out their website (henty.cc) with their quirky stop-motion demonstration videos, I was intrigued.
The Wingman is a roll up suit carrier for cyclists, with extras. Looking like a traditional suit bag, the Wingman is fitted with flexible ribs made from a recycled plastic compound which prevent the bag and, most importantly, your suit, from being crushed when rolled up for carrying.
More than this, the Wingman includes:
• A cylindrical duffle bag that easily fitted my shoes, toiletries, towels and undergarments
• An external side pocket with removable sleeve for a small laptop or tablet, and plenty of room for keys, mobile phone etc.
• Padded sweat pad where the Wingman sits on my back
• Bright red rain cover with large, aggressive Velcro patches for sealing
Henty delivered a full-sized Wingman for testing and review. We had a slight hiccup with a missing stabilisation strap, but Henty's quick acknowledgement and follow ups proved that I was dealing with real people who care about customer service.
I was bemused when the stabilisation strap arrived complete with instructions for using with a baby pram – but then I realised that it shows how business-savvy these guys are in sourcing elements for their products rather than manufacturing everything completely from scratch.
At first glance, the Wingman is a heavy duty unit and, at 1.7kg empty, a little on the heavy side. That's a kilogram more than my usual Spare Camel backpack by BO Gear. Both are easily capable of carrying everything I need for day at work, and for my shower on arrival, but I would never expect to pull my suit and blouse un-creased from the Spare Camel.
The Wingman is best packed while laid out on a large flat surface, such as a bed or kitchen table. It comes with a nifty clothes hanger with a hinged hook which folds away when the Wingman is rolled up. Henty advise storing unrolled, so after packing the night before I hung it on the back of my bedroom door.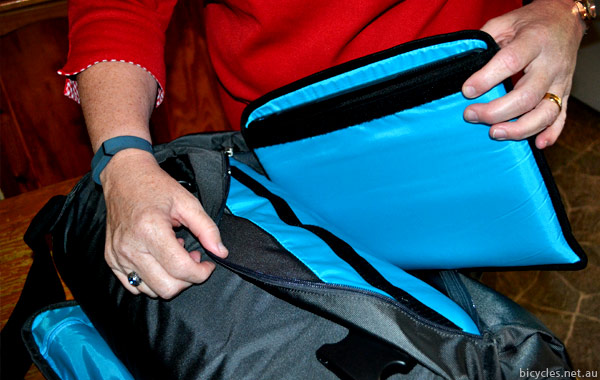 The duffle bag clips into the Wingman, both to hold it in place in transit and also to provide a handy, off-the-floor holder while showering at your destination. Note that the bag has its own strap so you can use it without the suit carrier if you wish.
With its single shoulder strap, the Wingman evokes the quintessential Aussie in me. I felt like I was toting my swag and ready to camp under by a billabong under the shade of a coolabah tree!
The single shoulder strap approach with its wide padding was also particularly welcome as I am receiving physio treatment for a rotator cuff injury of my right shoulder and was able to wear the Wingman on my left side. With the strap adjusted and the stabilisation strap clipped into place, the Wingman sat very comfortably on my back and didn't move throughout my commute.
Getting into the Wingman takes a bit of practice and I felt as though I needed an extra pair of hands the first few times, but I soon mastered the art of positioning and holding the Wingman on my back while bringing the stabilisation strap around from behind and slipping its loop over the buckle of the shoulder strap before clipping it all into place.
On the road with the Wingman I found that it partially blocked my view on shoulder checks to the left, but left shoulder checks aren't something I do too often when commuting as I ride solo. I do it more for group riding, but then I don't expect to be carrying a business suit on a group ride.
The black coloured outer is not the best for being seen by other road users, but it seems that the designers were aware of this as they have incorporated reflective piping plus a loop to hang a light for improved visibility. Personally, I felt safer using the bright red rain cover even when the sun shone.
The extra weight of the Wingman compared to a backpack is a compromise for an wrinkle-free, ready-to-wear suit upon arrival at work. It's definitely an acceptable compromise for shorter suburban commutes, although I feel that my 30km rural commute is at the outer limits of that compromise.
It's also worth noting that although the Wingman is designed to be worn on one shoulder, it did not affect my balance on the bike which I tested by riding hands-free. And just in case you missed it when I said so earlier – the Wingman does sit very comfortably on my back.
The Henty Wingman is a clever and practical solution for the cyclist who needs to carry a suit to work.  There is a lot going on with this accessory, but it's not overdone.
The Henty Wingman comes in two sizes, compact and standard, with the only difference being the width of the suit bag at the shoulders plus the duffle bag. It's available with a choice of internal colours – blue, green, grey and lavender, and costs $199.00, including delivery within Australia. For further details and purchasing options, visit henty.cc
Photos © Justin Matthies
Related: