Bike Review – Is the Polygon Helios C6.0 Disc an ideal sportive belter or a budget commuter?
The Tour Down Under Bupa Challenge Tour (Stage Four) was to be 151.7km of riding over a hilly course on the 23rd of January. I hadn't ridden more than 150km since I last did the Challenge stage of the TdU down to Victor Harbour and that was a long day in the saddle. So when my mates asked me to join them for the 2015 Bupa Challenge stage, I was hesitant. But then came this review opportunity for BNA, so I quickly looked up the Bicycles Online web page and kindly requested their disc brake bike, the Polygon Helios C8X Disc. Due to its popularity, it wasn't available, but the budget sibling, the Helios C6 Disc was ready to go.
The sales blurb on the Bicycles Online website sounded promising: "The C6.0 Disc is designed for the long distance group rider, charity rider, Gran Fondo enthusiast, or anyone who just wants a serious road bike that doesn't push your body to the limits like a full-on race bike." The review bike arrived a month before the Tour Down Under; Merry Christmas to me! Christmas morning in Adelaide was a great day for riding and I was granted some time-out by my family to take the Polygon for a spin to familiarise myself and get the fit just right. It didn't take long to bed the brakes and, I have to admit, they came up to speed pretty quickly. It surprised me with how well they worked in modulation and in power compared to my hydro disc setup on my Volagi Liscio2. This was going to be good, I thought, just the tonic I needed to get some serious k's in before the TdU. The first ride was to get settled and get my position right before tackling the hills and ramping up the training. One of my first impressions was how solid the rear end felt – certainly not the compliance that I was expecting for a long distance bike, but it was still early days.
So what do you get for less than $1,900 delivered ?
I'd heard of Polygon previously from their sponsorship of an NRS Woman's team. In preparation for this review I learnt that it is an Indonesian brand who are sold in Australia by Bicycles Online, both through their bricks and mortar bike store in Sydney and through their website. The website has an abundance of information with their models, reviews and even videos to help explain their product range. One useful and refreshingly honest part is the comparison tool, where they compare their features with a typical competitor. Whilst this may not sound much, if the competitor is better, they say so and don't hide behind brand marketing speak. The transparency is brilliant.
The Polygon C6 Disc is a full carbon monocoque frame and fork with in-house brand finishing equipment (alloy bars, seatpost and stem are branded 'Entity'). The mechanical equipment is courtesy of Shimano and includes the full mechanical Shimano 105 (5800) groupset coupled with BR-R517 cable disc callipers and RT-66 centrelock rotors (160mm F&R). The rolling stock is also supplied by Shimano again; you get their newly released, entry level 11sp road disc wheelset, the RX31. The wheelset is shod with quality Schwalbe Ultremo ZX tyres (& tubes) in 25C width.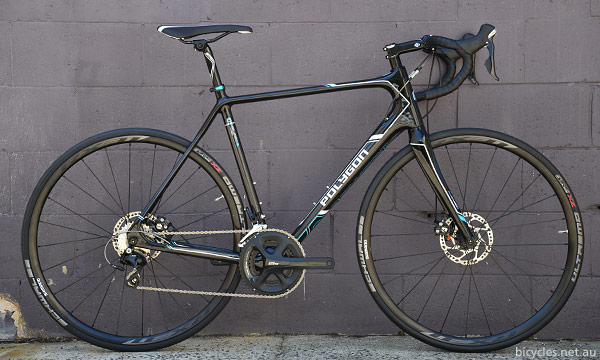 Looking at the setup, the gear cables are fully internal, which is nice to see on a bike at this price point, but the brake cables run outside of the frame; while they're visible, they are discreet. Routing the brake cables inside the frame could be a way to improve next season's model. There are also some handy cable clips to help keep them in line and reduce rubbing on the frame.
Shimano haven't quite joined the wide rim revolution, but the RX31 wheelset is 23mm wide and has a wider bead seat width (17mm) than their previous generation wheelsets, but it doesn't quite match to the typical 18+mm of the 'wide' brigade. The small increase in bead seat width allowed the tyres to take a slightly flatter profile.
Let's take a side-step and briefly explore the world of 'wide' wheels. There has been a move towards wheels having a wider profile which can yield reduced aero drag, but it also has the benefit of having a wider internal width. This wider base for the tyre primarily gives the tyre a flatter profile (viewed in cross-section) which then also yields a wider contact patch. All this adds up to theoretically better handling and cornering, being able to use a wider tyre (25C vs 23C), and giving reduced rolling friction. Whilst the average MAMIL like me doesn't ride consistently fast enough to take advantage of the aero 'benefits', I have noticed the improved handling/cornering with the 29er rims (24mm wide x 25mm high, with internal width of 18.5mm) that I use on my road bike.
Returning back to the Polygon C6 Disc, The 30mm height rims of the Shimano RX31 and subtle graphics make these good looking wheels that match the overall look of the bike. The 24 bladed black spokes front and rear belie the rather heavy nature of this wheelset which tips the scales at 2,004g (912g/1,960g respectively). 2 kilograms is pretty heavy in the current market of lightweight wheelsets that often need to be under 1,600g, lest they be considered obese.
The stout weight of the RX31 wheelset is offset by their strength – this was brought home when hitting an unseen small sinkhole in the road at 40 km/hr. Apart from a very loud bang and accompanying thud through the handlebars, the bike just shrugged it off and kept going. The C8 Disc gets the lighter (not by much at 1,841g – 836g/1,005g) but deeper profile (35mm) carbon/alloy laminated Shimano RX830 wheelset.
The frame is setup with a modified Quick Release system (closed dropouts rather than the traditional open) which had me puzzled at first. For all intents and purposes, it looks like the frame is thru axle compatible, but it's not. Bicycles Online Director Jonathon clarifies ;
"The bike is actually not setup for thru axles. Even though it is similar, it is actually a modification of the standard QR system. The reason the dropouts are modified is because of the braking forces produced by the disc braked system. The closed systems however has benefits and also saves weight over a conventional thru axle. Thru axle wheels tend to be heavier than regular wheels, and are overly stiff too, even more so than a closed drop out QR. So the closed QR is definitely the design of choice"
The finishing kit of house branded (Entity) equipment from Polygon tends to be more functional than outstanding, as you expect at this price point. The bike seat however was remarkably comfortable (I am really particular about seats) and remained on the bike for most of the test. If I was picky, it was slightly flat for me, but was well padded. The alloy seatpost was topped with one of the better clamp systems that I've come across. Generally, it's a royal PITA to fit/remove a saddle or adjust, but this clever system used two bolts in a perpendicular friction style setup that was easy to make adjustments with, and pretty good when I changed the saddle. I only wish I could transplant this to my current ride. The alloy bars, on the other hand, I didn't like at all – the shape, deep drop, transition to the hoods and lack of flat upper section had me really wishing I could spec something different – then I remembered the price. The bars would be one of the few changes that I would immediately make to this bike if it landed in my garage.
The Shimano BR-R517 cable brakes that are fitted to the Polygon C6 Disc really make a mockery of the perception that cable disc callipers are rubbish. I'm no lightweight rider (usually hovering around 95kg) and I love to descend hills fast, despite gravity being against me going up. The Helios C6 was fitted with the solid steel RT66 centrelock rotors (160mm F & R) with resin pads. I was a bit tentative heading down my favourite descent for the first time; it's a 2.7km climb that averages 10.5% with some great hairpins near the top. My fears were unfounded though. The very capable brakes were able to slow me down, exactly as I wanted, leading into the first hairpin which slows you from 75km/hr on a 12% decline to 15km/hr to roll through a 180 degree hairpin turn. This is a well known corner for me and my braking marker is a sign sitting 42m from the bend. Whilst it's no alpine pass, like Passo de Stelvio in northern Italy, with my bulk it's a pretty solid workout for any brake set. I was impressed by the lever feel, modulation and response – the reality is that they are not far behind my own Shimano hydraulic hybrid setup of RS685 levers/Zee callipers . I questioned Polygon whether they were considering the option of putting the RS685 levers paired with the RS785 callipers on the C6. Johnathon commented, "In future, there is a consideration to make the C6 hydraulic, however RS685 is a bit too high level for the target price point."
The Helios C6 Disc, ready to roll with a pair of 105 alloy pedals, carbon bottle cages, and Garmin mount, weighed in at a shade over 9.0kg. This meant that out of the box it is around 8.6 – 8.7kg. It's not a super light bike, but it's competitive for a 56cm disc bike when you consider that it's running Shimano 105 and a wheelset that weighs in at 2kg without tyres or skewers. And then you also need to consider the price at less that $2k delivered. Even the BMC GF01 (with Shimano 105 and discs) weighs only slightly less (8.4kg out of the box), and it's almost 5 times the price. I didn't find the weight of the Polygon an issue on any of the rides, but that's not to say 1kg less wouldn't have made it easier.
I have one minor issue with bike and how it was setup. The length of the gear cables were way too long – they looked like a silhouette of Alfred E Neuman (you know the big eared fellow from MAD magazine comics?). They sometimes brushed the knees when climbing out of the saddle on steep inclines. The cable routing is influenced by the cable entry points on the upper side of the downtube, but they really seemed out of place.
I also had a larger issue with the bike, but it is not that fault of Polygon, rather it's a Shimano issue. The brake pad adjustment is not tool free. It should be, but it requires not just one, but TWO different sized Allen keys. Are you serious, Shimano? In this day of customer satisfaction, that's a major failing in my eyes. And they are pretty damn ugly too. I'm a function over form type of guy, but even I like a bit of form with my function.
The real test – the Imperial Century !!
The day dawned and the weather gods smiled on us. Low to mid 20's forecast, and along with a few thousand other keen cyclists, we set off for Mt Barker… the long way. The route used for the 2015 BUPA Challenge for Stage four of the Tour Down Under featured a real variety of surfaces; billiard smooth expressway, repaired suburban roads, typical country choppy excuses for roads, and climbs that ranged from steep & short to long & draggy. My group had a rolling pace from the beginning with a tailwind helping us along. The compact crankset on the bike paired with the 11-28 cassette (the most sensible set of ratios for a sportive bike ridden by a MAMIL) made mincemeat of many of the hills, yet still allowed a fast and consistent pace on the downhills.
To say I was apprehensive about the initial solidity and seemingly lack of damping from the rear end of the Polygon is an understatement. I swapped my personal saddle onto the C6 for insurance, and it helped, but not a huge amount. But as the ride progressed and we left the super smooth Southern Expressway and started to eat up the miles on the variable country roads, the apprehension was quickly forgotten. My focus quickly turned to maintaining a good speed and keeping an eye on our small group and the target of 6 hours or less ride time. Despite some headwinds, light rain, and some tailwind, the ride was quicker than expected and hassle free. We nailed it!
Even after riding 166km in 5 ½ hours, I felt remarkably fresh at the end. It wouldn't have taken much prodding to ride the extra 35km home, but the moment I sat down on a chair to bask in the glory of my achievement, that was it – the kilometre count remained at 166 for the day.
Instead of being the burden which I feared, the solidity of the rear end was a plus. The pay-off for the stiff rear end of the bike is improved power transfer when cranking on up those hills where every last watt needs to be translated into forward motion. It also provided confidence for accurate steering and direction changes, such as quickly adjusting your 'line' when descending in a pack. The feedback through the bike to me, the rider, on choppy surfaces is more than I'd appreciate from a bike aimed at a sportive/gran fondo market segment, but my body says that it wasn't that bad, even after 6 hours in the saddle. My own road bike is also quite firm in that tail-end, but has greater damping which is noticeable when encountering choppy surfaces at high speed – in context, there is more road feedback transferred to the rider on the Helios C6. Some of this additional stiffness can be attributed to the additional strength which Polygon add to compensate for the addition of the disc brakes – Jonathon from Bicycles Online expanded on this when queried whether this stiffness was a conscious decision :
"Yes. On the non-disc version of the endurance frame – there is ample vertical flex. However, with the disc version, it again comes down to the challenge of the increased braking forces requiring a modified frame. If you look at the seat stays between the two bike (C6 and C6 Disc), it's quite marked the difference in size.
"With the increased braking force on a disc equipped road bike, you need to strengthen the stays – not only to stop them from failing under load, but also to stop them twisting in general, as it's no good for handling performance. So Polygon tried to add as much flex as possible through the rear triangle and seat post, but also ensuring that the braking performance, reliability and safety are the major drivers."
Interestingly, I was able to trial my personal wheelset in the bike (carbon clincher 29er rims with 25C tyres – overall weight of 1,425g), and the difference was quite noticeable. The wider rims and lighter wheel system made the rough surface chatter almost match my normal ride. So, once you've worn out the excellent Ultremo ZX tyres that are fitted, slot in a set of good quality 28C's (there is heaps of room), and I think there will be no turning back.
So what is this bike really ?
During the review I rode the Polygon 1,200km (including 12,000m of climbing) over the course of 2 ½ months. It performed as a commuter, including short 3.5km nips through traffic in the city, all the way up to a 166km sportive with 6hrs in the saddle, and just about everything in-between. The bike handled the different riding situations well. The stiffness meant that at the competitive end of traffic light sprints, the bike responded. Climbing those 22+% sections of Sheoak Road were completed with grace (the bike, not the rider), and the flying descents while keeping on my preferred line down Hayward Drive, Greenhill and Montague Road were accomplished without worry. The braking from the cable disc system was surprisingly good, and is only let down by the looks and lack of tool free adjustment. The RX31 wheelset took the punishment that I threw at it, and the Schwalbe Ultremo ZX tyres were a great example of where some corners shouldn't be cut – well done Polygon.
The Shimano 5800 groupset proved to be a capable groupset for the bike. I felt that the shifting action was echelons better than the 6700 system I had fitted to my bike and was a delight to use. The groupset aesthetics (mixed matt/gloss black) also matched the glossy clear coat and almost understated graphics on the bike, as well as the dark gray shades used on the wheels. You can see that it is a Polygon Helios, but you aren't slapped in the face with lairy logos and naff marketing slogans. The mid-blue highlights are sparse, well placed, and added an air of class to this unassuming package.
Any room for improvement?
How would I change the Polygon if it was mine? One of the aspects that I consider when testing a bike is to imagine what I would change if it was permanently sitting in my garage. The truth is, the more I rode it, the more I realised that it didn't need a lot of changes. Keeping in mind that this bike is $1,899 delivered (my current frameset alone costs more), I'd change the handlebars in a heartbeat, but that is where I could easily finish making changes. Once I had worn through the excellent Schwalbe tyres, I would opt for some bigger 28C's, for example the Continental Grand Prix Tour or Michelin Optimum Pro.
I would love to put on a better set of wheels to save a bit of weight and fit the RS685 levers to get rid of the ugly cable callipers, but with these upgrades you are rapidly approaching the cost of the Helios C8X Disc, for $2,999 which gets you Ultegra Di2 electronic shifting and a better set of wheels. I might swap the rear disc to a 140mm and front to 180mm, as I have found that that ratio suits me and my braking preferences, but that would require input from the manufacturer first. So that's it – handlebars and eventually tyres.

For comparison, the Polygon Helios C8X Disc model
This bike feels as though it will suit a wide range of riders and riding conditions. Want a good solid drop bar commuter with discs? Want a full carbon sportive type bike that suits a non-racer but isn't a boat anchor? Want it to do both? Oh, and want a carbon fibre road bike which is affordable and costs less than $2k? The Polygon Helios C6 Disc ticks a lot of boxes.
Of course this isn't the only bike on the market which satisfies this set of requirements, so why chose the Polygon over any of the others? I questioned Bicycles Online on their business model; about 80% of their sales are online. They have the bricks and mortar outlet in Sydney where potential buyers can go to see the bike in the flesh, but the majority of polygon buyers don't try before buying. Are Bicycles Online competing on price and specification alone?
"I think all brands compete to some degree on price and spec. We are able to offer a more competitive offering by going direct. It is not for everyone, but for some buying online can be a better experience, a 14 day money back test ride, free shipping, specification comparison, customer reviews are some of the benefits outside of the simple cost saving, that can't be achieved through a regular bike store."
The 14 day test ride policy is hard to look past, and a similar strategy which many European retailers (outside the world of bikes) have employed to take out a lot of the risk for buyers. The conditions of Bicycles Online are fair and are also expressed in plain English (such as repacking in the the original box and having a clean and un-damaged bike). Customers get a full refund, and the bike is picked up at no cost. You couldn't even do this at most bike stores; Bicycles Online are pulling out all the stops to get people on their bikes.
With a little regret, I had to pack the bike up so that it could be returned to Bicycles Online. The Helios demonstrates that you don't have to spend a lot, nor have a Shimano Dura Ace or SRAM RED groupset, to get a capable and versatile bike. It also showed me that some cable operated disc brakes work damn well. For many cyclists, this bike will do more than they require of it. Do not be put off because Polygon is not as well known as Giant, Specialized, Trek or Cannonondale. From my experience you can put the Polygon on your list of bikes to look at, followed by the accessories which you can purchase with the money you have saved. It could be a nice pair of cycling shoes, or a great set of bike lights that will let you ride safely at night as you rack up those km in winter.
The Polygon Helios C6.0 Disc is available online or instore from Bicycles Online for $1899.
5 responses to "Bike Review – Is the Polygon Helios C6.0 Disc an ideal sportive belter or a budget commuter?"