Interview: Rick Krassoi talks Eurocycles and E-Bikes
The first thing that you notice when you meet Rick is his warm and approachable personality. Dr. Rick Krassoi is a marine biologist and after completing university he setup an environmental toxicity laboratory to analyse pollution. He employs over a dozen staff in his laboratory, Ecotox, which is situated in Lane Cove, 20 minutes drive from the Sydney CBD. Conveniently located next door to Ecotox is his second business, Eurocycles which is spread across two stories and includes offices, workshops, and storage with a nearby warehouse.
Eurocycles began when Rick connected his passion with opportunity. Since his childhood, Rick has been fascinated by scooters and mopeds, repairing and restoring old mopeds has accompanied him as a hobby. "I have always had the idea that we have to change our transport mix," says Rick, "The only clear and sensible solution is to get people out of cars and onto bicycles. But that may not be 'doable' for people who are not as fit as others, or who don't want to arrive terribly sweaty. The whole electric bike concept fits perfectly into the solution."
While sourcing some moped parts from a Puch supplier in Europe, a new Puch electric bike with a Bosch motor caught his attention. "The core concept was having a good quality electric bike which had to be the Bosch system. I was following the development of the Bosch motor since 2011" explains Rick as he points out the original Puch brand bicycle on display among half a dozen other bikes. When he imported the Puch it was probably the first Bosch e-bike in Australia, "If I am really satisfied with how this all works, the robustness of the technology, this is what I want to run with".
Fast forward to 2015 and Eurocycles is a thriving importer with Gepida brand e-bikes and a number of European accessory brands including Magura, Racktime, Tubus, AXA and the Rixen and Kaul KLICKfix . All of the brands can be described as 'quality' brands and they all satellite around commuting and functional style bicycles, which includes e-bikes. Rick describes these as a natural fit; the premium bike brands were usually fitting these brands of accessories to their complete bikes.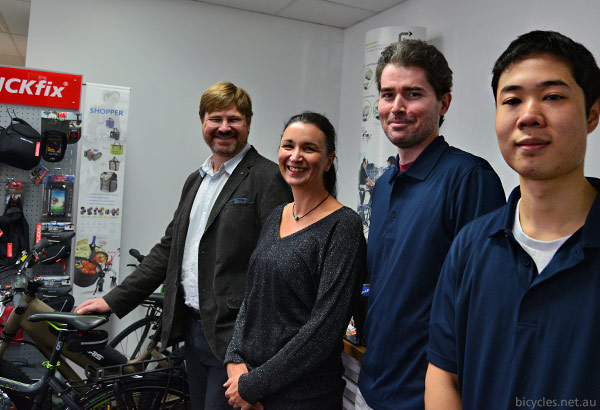 Rick, Stephanie, Hamish and Gary at Eurocycles in Sydney
When questioned about the challenges of marketing and competing for sales with these premium brands, Rick responds, "For every rack we sell, another online supplier may sell 10 or 20 cheaper Chinese racks. Ultimately it is more difficult owing to price, but there are certain people who look at their bicycle as an alternative to a car for commuting, and they don't really want to compromise on the utility of their goods. They really want things that function and look good."
The connection with the high profile German brand Magura began when Rick was sourcing replacement parts. "When I first starting importing the Gepida City Bikes, I needed to get hold of some spare parts for the HS11 rim brake series. At that point in time the local distributor had just given up Magura. I thought, 'this is something that I love, I really have great respect for Magura componentry, what a fantastic opportunity' and it has proven to be exactly that."
In the dynamic world of mountain biking with heavy duty braking and suspension requirements, there is a spotlight on Magura. While the city / urban and e-bike segment is not as loud, this is where Magura really has a stronghold, "Look at any high-end city or urban e-bike, it will be fitted with the Magura HS11; Gazelles, Kalkhoffs, BH." As the importer, Eurocycles looks after all Magura service and warranty needs in Australia, as well as stocking spare parts, and after-market sales for people upgrading or replacing brakes or suspension.

Rick Krassoi in the technical service area with Magura and Nuvinci
The number of new e-bike stores popping up each year is testament to the strong growth in e-bikes. These e-bike specific stores make up the majority of the dealers for EuroCycles and, according to Rick, they are the pioneers. In contrast to traditional bike shops, these brand new e-bike shops have been established by entrepreneurs who usually have a background outside of the bicycle sector. The motivation for these pioneers is passion, as well as conviction for the potential of this burgeoning mode of transport. Traditional bike shops are now sensing this trend explains Rick, "This is almost having an infectious effect where more traditional bike stores, which haven't had much exposure to e-bikes, are seeing what is happening in Europe. They go to Eurobike, they go to the Taipei Cycle Show, and see that e-bkes are starting to dominate the repertoire of a lot of OEMs".
Bosch has solidified itself as the go-to motor of choice for many e-bike brands, including Gepida. Rick says that over 70 brands use the Bosch ebike system. The good news for Bosch branded bikes is the establishment of an Australian Bosch service center later this year which all bike shops can rely upon. The announcement was made in Canberra at the Australian Bicycle Summit in May and will be formally opened later this year. This is a significant step for the bicycle industry explains Rick, "We will see quite a radical change in the awareness of how these systems work and how they will contribute to the everyday transport mix.

Every single bike is thoroughly checked, and the brakes set-up to Australian standards
"What customers most likely won't be aware of is that there will be a whole support network operating in the background. If there is a problem with a Bosch system the dealer will be able to call the Bosch Service Centre, send a diagnostic report, have that interpreted and get parts sent so they can be back on the road really quickly. This is an automotive concept. No longer are you engaging in long repairs, trying to swap out seals or electronic components, the philosophy is to swap out whole components which aren't functioning that the diagnostic tool tells you needs to be swapped. It should all be a very quick process so ultimately the customer leaves a bike with a bike shop and can pick it up that afternoon or the next day. It shouldn't be a long drawn-out process, which has been the case with a lot of e-bikes."
For traditional bike shops, Rick says that this is a huge advantage as they now have a reliable Service Centre for all of the motorised and electronic parts.
Eurocycles has recently announced that they are taking on Nuvinci and will look after sales and service for the innovative gear system. Nuvinci used a planetary gear built into the rear hub of the bike wheel and that means no external derailleurs. Shimano have a Nexus and Alfine internally geared hub (and enthusiasts will be familiar with the Sturmey-Archer hubs) but the Nuvinci doesn't change gears in set steps, rather it offers seamless transition for gear changes from the lowest to the highest gear. The Nuvinci Harmony system for e-bikes integrates with the Bosch motor and battery allowing the rider to change into 'automatic' mode and set their cadence and forget the gears. The gears change automatically so the rider can maintain a consistent pedaling cadence.

Left: Automatic (Cadence) Mode for the Nuvinci Harmony
Rick has a lot more to share, from Magura front suspension forks for mountain biking to the Rixen and Kaul KLICKfix adapter system for accessories such as baskets and bags. There are a lot of up-and-coming insights for improving bicycle infrastructure and, along with this, safety and convenience for cycle transport. We will leave this for next time, though. For more information on any of the brands, the EuroCycles team are manning the phones. Their website is euro-cycles.com.au
3 responses to "Interview: Rick Krassoi talks Eurocycles and E-Bikes"