Review: Sticky Pod – the bike stuff organiser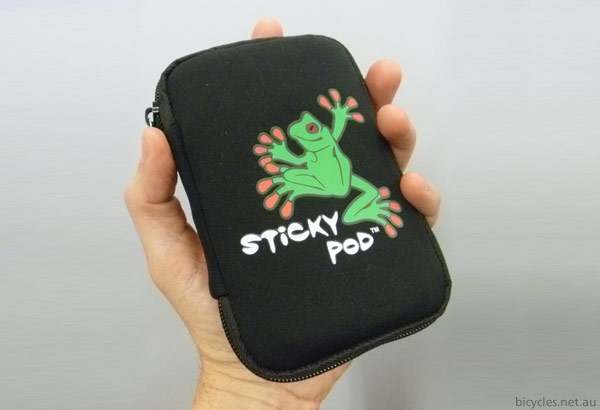 "Who wants to try a Sticky Pod?" I stuck my hand up (pun intended) because I already knew the Sticky Pod wasn't a snack or the latest computer game accessory. It's an organiser for all of the bike bits you usually need to carry while riding.  Here was a chance to combine all the different packs I usually carry into one. Would it make switching between bikes easier? Could it save me from relying on three bikes with three saddle bags, three tubes and three sets of tyre levers? Could it help me from being caught off-guard without a multi-tool? These were the big questions that needed answering, and maybe, just maybe, the Sticky Pod could do it.
My usual carriage solution, and that of many riders, is a low-tech plastic zip-lock bag with my phone in it. I also have a 12cm x 6cm neoprene pouch that has some cash, an ID card, a few Panadol caps and my keys. These two pouches fit well inside one jersey pocket. I carry these in addition to my seat bag with a spare tube, tyre levers, a quick link, and a multi-tool. I find it frustrating to swap the multi-tool from bike to bike to ensure I have a backup for those rare mechanical issues, and yes, I have been caught short with a loose crank bolt on a square taper crank without the tool, which meant limp-riding home slowly, stopping every few k's to tighten it as best I could with my whatever I could find (note: sticks work well enough if jammed in tightly!)
My Sticky Pod arrived direct by mail from the US supplier; the only way to get one is to order directly. The version I received was the Small Pod which was 16.5 x 11 centimetres. They also do a very tall version called the Large Pod with the same width and a whopping 23 centimetres high. The phone, keys, money, pills and ID card went in opposite, and I stuffed it into a pocket. It's almost as if these things were sized exactly to fit one pocket. Who'd have thought?!
Out of the package, I had a minor gripe with the Sticky Pod; a large smart-phone is a very tight fit. My LG G2 smart phone (ca. H:14 x W:7 x D:1 cm) just squeezes in with no room to spare, length-wise. Perhaps a spare gel can fit in as well, as suggested by a photo on the Sticky Pod website, but it would be tight. Given the popularity of oversized smart phones, this might be an issue for some (do you remember the days when smaller was better when it came to phones?) You may also question the logic of putting an energy gel so close to a valuable phone, it would be a disaster if it burst open.
Adding the spare tube, tyre levers, and multi tool to the Sticky Pod resulted in a tighter fit, but the neoprene material has some give to counter this. For shorter trips, or hard-core roadies who don't like the seat bag aesthetic, you could manage it. If you run a pocket pump rather than one on the frame, you'd be carrying that separately. I've never used CO2, but the brand website suggests that two cartridges and a tube should fit.
The rubberised surface on the back side of the Sticky Pod stops it from sliding about or jumping out of your jersey on the bumpy stuff, and it didn't feel out of place or uncomfortable. The non-slip backing is behind the tube side of the Pod, so your phone faces outwards in the layout. It is not mentioned in the product details, but the Pod is not waterproof.
Whilst not necessarily a short-coming, filling the Pod as demonstrated on the Sticky Pod website show does place the phone screen directly opposite all that rather solid hardware. As tough as modern screens are, having a tool or CO2 canister pressed against it and dropping it accidentally as you extract it may mean a cracked screen. The usual care needs to be taken with things which should avoid this happening. The only change I'd make is to switch the layout over, to sit the flat phone better against your lower back. This is not a short-coming as such, more of a minor quibble.
In practical terms it works best when you put your food (gels / bars) in one cycling jersey pocket while your other essentials are inside the Sticky Pod in another pocket. You don't want to stop, unzip and unpack the pod just for a feed. If you do need to SuperSize and take more things with you, the Large Pod (which I didn't test) could lend itself to MTB excursions, or all-day rides.
While a saddle bag can free up space in your jersey pockets, the Sticky Pod can be a more organised and centralised option, particularly if you have n+1 bikes.
Do you or don't you?
Consider the small Sticky Pod if:
• You need to swap rides or want a unified solution
• Your current bag is low tech or prone to failure
The Small Pod retails for $14.99 + shipping in the US. Converted to Aussie dollars with deliver to Australia this works out to $30 + $12 shipping. For more details and purchasing visit: sticky-pod.com
3 responses to "Review: Sticky Pod – the bike stuff organiser"