Shimano (re)launch Master Lock bike locks in Australia
Published: 20 October 2015
This US brand is a household name in Australia for their door locks and window locks, 7 in 10 (regular) padlocks sold in Australia and New Zealand are Master Lock branded. For bike riders, Master Lock bike locks have been available in Australia from some time (through another distributer) and have slipped under the radar. Shimano has taken Master Lock on board and they have plenty of pulling power to propel this brand, you can expect to see this brand making a big noise in bike shops.
Unfortunately most bike thefts go unreported so the statistics are vague, it is estimated that 1 in 10 bikes will be stolen within 5 year of being purchased with 200,000 bikes stolen in Australia each year. I requested further information on bike theft and Shimano suggest that a quarter of bikes stolen were not locked, 60% of bikes stolen are not attached to a fixed point. It goes without saying that locking your bike properly with a good lock goes a long way to protect your property.
If you want to know more about preventing and reporting theft, in the Australian Cycling Forums there is further information: Tracking Stolen Bikes and Preventing Theft
Returning to Master Lock, for cycling brand focusses on mid to premium segment bike locks. With retail pricing ranging between $25 for a combination cable lock to $90 for the heavy duty U lock (with cable), the pricing and security scales to suit your requirements. The range of locks takes you from small wheel bag and bike bag locks and lightweight combination locks to mid-range key and combination cable locks through to heavy duty U-Locks.
It is worth highlighting that brands don't use a universal security rating, instead many have a security rating scale specific to their brand alone, Master Lock use a 1 – 10 scale for their bike locks.
What most of these locks lack in aesthetics, they gain through their features and security. Interesting features include the combination lock with glow in the dark combination dials or cable locks (Python) which can be daisy-chained and are useful for bike shops with rows of bikes on display outside. To make it harder, there is no easy naming format (except for the Python), but it is certainly pragmatic, the Bike Lock Cable Combination Glow 12mmx1.8m is an accurate description.
The following video provides a brief overview of Master Lock and takes a closer look at two of the locks.
Overview of the Master Lock Range
First up is a bike bag or wheel bag lock featuring the red diamond TSA logo of the Transportation Security Administration.  This is a United States system which has been adopted internationally and essentially allows staff with security clearance (i.e. customs) to open these locks. There are two advantages, firstly by locking your luggage, you can prevent dangerous items being placed unknowingly inside. Secondly, airport security have the right to open and inspect luggage, but if it is locked tight without the TSA access, they can break and destroy the lock and the luggage, so a TSA approved lock, which they can open, is the way to avoid this.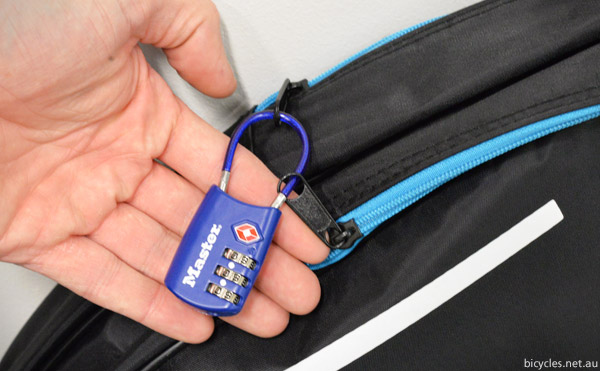 The next lock is one I call a Cafe Racer. Weighing just shy of 60 grams it easily fits into a jersey pocket or saddle bag and is a convenient temporary lock. This retails for $22.95 and comes in different colours. A few more details on when and how I would use this are in the video (above).
The following combination, glow in the dark lock has a 12mm braided cable and stretches 1.8m which is a good length to secure both wheels and the bike frame. This retails for $59.95.
This is the most elegant lock in the range, a combination lock with a 12mm cable stretching to 0.9m. This is enough length to lock the front wheel and the frame, the lock retails for $49.95
This chain (combination) lock has the mandatory sleeve over the chains to protect the frame and retails for $62.95. On the Master Lock bike security rating, they rate this 8 out of 10.
U-Locks (a.k.a D-locks) are convenient and often have the highest security rating. This U-Lock comes with the bike mount, 12mm thick (coated) bar and is priced at $39.95. If you are using a U-Lock to secure your bike for longer periods, consider the security of your wheels, saddle and other easily removable parts.
The headlining bike lock, in terms of security protection, is this U-Lock (13mm coated bar) with a 12mm braided cable included. The rigid U-Lock is combined with the flexible cable which can be looped through your wheels and make it a tougher target for scumbag bike thieves. This lock retails for $89.95and comes with plenty of keys.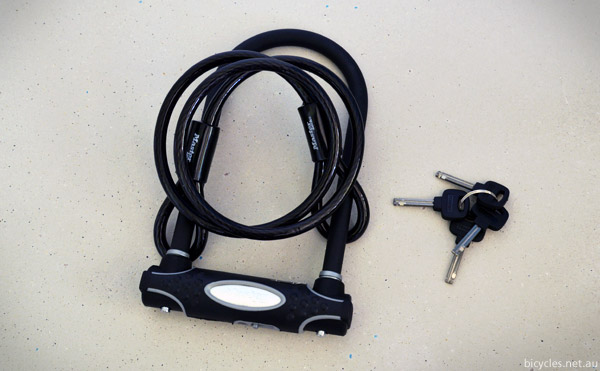 The unique feature of the following 10mm diameter Python cable lock is the ability to daisy-chain. Multiple locks can be connected making this a an attractive and flexible lock solution for bike shops or bike hire outlets which have a range of display bikes on the street. Each lock is $79.95 and it has an industrial style construction which suggests durability.
The Master Lock range are going out to bike shops across Australia and are the best location to get a first hand look. All of the prices listed here are the recommended retail prices so they many vary from store to store.