Review – ALDI Crane Road Bike, the Better Supermarket Bike
ALDI is doing a lot of things well; it has captured the attention of Australian consumers along with a healthy share of the grocery market. But ALDI do more than groceries, they sometimes do bikes and in their July Special Buys, ALDI are selling a men's road bike, the Crane 700, at a price which verges on "too good to be true." Since ALDI and other "supermarket bikes" are a frequent topic for discussion on our forums, I obtained a pre-release bike and rode it for a month so I could let you know whether it's worth a second look, or whether you should just head straight for the cat food.
July is a big month for cycling. The Tour de France motivates people to brave the cooler temperatures, so there is always a surge in bike sales in July. ALDI are planning on taking full advantage of this with their release of the Crane 700 accompanied by a range of cycling gear in the Special Buys program. ALDI have had cycling gear many times before and have even sold a Crane mountain bike and a folding bike. These deals are limited time offers and keen cyclists spread the word quickly when there is a particularly good bargain to be had. This sometimes means crowds of cyclists at the front doors before opening time and always leads to the 'hot' gear selling out very fast.
The Stigma of the Supermarket Bike
The term "supermarket bike" is a pejorative term for bicycles sold at supermarkets and department stores such as Kmart, Target and BigW. The number of these bikes sold each year is surprisingly high; some industry insiders say that in Australia more bikes are sold in supermarkets than in bike shops. Supermarket bikes are cheap, they look "the part" (to the general public, at least) and are a convenient purchase, but they are also great rust collectors. The average supermarket bike buyer doesn't have the background knowledge in bicycles to differentiate a supermarket bike from a bicycle from a reputable bike shop. As a rule of thumb, supermarket bikes tend to end up on the side of the road for the next rubbish collection while quality bikes become hand-me-downs.
The ALDI Crane men's road bike needs to prove that it is able to escape this stigma and offer genuine value for money. It needs to show that it offers a reasonable level of component and build quality, and it has to have some level of customer service and support. We will examine each of these elements in this review and discover how it rates.
Who is the ALDI Bike for?
In our reviews we typically talk about the target audience at the end, after covering the specifications, features, and the ride. For this review it is worth describing the perfect customer first to provide context. The Crane Road 700 is a men's road bike, so this automatically cuts out half of the population. A saddle change and some positional adjustments will still allow it to be fitted to women but, despite the noticeable increase in women riding road bikes, men are the primary audience.
The ALDI road bike sits, quite clearly, in the 'lycra' category. As a sporting road bike, cycling shorts (knicks) and a cycling jersey will be the most comfortable cycling attire to wear. You can still get away with shorts and a T-shirt though, but when the shorts start chaffing and the sweaty T-shirt clings to your skin you will quickly understand the advantage of upgrading to lycra. And if you are middle-aged, welcome to the MAMIL club -you are now a Middle Aged Man in Lycra, which is something to be proud about.
The ALDI bike is priced at $399 and is an entry ticket into the world of road racing if it's your first road bike. It could be the bike for you if you are a young adult on a tight budget or if have a few more years of life experience and are keen to get onto a road bike without over-stretching your finances.
If you already fancy yourself as road cyclist and have a road bike or two, the Crane 700 Road bike should not be on your shopping list. Road cyclists strive for aerodynamics and a low weight, even when the goal is recreation and not competition. The Crane is a competent entry level road bike but doesn't compete at the next level.
She's got the look
This is a very good looking road bike… cheap bikes often look cheap, but not this one. The looks have no effect on performance or quality, but in the world of road cycling, it is good to look good. On aesthetics alone, it looks like it belongs in the bunch and my cycling buddies all assumed that it was far more expensive.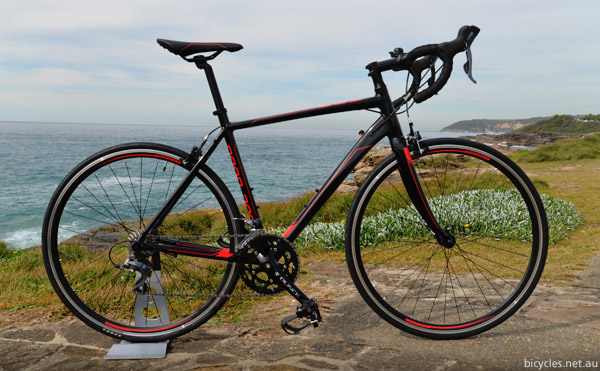 The glossy black frame features contemporary red (or blue) accents with parts and accessories to match. In an unusual move, the frame doesn't sport a logo, aside from a small sticker of abstract text on the back of the seat tube that reads Road 700. This works very well.
At a glance, only the pedals with toe-clips are a give-away that this bike is an entry level bike. Most road cyclists will immediately upgrade to clip-in pedals, but if you are starting out, toe-clips are a good way to start.
The Crane 700 Road Bike in Detail
The Crane 700 has an aluminium frame, which is appropriate for entry level bikes, but has been paired with carbon fiber forks, which is a surprising addition at this price point and a real plus. Carbon fiber has become the default material for fabricating mid to high end bicycle frames and forks. One of the properties of carbon fiber is that it has excellent damping properties and will take out more road noise (vibration) compared with aluminium, thus provides a smoother ride.
The frame of the review bike featured clean welds. When looking at aluminium bikes, you look for gaps in the welding or where it's not uniform; this is an indicator of sloppy manufacturing and is a common trait of typical supermarket bikes.
---
Read About Frame Sizing: Expand Section
---
Read About the Groupset: Expand Section
---
Read about the Wheels: Expand Section
---
Read about the Accessories: Expand Section
---
Read about Upgrading: Expand Section
---
Highlights
In my opinion, there are three real highlights on this frame. Firstly, it has internal cable routing, which you would expect only on more expensive bikes. The internal routing hides the rear brake and gear cable inside the frame and makes it much tidier.
Secondly, bolts on the rear seat stays give you the option of adding pannier racks. Though these bolts are not typical for modern road bikes, they provide the functionality and versatility to make the Crane 700 a commuter or light touring bike. Lastly, the frame has a tapered head-tube which means that the tubed section at the front of the bike, through which the forks pass through, has a conical form rather than being a straight tube. While weight savings are not the key priority for this bike, this mechanical interface gives the bike more stability.
Assembly and Customer Service
Before taking the ALDI Crane road bike on the road and evaluating the performance, let's talk about the overall sales and service to see if this bike really is better than the run-of-the-mill supermarket bikes. Breaking the evaluation into four parts, I want to know if this bike is 1) attractively priced with 2) a reasonable level of quality along with 3) great assembly and 4) customer support.
Pricing
At $399, it's fantastic value. There are a couple of competitors such as Reid Cycles and Cell Bikes who have similarly spec'ed bikes at higher prices. With the specifications and features such as the carbon fiber fork and internal cabling routing, ALDI is in pole position.
Quality
The duration of the review was relatively short with only a limited time to really test the bike. During the time I had it I found that the quality of the build and components were good; though they are entry level components, they work well. The bike works as expected and provides a good road cycling experience. If you look after it, you should expect a reasonable lifespan.
Assembly
The out-of-the-box assembly of the bike is not something I was able to trial as the review bike was already assembled when I received it. Most boxed bikes come partially assembled and the customer has to do the final part. ALDI customers don't have the advantage of a mechanic completing assembly in-store, but they do attempt to make up for it by providing comprehensive instructions, a customer support hotline, and online videos with some assembly information.
The manual is complex because it covers assembly and maintenance of different types of bikes such as MTBs. I would prefer to see a step-by-step manual specifically for this bike.
The actual assembly should be quite straight forward: you need to fit the front wheel, the pedals, seat post, handlebars, bell and reflectors. Tools are not provided so you will need to organise a 4mm and 6mm Allen key for the handlebar (face plate) and saddle, as well as a 15mm spanner (or adjustable wrench) for the pedals and a phillips head screw driver for bell and reflectors.
In fact, to assemble correctly you need a torque wrench (rather than Allen keys) as the handlebar face place specifies a torque of 6Nm. Saddle posts typically require a torque setting of 5 – 6Nm, however this wasn't specified . Be warned, a torque wrench typically costs upwards of $80 and if you don't have one you will have a nice little dilemma: do you ignore the torque settings?, do you buy a torque wrench to use once? or do you know someone who can lend you a torque wrench? This is a dilemma you don't have when you buy from a bike shop, although some online retailers who ship partly assembled bikes in boxes provide a basic torque wrench which will allow you to complete the fully bike assembly to specification.
Though the gears should be setup properly and shift smoothly when you unpack, if there are shifting issues it can appear daunting to rectify. The manual includes a curious warning "DANGER – Modern bicycles are highly technical. Carrying out work on them requires special knowledge, experience and special tools. Do not carry out any work on the bicycle yourself. Take your bicycle to a specialist dealer for repairs, servicing and overhauls."
To help customers who get stuck or have questions about assembly, ALDI are providing a support hotline which puts them a step ahead of a regular supermarket. If you are completely unfamiliar with bikes, are not a friend of basic mechanics, and don't have the patience to sift through the manual, you may struggle. My practical tip is to get a cycling friend to help you out. Not only can they ensure that the bike is well set up, they can provide useful advice for riding and may even join you as a cycling buddy on the road.
Though the manual, hotline, and assembly videos seek to help buyers, some beginner cyclists may still struggle. I would prefer to see tools included and a solution for the torque wrench, but buyers need to be reminded that while this bike represents excellent value for money, it comes with the responsibility (or inconvenience) of assembly.
My verdict is that this is the one area where this ALDI bike struggles to differentiate itself from a supermarket bike.
Customer Support
I know what the customer support is like for bikes at Kmart, BigW and Target customer service; it would be fairly described as non-existent. The ALDI bike has standard equipment and sizes meaning that repairs and replacements are possible. Some supermarket bikes have proprietary sizing on parts meaning that repair and replacement is next to impossible or the cost or repair and replacement is more than original purchase price. The quality of the build of the ALDI bike is good, so once it's properly assembled, it is unlikely to fall apart.
For customers who get stuck, ALDI promise a hotline with a real person to help customers with bike problems. If all else fails, Aldi have a returns policy and will replace or refund purchases within 60 days. This is a "no questions asked" policy which goes well beyond customer rights under Australian consumer law. In comparison, the Kmart, BigW and Target policy is strictly to the letter of the law; if you change your mind, items have to be in returned within 28 days in their original packaging and in a re-saleable condition (unopened, unused) to be considered for a refund or a voucher.
So is it a supermarket bike?
Technically, this is a supermarket bike, however the ALDI Crane bike is able to escape most of the inherent problems of typical supermarket bikes. The generous returns policy gets a big thumbs up because, if all else fails, you will get your money back, rather than the cold shoulder. If this bike is for you, get one of your cycling friends to assist with the assembly.
The ALDI bike is pretty convincing, however this review isn't over yet. We need to know how it performs on the road first to see if this is a good beginners road bike.
On the Road with the ALDI Crane Road Bike
Rolling in to join my regular riding bunch in Sydney, the ALDI bike looks the part and fits right in. I have to work much harder because this bike is 3.5 kilos heavier than my own carbon fiber road bike. The ALDI bike weighs about 10.5 kilos and to appreciate this weight difference, it would be like comparing a racing car with a four wheel drive.
I am a solid rider in my group, so I was still able to taunt some of the others by passing them up the hills. With faster bunches or on long distance rides, you have to be much fitter than your companions as this bike requires a lot more energy for the same returns. For a beginner however, ride performance and speed is not a priority. I would expect beginners will likely cycle with others of similar ability or solo. This bike will let you enjoy short and medium distance 60 kilometre rides with a feeling of accomplishment.
The bike weight was noticeable going uphill, though the gear range still lets you conquer steep inclines. For higher speed cycling and downhill I easily ran out of gears and had to be content coasting. The bike is not a naturally fast bike – I assumed that the 3kg extra weight would propel me downhill and was surprised that I was slower. The Kenda tyre tread mean that it is a slow rolling tyre and the frame and wheels were not built for aerodynamics. But again, the beginner cyclist suited to this bicycle isn't pushing the limits and would be well served by this bike.
I felt comfortable with the robust frame which handled descents and curves well. The carbon forks were a real asset and worked well to provide a smoother ride.
While riding, one thing that really bothered me was the knocking sound of the rear brake cable banging against the frame. I know plenty of cyclists who are unfazed by misaligned gears, creaking, and ticking, but if this bike was mine I would use some MacGyver techniques to eliminate the sound.
When I put myself in the shoes of a beginner cyclist who has purchased the ALDI bike, I expect that it will take some time to become familiar with the gears, to find the right saddle position, and to get comfortable with the bike. For the price, you get a lot of bike; it is your entry ticket to road cycling.
Summary
Despite the classy paint job, the ALDI Crane men's road bike doesn't pretend to be a fast and light race machine. Instead it is a very affordable beginners road bike which is a solid performer. It provides better assembly options than a typical supermarket bike, but may challenge some buyers who will need to get extra help to complete assembly. The ALDI returns policy is reassuring and provide buyers with peace of mind.
These bikes are such good value that they have the potential to sell-out within hours… or sooner.
ALDI store locations: www.aldi.com.au
74 responses to "Review – ALDI Crane Road Bike, the Better Supermarket Bike"