Just What The Eye Doctor Ordered: Shamir Attitude Lenses with Transitions Signature Tint
There may be an elephant in the room, but you probably won't see it without your prescription glasses. I'm sure you'll agree that sports glasses are virtually mandatory for most forms of cycling. They're needed to protect your eyes from a range of hazards, from wind irritation and dust to tree branches and angry magpies, and of course the harsh predations of southern hemisphere UV radiation in the summer sun. Unfortunately, until relatively recently, those needing prescription lenses have felt they had little choice but to accept some substandard solutions. I've been riding with the Shamir Attitude III lenses with Transitions Signature tint for the past 6 weeks or so, and they are outstanding.
I was awoken to my need for prescription riding glasses with a thud at the 2011 edition of the Mont 24 mountain bike race. My first night lap resulted in 5 offs, three of which were down to mistaking the piles of dust swept to the outside of the corners by riders for solid berms. I'd also begun noticing that my riding buddies seemed to pick up on things a lot earlier than me; things that you'd generally like to avoid such as awkwardly placed trail obstacles and sticks on the trail that were actually red-bellied black snakes.
The optometrist confirmed my suspicions, determined the prescription I needed and, after the initial short adaptation period, the difference in my riding was massive. Not only was I no longer constantly getting surprised, but I was riding faster with less effort thanks to seeing the trail more clearly, enabling me to plan lines earlier. So for me, it is either prescription complete lenses fitted into sports frames or don't bother.
Because I'm always on my bike, the problem I now had was the early starts and late finishes for work, which often meant riding in the dark, not only in winter with short daylight hours but in the peak of summer to avoid the heat. This meant either going unprotected in the dark (when I really needed it) or carrying a second set of glasses.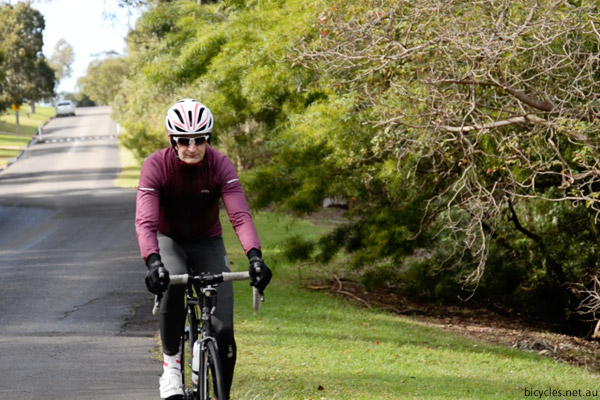 While a number of sunglass manufacturers offer prescription lens mounts that sit between your eyes and their regular glasses, this setup has always struck me as hokey. Lens inserts don't cover the full field of view, reducing the usefulness of your peripheral vision, and the edge of the lens and mount obstructs your view. Additionally, the sports glasses either sit out too far, offering little effective wind protection, or your eyelashes brush the optical lens. Irritating.
Shamir, an Israel based company that develops premium progressive lenses, stepped up with a solution to my problem at exactly the right time. After 5 years on my original set of prescription Oakley Flaks, it was well past time to update. Besides the wear on the lens surfaces, my eyes had also changed slightly in that period so a new script was needed. I was keen to see how much the lens technology had improved.
Eye Testing
Those who've been to the optometrist will know the process, but since I suffer from astigmatism (lengthening of the eye and cornea) a bit of extra effort from the optometrist at Blink Optical at Warringah Mall was needed to find the ideal specifications to deal with my full range of focal distances as I was ordering reading glasses at the same time.

Adrian from Blink Optical at Warringah Mall gets the vitals  
I was able to select any dual lens sports frame (within budget) for the review and went with the Oakley Flak 2.0, as the original Flaks had been a good fit for my head and nose. This style lens offers more wind protection, which I've come to value since building up a road bike two years ago and beginning riding with an accomplished road group earlier this year.
For cycling my main needs are with distances of 5-6 metres or more, so I opted for a distance prescription for my riding glasses, rather than multi-focals, and non-polarised lenses. The latter choice was fortuitous – I've discovered since that polarised lenses do not play well with LCD bike computer screens. Shamir also offers sports multi-focals with focal distances that are an excellent fit for cycling, optimised to allow you to clearly see your bike computer, the foreground in front of your wheels, as well as far down the road and trail, all in one lens.
The Performance
So how have they been performing? It takes two weeks until the lenses and glasses are ready as the Optometrist sends away, so let's fast-forward a few weeks and a few rides later.
For road cycling, they're outstanding. I particularly appreciate having a distortion-free field of view for the full area of the wraparound lenses. This far exceeded my expectations, especially since the lenses had greater coverage than my previous pair. Spotting approaching vehicles and judging distances out of the corner of my eye has improved since I no longer need to look around the edge of the lens. The word that comes to mind to describe the absence of distortion across my full field of view with the Shamir Attitude III lenses is "sensational".
The position of objects is not changed at all between glasses on and glasses off. This might seem like an obvious requirement but it's particularly noticeable compared against my flat-pane reading glasses, which for some reason tilt horizontal edges a degree or two counter-clockwise.
As a result, timing the lifting and placement of the mountain bike over trail obstacles remains intuitive with no adjustment needed, and when on the road I felt confident the map in my head of my surroundings was accurate.
I addition to the excellent optical quality, the Transitions Signature tint on the lenses has performed superbly during some very late night commutes home from the office during end-of-financial year. Transitions offers a much wider range of tint than my previous lenses; they can tint lenses grey, brown, and new graphite green, depending on your usage. This time I opted for the colour-neutral grey.
At night, clear mode has just the barest hint of grey, only really noticeable by comparing them to my untinted reading glasses. Apart from vision correction from the prescription lenses, there is no discernible difference in the amount of light entering the eye between glasses on and glasses off.  Daytime full tint mode is more than dark enough for a full glare summer day, and a significant improvement on my previous set of lenses.
While it can take a couple of minutes for the lenses to shift between full clear and full dark or vice-versa, I've found the speed of change within the middle 60% to be more than acceptable. I haven't been able to get out on the trails as much as I would have liked of late, but so far I've found the rate of change is fast enough. The urge to take them off when entering dark shaded singletrack from bright sunlit fire trails has disappeared. The Transitions Signature tinting system is a noticeable improvement on my previous eyewear.
The Shamir Attitude III lenses are available as prescription replacements to fit nearly all sports frames, with the main exceptions being the "blade" style of sunglasses using a single sheet of cut polycarbonate to cover both eyes. They are fully compliant with Australian standards and block 100% of UV radiation.
Now all I need to do is get out on the bike more and lose that flab that I've packed on in the last couple of months thanks to too many hours in the office.
The Cost
The Oakley Flak 2.0 frames cost $235 and you also receive the original (non-prescription) lenses. The cost of the prescription lenses will differ from person to person and depend on your eyesight as well as the health fund and type of cover you have. You can visit your optometrist for an eye test and request quote. The cost of the eye test and Transition Signature lenses in this review cost $270.
Likes:
• Clear vision and lack of distortion across my full field of view
• Speed of response to changes in light levels
• Able to fit most dual-lens sports frames
• Consigns those hokey prescription lens adapters to the bin
Dislikes:
• None
You can find out more about the Transitions Signature lenses online or at your optometrist, there are 1,772 stockists in Australia.
5 responses to "Just What The Eye Doctor Ordered: Shamir Attitude Lenses with Transitions Signature Tint"