New Bike Tech and Design – Eurobike Gold Awards
Published: 1 September 2016
The cycling world descends on Germany each year in August to attend Eurobike to see the latest and greatest bikes, accessories and gear. When the world's biggest bike show kicks-off, the Eurobike Gold Awards are announced; 12 outstanding bike products which are selected by an expert jury. From almost 500 submissions, 50 make the short-list and are commended with just 12 awarded gold. 
Here are the twelve products award Gold at 2016 Eurobike along with the winner of the Green award.
Parlee Cycles TTiR was described as "extremely innovative with a sleek design." The Parlee Time Trial bike uses an enclosure on the disc brakes for both aerodynamics and safety. Despite the improved braking of disc brakes, they are also cited as increasing drag so the Parlee TTiR is a step towards drag minimisation.
Giro Factor Techlace combines a dial along with velcro. While this alone is not new, the velcro straps are used in combination with laces and along with the quality of the workmanship, the closing system is commended as "Outstanding".
3T announced earlier that they are moving beyond parts and accessories and into bike design and production with their Exploro. Cyclo Cross has evolved into Gravel Grinding and although the Eurobike judges cite Gravel Bikes as an American trend… which is debatable, there is no doubt that gravel grinding is a new way for roadies to enjoy cycling and the 3T Explorer is a brilliantly executed gravel bike.
It's not for mountain biking or recreational bikes… it is a high-volume tyre which takes your road bike off the tarmac and onto dusty dirt roads. The 700×28-30mm Horizon Plus Road tyres from WTB tyres are designed to suit most frames and increase the versatility of road bikes.
Two helmets in one – the lightweight Uvex Jakkyl HDE transforms from a full-face down-hill MTB helmet to a regular helmet, without the chin-guard, in seconds.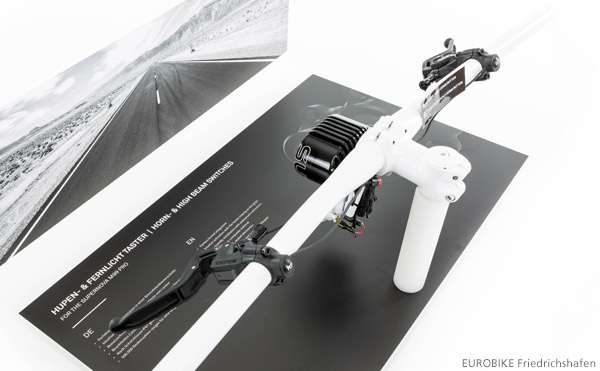 Premium German lighting brand Supernova have an integrated light and horn solution called Taster which puts the controls into the brake clamps, clever!
Sram eTap which included wireless shifting has already gone to market (we reviewed here) has been recognised as "a truly impressive combination that is certain to change the market."
The SDS Stem Twist from the brand by.schulz solves bike storage difficulties by allowing the stem to be rotated 90 degrees left or right. For very tight spaces, the protruding bars can be turned do create a smaller overall footprint and convenient storage.
The new 2INpower, power meter from Spanish brand Rotor extends on the single-sided INpower solution with power data recorded individually for each leg for high level power data collection and analysis. Already available, the Eurobike judges called this a "true high-end product that sets the benchmark" while remaining extremely competitively priced.
The Lumen Labs helmet (names Lumos) is regarded as a stylish and visible helmet. It relies on handlebar controls to trigger the left / right indicators and though it has not been released, was financed on the back of a successful funding campaign on Kickstarter with $800,000 (USD) raised.
German company, bike ahead composites have release the NSA – No Slip Application for carbon fiber components. The rubberised surface is part of the manufacturing process of carbon fiber parts and allows the torque settings to be lowered and as such, decrease the rate of failure for over-tightening and compression damage to carbon fiber parts.
The Quick Motion indoor trainer from Elite is a mid-price roller trainer which folds for extremely compact storage. It doesn't provide data, but as a simple and compact solution, a nifty product.
You wont put these on your race bike… but for your commuter bike, pedals made from the husks of rice grains by Chien King Industrial on Taiwan have won the company the Green Award at Eurobike.
All photos © EUROBIKE Friedrichshafen
3 responses to "New Bike Tech and Design – Eurobike Gold Awards"