Interview: "There is no alternative" Ultra-Cycling Perth to Sydney with Christoph Strasser
Published: 24 February 2017
Austrian cyclists have developed a taste for setting the Perth to Sydney world record for cycling. In 1998 Wolfgang Fasching completed the journey in 7 days and 19 hours, then Gerhard Gulewicz shaved 11 hours off that time in 2007. This year during the hot summer month of January, the accomplished Race Across America rider, Christoph Strasser smashed the previous record and rode 3,950km in 6 days, 10 hours and 58 minutes with less than 6 hours sleep. Giving-up was not an option.
Christoph Strasser's career as an ultra cyclist includes a host of accomplishments such as three Race Across America victories and World Championship titles for Individual Time Trial and Outdoor World Record. I spoke to Christoph following his successful Perth to Sydney record to understand what is involved logistically, physically and mentally to become the fastest human to cycle from Perth to Sydney ride.
Jones: What timeframe, planning and training is required for the Perth to Sydney ride and world record attempt?
Strasser: You need a lot of time for such an event. The first thing you need are sponsors who make it possible because it is very expensive to get myself and 8 people from Austria to Australia; there are all the flights, you have rent cars, and book hotels and rooms to stay. And you have to be there two weeks before to get things set-up and acclimatise so it is quite expensive. It's a lot of planning and work.
You need a support crew. In this case, I had eight guys with me. In the Race Across America, I have 11 people on my crew. In my case, most of my sports crew are very experienced in ultra cycling crewing. They have been with me in the Race Across America and the Race Across Austria. I try to get people who are team players, who are experienced in crewing for me and people who are flexible and innovative because when you take a trip across the entire continent, a lot of technical problems can arise. A lot of things can happen which you never expected and the crew have to handle this.
My equipment is the same as it has been for many years, I have Specialized as the bike sponsor. And you have to train a lot. The training, I would say, requires about 8 months but it depends from where you start. If you are a good cyclist and have good fitness, you don't need to train for years but if you start at zero, I think you have to train for six to eight years to get your body into shape to be able to do such a ride in such a fast time.
Jones: What were the biggest challenges to overcome in preparing for the ride?
Strasser: I know a lot of the challenges which come up in ultra cycling races because of my Race Across America experience. For this event, we knew what the problems would be. We had the biggest respect for the weather, for the heat and for the wind because these are the things you cannot influence. These are things that just happen and you can only react and take your best equipment.
In particular I tried to prepare for the heat with water spray systems on the bike where I can spray water into my face to keep awake and to keep fresh. We also had a very big water-sprayer from the car so when the follow-car drove alongside me they could shower me so my whole body was cooled with water.
I also had heat vests for the upper body and planned all of the other things; preparing for saddle sores, preparing for knee pain, preparing for the long nights without sleep which is the same for all of the other ultra cycling races.
It is very important to handle the sleep depravation because sleeping or falling asleep is a big problem the whole of the time when you are riding 22 hours a day. My crew was very important for me, they need to stay behind me in the car to give me protection from the trucks and road-trains and to motivate me.
A big challenge for the week was keeping me awake by talking to me. We had a communication system between my helmet and the cars so we can talk all the time. If my crew can keep me awake, which is particularly difficult in Australia because I have no opponents and there were long straight roads, as long as they keep me awake and as long as they keep me motivated, I can go fast.
Jones: The logistical costs for an event like this are substantial, you have equipment and financial sponsors, can you discuss the financial side?
Strasser: Financial sponsors are very important because otherwise I could not compete with such frequency. If you are doing such an event as a once-in-a-lifetime, maybe you can save your money and pay for yourself but to do it every year is far too expensive. The budget for such a tour, in my case coming over from Europe, starts at 40,000 Euros which is over $50,000 Australian dollars.
Jones: You describe your crew as friends so can I assume that they are volunteering their time to support you in all of your rides.
Strasser: This is very important otherwise it wouldn't be possible for me to do this. My crew is great, they have been supporting me for years. If you always have new support crew in each race, you don't have enough experience when problems appear.
Jones: How does training for an ultra-cycling event like the Perth to Sydney ride compare to the training of a Pro-Tour cyclist who is competing in a long Grand Tour event such as the Giro d'Italia or Tour de France?
Strasser: The difference in the training is not as big as you would expect. If you think that for long distance racing you just need to train with long endurance rides, thats not true because if you did, you would get slow. You would not be a fast cyclist, rather become a very slow one. I do a lot of interval training, a lot of high intensity training and a lot of sweet-spot training which is 95% of your threshold power. My longest ride in the last eight months was six hours.
When I was very young, about seven or eight years ago when I started ultra cycling racing, I was training much more. I was training up to forty hours a week, having a 12 hour ride once a month and having a 10 hour ride every week, I was training a lot. After a few years I found out that I didn't improve any further and that I got sick more often so I realised I was training too much. Then I got a professional coach and my training decreased. I did a lot more intensity training and fewer slow endurance rides. Now I am training four to five hours per day and totaling 25 hours a week. I have one complete rest day, one day with just one or two hours of very easy spinning and five days of full training.
I think when you have built your base endurance over years, then you can change your training in the following years and decrease the endurance part. When you have such a level of endurance, you just need to train a little bit to get it going again.

Jones: How do you deal with the switch from training and then suddenly riding the whole day and the following days? Are you physically or mentally changing and controlling our body or do you simply ride and let your body naturally adapt?
Strasser: I think it is a mixture of both. I think that training makes you fit, it makes you fast, it makes you strong and if you can maintain this for 24 hours or longer, you don't get tired any more on the second or third day. It is just a question of nutrition. If you can manage this you evolve your system and your body adapts and becomes used to it. If you manage to get 10,000 – 12,000 calories in nutrition per day into your body and enough throughout the course of the ride, then your performance stays at the same level. Your body doesn't get tired any more.
The big problem is just your mind because your mind gets weaker from one day to the other, but not your body.
Of course I start slow and watch my power output and watch my heart rate. I have done a lot of training rides so I know the feeling of my body and it becomes a mixture between listening to your body feeling and watching the data on your Garmin and not starting out too fast. After 12 hours, the problem of starting out too fast is apparent because you then get slower. You just try to stay awake and push yourself to eat, drink and to focus.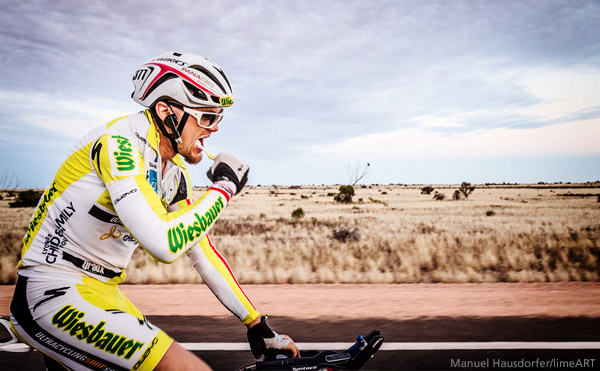 Jones: How do you specifically deal with depleting mental energy through the course of the long distance ride compounded by the lack of sleep?
Strasser: I think it is just a question of your motivation and your will-power. The most important thing is that you need to know the reason why you are doing it. When everything is hurting and you are tired and can't do anymore then you ask yourself "Why the hell am I doing this?"
You need to ask yourself and be able to answer that question "Why am I doing this?" And you must know the answer every second of every day. When someone wakes you up at three in the morning and asks you "Why are you doing this?", you must be able to answer them. That's the very deep mental motivation within me.
I always think 'there is no alternative'. If I slow down, it won't get better. If I get off the bike, it won't get better because it takes even more time to reach the finish. The only alternative is to keep on going and go as fast as possible otherwise it will never end.
Jones: Your average speed for the 3,950km ride was 26.5kmh, did your speed fluctuate at different times throughout journey?
Strasser: Yes of course, the fastest day was the first one. On the first day I even tried to slow down because it was very hot and I knew that I couldn't destroy myself on the first day. My average speed went down a little bit on the second day. My power output on the first day was 210 watts on average, on the second it was 180 watts then it decreased further and the power output on the last day was 140 watts.
Jones: For the recovery, do you completely stop or do short rides or long rides to train-down. Where you on the bike on the following days?
Strasser: Only a little bit. After such a ride I just do what I like to do; sleeping, eating and hanging around. Three days after the finish I was on the bike, I rode for one hour and the next day for two hours just to improve the recovery, to get a bit of movement into the blood and into the legs. Now, three weeks later, I start my training again for the Race Across America in June.
——
Christopher Strasser is preparing for the 2017 Race Across America (RAAM) which is over 4,800 km and between training, regularly runs training workshops and camps and presents talks on extreme sport, motivation, nutrition and training. Find out more on christophstrasser.at.
All photos © Manuel Hausdorfer/limeART
2 responses to "Interview: "There is no alternative" Ultra-Cycling Perth to Sydney with Christoph Strasser"