Bike Chaser: New Australian Marketplace for Bikes and Gear
Second-mover advantage is a term coined that describes a business that copies or mimics a successful 'first-mover' with a better or improved business model. Bike Chaser is a young Australian online cycling platform which could be considered a second-mover with their online marketplace that connects sellers of bikes and gear with buyers. At a glance, you could say it is like the popular Bike Exchange website, but the Danish born co-founder of Bike Chaser, Jonas Christensen [pictured left] says that there is a growing list of reasons why their platform is better for sellers and better for the cycling community.
Bike Chaser want to 'fill the gap' by becoming THE trading platform for bikes and parts in Australia for private and commercial sellers. If you want to sell your cycling gear, private sellers already have a small array of options when it comes to finding a new owner for the second-hand bike or gear… but many of these are far from perfect. For example, to sell on Ebay, the fees are exorbitant. The 9.9% sales fee plus insertion and 'additional' fees on a $2000 bike is simply insane for a private sale. Gumtree is another popular Australian second-hand platform but for bikes it attracts too many scammers and not enough quality. Other marketplaces, such as on the Australian Cycling Forums Member to Member bike Marketplace or local swap-meet events are cheaper or free and have higher quality gear however reach a niche audience because of membership or geography.

Ebay and Gumtree each have their pros and cons

Bike Chaser try to make it easy to take part by offering free ads for private sellers which is a big drawcard. They also remove themselves as the middle-man are essentially help create a direct connection between the buyer and seller to make the transaction. This means that any sales takes place outside of the platform which can be handy for buyers who want to see before they buy. It is also a formate which removes some of the buyer-protection which a service such as Ebay offers though their true-hand type payment with Paypal. To help buyers identify the most trustworthy sellers, a rating and review system aims to introduce a better overall experience.
Beyond private sales, Bike chaser also has local bike shops in sight as sellers although Australian small businesses are notoriously reluctant to understand and adopt the internet. Most bike shops tend to make half-hearted attempts to sell-online, but doing it right is time and cost intensive. A marketplace offers retailers a faster and easier option alternative to investing in their own comprehensive online shop and marketing strategy as the marketplace already has an attentive audience and the setup costs are significantly lower. In fact, it can give bike shops a way of entering the market and competing against the 'big bad' online shops who are often blamed for causing local bike shops so much grief.
Attracting the independent bike shops is still a challenge; bike shops may face distributer or brand imposed restrictions on selling online and they need to take responsibility for inventory management and order-fulfilment which includes processing, payment handling, shipping and customer service.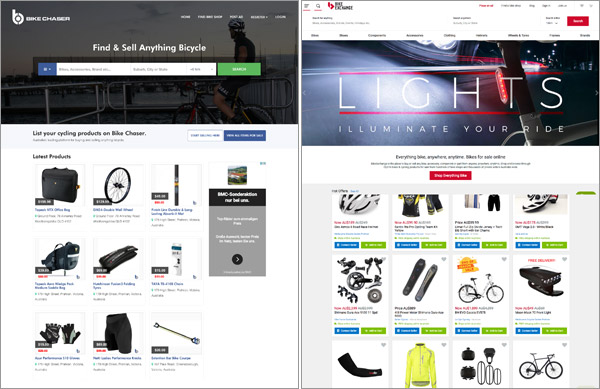 Bike Chaser (left) and Bike Exchange (right)

As a 'second-mover' the Bike Chaser platform is pitching their marketplace to bike shops as a more affordable option. Private sellers can post ads for free while commercial sellers have a monthly flat-rate price of $299. In comparison, Bike Exchange has a base fee of $329 plus additional fees charged as a percentage of sales as well as for each customer enquiry (viewing phone number or sending an email). Commercial sellers who are deciding between the two need to weigh-up a lower fixed fee along with the smaller audience of Bike Chaser and the larger audience of Bike Exchange and fixed costs plus additional fees on sales and enquiries.
For bike shops, the entry of Bike Chaser means there are more options when it comes to reaching a bigger audience. Australian cyclists are also clear winners in a competitive market and with access to free and dedicated platform for selling and buying second-hand cycling gear and bikes.

Photo: Bike Chaser photo of C0-Founders Jonas Christensen and Cameron Nicholls supplied
2 responses to "Bike Chaser: New Australian Marketplace for Bikes and Gear"