Latest bikes and Gear from Eurobike – Day 3
Published: 2 September 2017
As the worlds biggest bike show, Eurobike presents a lot of eye-candy but beneath pretty bikes and gear you will usually find considered designs to deliver safe and reliable rider performance. This photo series provides a impression of highlights from the third day.
The top (title) photo shows the innovate Flaer lubricant system, a thoughtful technical a and electronics solution which helps you get a richer riding experience.

Blingtastic Colnago C50 racebike appeals to decadent aspirations

Rotor launch the new Revolver hub with an innovation mechanical design. This photo shoes a cut-away section.

Awesome artistic concept bike with reflective pattern, tricked out with tune wheels, components and a fazua bottom bracket motor.

TJ founded Atton Shoes – sweet designs that keep you looking awesome for Vert and Gravity (i.e. jump bike).

We reviewed Tannus aireless (complete rubber) tyres four years agos and their new road cycling tyre promises a reliable training tyre

Restrap from Yorkshire, UK have beautiful bike accessories with thoughtful design and functionality for new generation bike-packers.

Customer builders get every component dream fulfilled from PAUL of California.

The sphere is Nello, a contemporary and striking bell from Italian brand Palomar.

Chinese manufacturer missile books on the popularity of the Chinese character, Monkey King for their Y-style TT from.

German design and Chinese manufacture for Missile.

Melon helmets want to be a funky brand so engage artists to make helmets more than just helmets.

Awesome stand design by Leggero which recreates a typical street scenario.

Hexlox is a innovative solution to secure your bike parts… more info soon.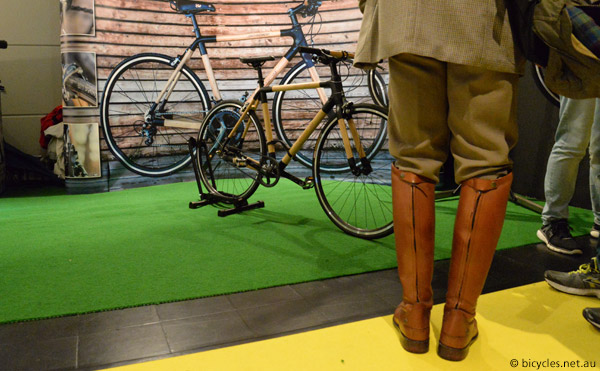 Drehmoment bamboo bikes labled Bamboom get competition from Errol Flyn in flying shoes.

Quick impression from the Asian exhibitor section in Eurobike.
Stay Tuned for more from Eurobike 2017. You can also see highlights on Twitter and Instagram @bicyclesnetau