Australian Online Cycling Marketplace Report 2013
After more than 10,000 downloads of the 2010 "Ultimate Guide : Shopping for bicycles and cycling gear online", Bicycles Network Australia proudly presents the Australian Online Cycling Marketplace Report 2013.
Over 900 Australian cyclists participated in a 20 minute survey about their shopping behavior – 775 responses were qualified and provide invaluable insights for any business targeting the Australian cycling audience:
• How much do your customers spend online and offline?
• What are cyclists buying, and not buying online?
• Who are they buying from, and where are the shops located?
• What brands do the cyclists own, and what will they buy next?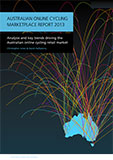 Testimonial: Cam Whiting, Export Manager, SCOTT Sports SA
"BNA's 'Online Cycling Marketplace Report' has used a wide lens to capture the overall effect of e-commerce on Australia's cycling industry, whilst not forgetting to drill down into the details. This comprehensive and well-researched report fills an important information gap which all industry stakeholders can benefit from."
With over 50 questions answered, the results present a comprehensive picture of the online cycling retail market. Bicycles Network Australia has taken this report further in the 2013 edition to make it even better; the survey results have been analysed, and trends pinpointed, with the results split into relevant demographic groups and compared to the 2010 data to examine changes over the past three years:
• Which cycling equipment segments are growing?
• Which online businesses are growing (and which ones are not)?
• If you are a bricks & mortar business, do you need to be online?
• Are your customers planning to spend more or less? Will they shop online or offline more in the next year?
Whether you have an online or offline business, if your audience is Australian Cyclists, this report will give you a competitive advantage. We have three report options available: the basic survey results, the comprehensive report (which also includes the survey), and custom reporting, if you require data based on specific demographics.

Order the Market Report
Please request your personal copy via email sales@bicycles.net.au or call +61 (0)2 9970 7445 (during business hours). Payment options include invoice, credit card and paypal.

Payment Prices are in Australian Dollars (AUD)
GST is additional for purchases in Australia
License Terms & Conditions apply