Mechanics and Repair
(26)
Sort by: A-Z Newest
Axis-A Cycles Bicycle Mechanic is no longer operating. James Axisa, owner of Axis-A Cycles – Mobile Bicycle Repairs Sydney provides his personal bike repair service, caring for every bike like his own. James will repair and maintain your bike to ensure your bike is running at peak performance, and is as safe as possible to ride.
Berry St, North Sydney, New South Wales, Australia
The NZQA Approved Qualification is a private training course for Level 3 (Service Technicion) and Level 4 (Bike Mechanic) course which are operated by Cornerstone Education Ltd and the Bicycle Industry Association of New Zealand (BIANZ). The training locations are Auckland Central and Otago (Cromwell).
Queens Academy, Level 7, 246 Queen Street, Auckland, 1010, New Zealand
Bicycle Stu is a mobile bicycle mechanic servicing the Brisbane region. He offers a full range of services and repairs on road, mountain and touring bicycles. Stu guarantees a prompt response to all enquiries with an over the phone assessment and obligation free quote and advice. He picks up your bicycle, repairs it and delivers it back to your home or workplace at your convenience. An after hours service is available including evenings and weekends. Pick up and delivery on services over $90 is FREE if within 10 kms of Moorooka ($25 additional travel fee is charged for pick up […]
116 Koala Rd, Moorooka, Queensland, 4105, Australia
Mobile bicycle repairs based in Sydney's Eastern Suburbs. Repairs done at your home or place of work. All jobs big and small on all kinds of bicycles, from kids bikes to high end road race bikes We also repair Wheelchairs, Prams, Strollers, Walker Frames and Scooters. A large range of parts and accessories are stocked in our mobile workshop including: BBB, DT, Duro, Finish Line, Kenda, Rex,  Serfas, Sapim, Vittoria,  Wipperman, YBN. After hours and emergency repairs available.
6 Broome Street, Maroubra, New South Wales, 2035, Australia
Bike Knack provides parts to the growing belt drive community, as a distributor for Gates Carbon Drive. Bike Knack also provides expert service and repair on all bicycle types, with mountain bikes a specialty. 
61 Lillian Ave, Salisbury, Queensland, 4107, Australia
We have a mechanic here 7 days for repairs and offer Same Day Servicing in the Brisbane CBD. Bike Obsession is a family owned and run business in Brisbane CBD. We also hire Bianchi Impulso road bike and have a fleet of urban bikes that we hire.
133 Mary Street, Brisbane, Queensland, 4000, Australia
The term passionate is widely used these days to describe a range of things. We have always describes ourselves as passionate about cycling. The definition of the word 'passionate': intense, impassioned, zealous, emotional, heartfelt, eager, excited, animated, spirited, vigorous, strong, energetic……is exactly how you would describe who we are and why we do what we do. At Cranks you will experience nothing short of 'passionate service and work' from the moment you walk through our doors, when you pick up your shiny, well serviced cycling machine and beyond. 'Bike Snob' also known as Laith, Cranks Owner and Head Mechanic, has […]
2/197 Preston Road, Manly, Queensland, 4179, Australia
We are the Sunshine Coast's longest standing, independent and family friendly bike shop, servicing cyclist's for over 10 years. As the Sunshine Coast's leading Giant Bikes store we always promise to deliver the highest level of customer service. We take great pride in meeting all of your cycling needs, from your child's first bike to seasoned athletes taking place in world championship races. Over the last decade we have established a reputation for knowledgeable, honest & friendly service which we make our mission to maintain with every person we help. We sell Road, Flat Bar Road, Mountain, Hybrid, Folding, Kids, […]
122 Brisbane Road, Mooloolaba, Queensland, 4557, Australia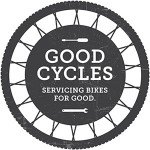 Good Cycles was founded by Loretta Curtin and Luke Wright. The idea for this social enterprise was hatched one morning over a cup of tea. After countless more cups of tea, a multitude of meetings and a lot of hard work, the concept has grown into an inspiring non-profit organisation. To many, Good Cycles is an organisation that simply offers practical and time-saving services to Melbourne's cyclists. These include our Docklands bike shop, service centre, workshops and our mobile bicycle mechanics zipping around the city on cargo bikes (carrying tools and parts on board) tuning up and servicing bikes while […]
750 Collins St, Tenancy 3, Level 1, Docklands, Victoria, 3008, Australia
Melody Wheels is focused on providing excellence in wheel building and wheel repairs for cyclists in Perth and more broadly within Western Australia. The business originated in Sydney in 2012 while I was working as a bike mechanic at Glowworm Bicycles. On a daily basis I was meeting people who were having difficulties with their wheels so I started building my own handmade wheelsets and sold them through the shop. I wanted to build wheels with quality components that were durable and serviceable. Wheel building became my passion and vocation. I built hundreds of wheels, studied the science of wheel […]
Unit 7, 4 Pritchard St, O'Connor, Western Australia, 6163, Australia