Date: 17th July 16
Venue: NSW TTT championships, Nowra
Conditions: sunny, mild wind
Grade: M150+
Result: 7th / 24
Report:
This year my team looked slightly older than previous years. With our crack hillclimber heading over to the US to chase fame and fortune in Hollywood, it was decided to retain our TTT track team for the road event.
We had a solid 6-8 weeks of dedicated training under our belts, there were no excuses for being under prepared. We were ambitiously chasing a medal, but with the quality lineup this was going to be tough!
Our basic plan was for me and MarkL to drag the team up the hill for 18kms, Craig and Mikesbytes to bring us down the 18km fast descent and all of us to drag us home for the final 4kms.
Our plan came unstuck 4km into race when mikesbytes fell off the back. He was on antibiotics in the lead up to the event and as much as he tried it wasn't to be his day. We soldiered on and about 10km in MarkL was also struggling. He sat on whilst he gathered his breath. Soon after Craig said he can't go uphills so it was up to me to drag the team up to the turn around point. We were ahead of schedule and looking good for a medal (2015 times accounted for)
On the downhills, MarkL rolled when he could, Craig unleashed the big dog: 55:11 on the fast bits, and I rolled some big turns too. We got to the bottom ahead of schedule. Both Craig and Mark were spent. My legs were shot but i was responsible for getting the team home. The last 4kms were excruciating, it felt like forever! We crossed the line in a sub 1hr, way above expectations and 3 mins ahead of schedule.
As the results came in we ended up 7th. A great result, a new PB and the fastest DHBC team in the day by over 3minutes. Personally, 3 in a row for DH club victories!
dist - 39.4kms
time - 59min 52sec
speed - 39.4 km/hr avg (64.4 km/hr max)
cadence -93 avg (120 max)
heart rate - 174 HR avg (182 max)
Power - 245NP
at the start with the team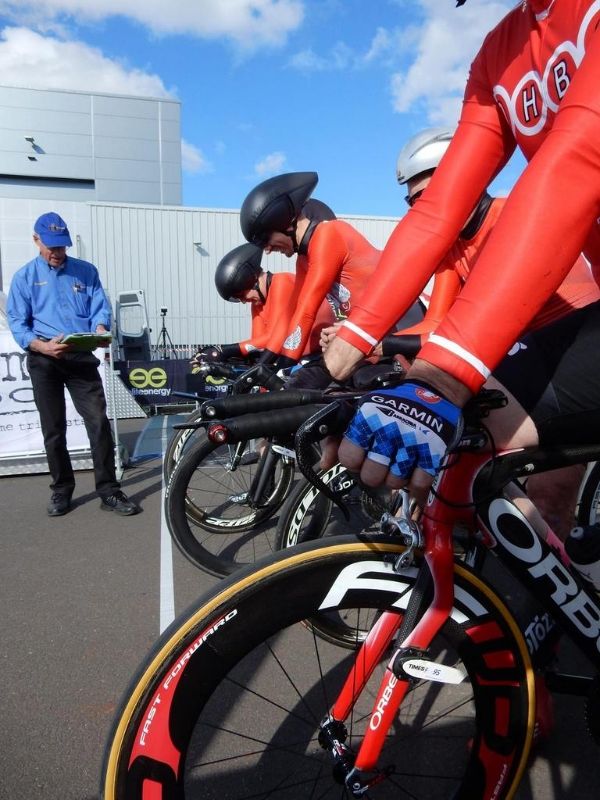 and we're off!