Returned to racing, it was the last night of RAW and though technically 3 days within the racing ban period, I didn't want to miss the last day. Prior to the race I had done;
Sunday: 196k hilly ride on a TT bike
Monday - Friday morning: 8 spin classes and commuting
Tuesday: Work function
So not surprisingly the results reflected accordingly
RAW Div 2
Friday 16th September
Warmup scratch race
DNF – got dropped after the rider in front of me blew up, leaving me to fight with the wind before giving up. But only 5 riders out of 26 finished
Point a lap
There was a split and I decided to stay behind the 2 riders in front of me and let them fix the problem, but they didn't
Combined – fastest group
This time when I caught behind the split, I decided to overtake and bridge the gap which I did, but there was only one lap left so no time to recover. Finished 7th, but at least I wasn't dropped
Here's David (Bigfriendlyvegan), who got a certificate for completing all rounds of RAW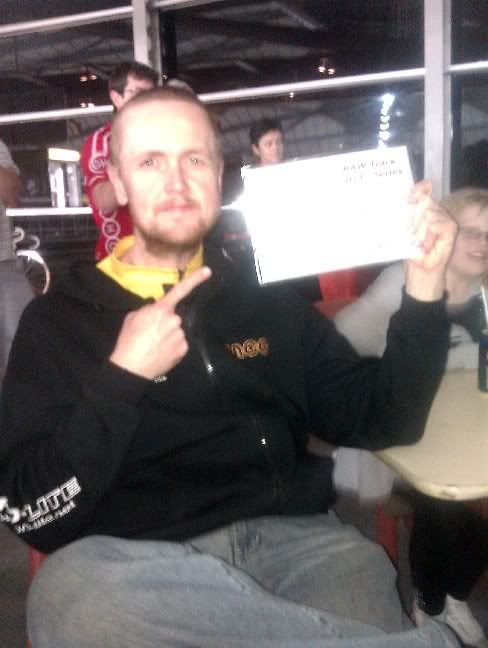 Saturday I did another 2 spin classes taking it to 10
Southern Cross Cup
, Sunday morning 18th September 2011 Eastern Creek Raceway – A grade
Realised early on that my legs weren't good, so I sat on the bunch for the race and didn't contest the sprint. I estimated the average at 40.5kph, but I didn't stop my computer. I see that EON has estimated 41kph and 60k. I definitely went over the 70 minutes before the bell lap, I'm not sure if 60k is dividable by the length of the circuit, but we definitely did more laps than normal.
Afterwards I rode the M7 with Mark L from my club and 4 other riders
So I didn't set the world on fire, but at least I'm back to it....