I completed my first Imperial Century of 163.51k's today.
It was a good trip but rather long so I have decided to tell the story in the hope I can pass on some tips to average speed riders because the total trip time was just over 7 hours riding time and an average speed of 23.27kph. Total trip time was over 8 hours.
First I ride in the Riverina and at this time of year it is usually hot, dry and windy, also it's some times hard to get water so it's a good idea to take as much as you can carry, same with food. If you look at the map there is a few small towns but some are only 1 or 2 house and on the weekends some have nothing open.
I started about 8:30am from my home just out side of Leeton and headed of through Leeton to Griffith going Via Irrigation Way then via Wilga Rd and Kidman Highway. My first stop was only 30k's out but it took me awhile to get there as I was battling head winds and cross winds.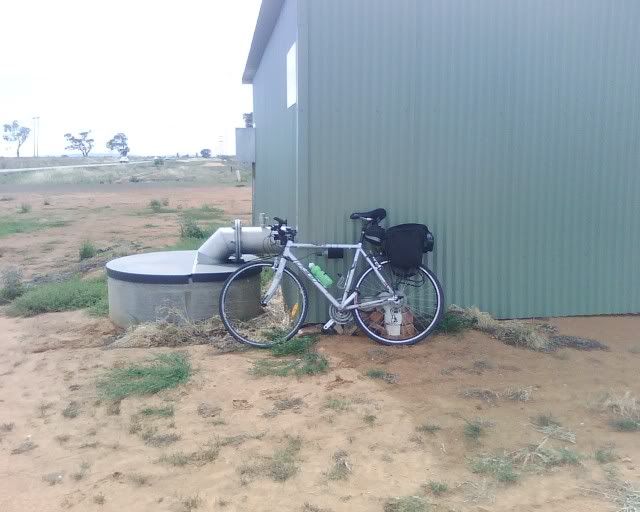 Just off Wilga Road.
I found it best to ride via Cadence rather than speed as I wanted to pace myself and not get stressed out because I was going to slow and with regular stops I filled up with fluids and ate small snacks of K time bars with a hand full of soft lolly's.
Finally got to Griffith and decided to have KFC for lunch (not a tip but a treat) also stopped of at Donut King for a Coffee and a Donut. YUMM
After a quick look in Bunnings and EB games I was on the road again, at first I was only going to go strait back to Leeton but at Wilga Road I decided to continue down the Kidman Way on to Darlington Point. The whole way to Darlington Point I had head winds and about 30c.
I felt it best to keep taking on regular small drinks and just keep up a steady pace at this stage I was just over 80k's into the ride.
Taken about half way between Griffith and Darlington Point on the Kidman way, I think it's a winery but there was no sign's at all.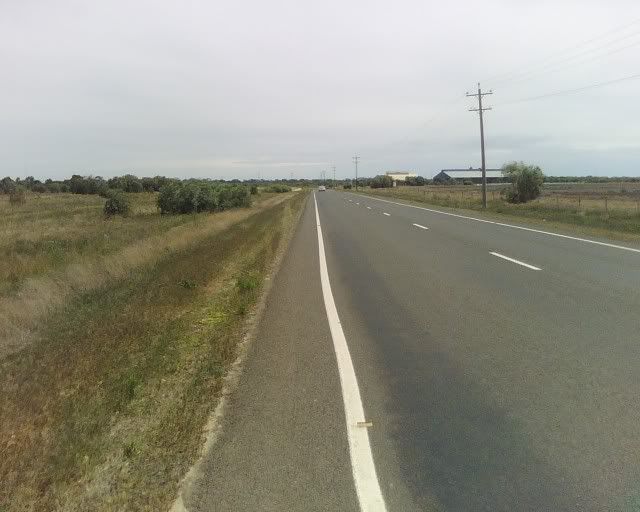 On the road on the Kidman Way between Griffith and Darlington point.
I arrived at Darlington Point to find a Hairdresser and a Op shop open but nowhere to buy a drink.
I still had some water and half a bottle of Endura. I made up 2 600m bottles of Endura Electrolyte drinks and also carried another 2 liters of water which I kept filling up if I could. I refilled My bike bottle at Griffith Darlington Point and Whitton and drank out of my other bottles on my stops.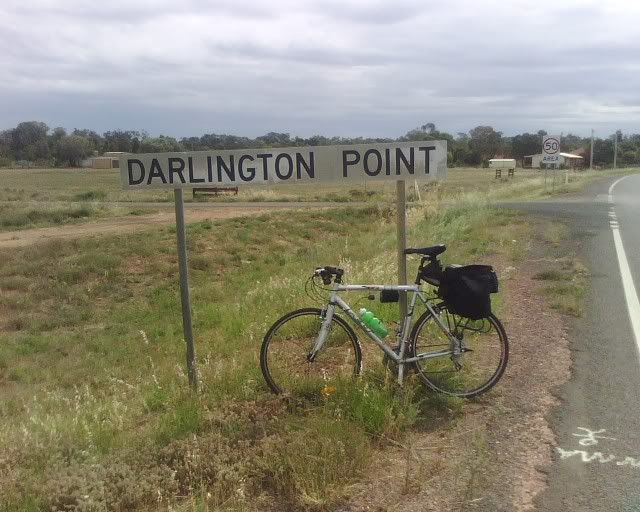 Last long rest stop and turning for home.
Murrumbidgee River at Darlington Point.
After a 10 or 15 minute stop for drinks (Filled my drink bottle at the toilets) and more food I finally headed for home only 55k's to go and finally have the wind across my shoulder but I avoided the temptation to push to hard by this time I had been on the road for just on 5 hours.
I headed back via Stephenson St now at least getting some better speeds.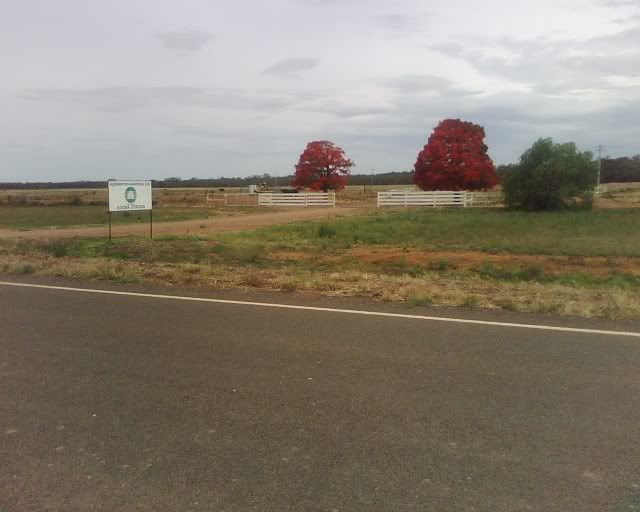 Couldn't go passed these trees, Pic taken about half way between Darlington Point and Whitton very unusual specially out here because it's pretty dry and baron.
Finally not far to go now, I stopped at Whitton at the public toilets for a quick leak and to top up my water bottle from my frozen (now totally defrosted) 1.25 litre bottle. Still cold, ate my last K time bar and scoffed a few more lollys and was on the road again with only 28k's to go.
All good from here, I turned back on to Irrigation Way and had the strongest winds of the day and finally full on tails winds. Just the way I planned it, luckily the winds stayed pretty much the same direction all day. Finally arrived at home around 5pm.
On the whole it was a good day and when I arrived home I was only slightly hungry and thirsty. I put a bit of planning into the original ride of what I thought to be 130k ride and with eating lunch at Griffith was able to complete my ride still with a bit in reserve(not much)
When planning on a long ride try to roughly work out how long it's going to take as that will make a difference with how much water and food you take. If it had not been for my Griffith stop and buying lunch I would have had to take more food.
Riding in the remote county areas take a little more planing then riding in more populated areas as you really need to make sure you have what you need. eg: food, water and spares, I also try and make sure I have some cash and my mobile phone. Cash because a lot of the small places still don't have EFT machines.
Also ride for the conditions, I put on plenty of suncream and reapplied a couple of times and as I have fair skin I wore my new long sleeved Ground Effects ZZ Tops and finally enjoy your self.
I did.