News & Reviews on BNA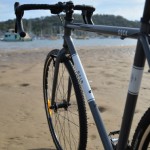 If you visit Melbourne, Sydney, Brisbane, Perth or Adelaide, you stand a good chance of spotting a Reid bike somewhere in these cities. The Australian company can still be described as a new-comer to the market, but they have expanded swiftly and are now selling in Europe and the USA as well. Reid's strategy is […]
Posts: 52
Joined: Sun Apr 07, 2013 9:42 pm
Postby sminns » Mon Aug 26, 2013 11:07 am
Anyone scotch guarded any clothing besides shoes? I bought some Castelli Thermoflex leg warmers that I was thinking spraying but I was wondering if it would discolour them or flake off or something?
---
Posts: 778
Joined: Fri Mar 11, 2011 3:04 pm
Location: Wild West
Postby Lizzy » Mon Aug 26, 2013 11:29 am
I have made a couple of attempts at waterproofing outdoor jackets - have not had discoloration problems but nothing has ever worked worth beans. If others have had good results I'd be very interested to hear it too.
"Lexa": 2012 Trek Lexa S; "Bluey": 2006 Trek 7.0FX
---
---
About the Australian Cycling Forums
The largest cycling discussion forum in Australia for all things bike; from new riders to seasoned bike nuts, the Australian Cycling Forums are a welcoming community where you can ask questions and talk about the type of bikes and cycling topics you like.
Bicycles Network Australia
Forum Information