News & Reviews on BNA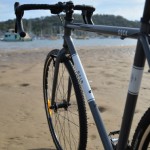 If you visit Melbourne, Sydney, Brisbane, Perth or Adelaide, you stand a good chance of spotting a Reid bike somewhere in these cities. The Australian company can still be described as a new-comer to the market, but they have expanded swiftly and are now selling in Europe and the USA as well. Reid's strategy is […]
Posts: 1267
Joined: Mon Sep 12, 2011 1:15 am
Location: Belmont, Brisbane
Postby briztoon » Sun Sep 01, 2013 1:06 pm
Hey guys, there was a mtb music clip in the youtube thread that I can't find. Four guys built a track in the California Redwood forest (I think). Does anyone know the clip I mean and have a link for it. Cheers.
---
Posts: 11589
Joined: Sat Jan 03, 2009 5:30 pm
Location: Northern Beaches, Sydney
Postby trailgumby » Sun Sep 01, 2013 1:35 pm
Is that the one where they split into pairs and cross over mid-air?
When all else fails, persistence prevails -- Lew Hollander
---
---
---
---
Who is online
Users browsing this forum: Kumungi
About the Australian Cycling Forums
The largest cycling discussion forum in Australia for all things bike; from new riders to seasoned bike nuts, the Australian Cycling Forums are a welcoming community where you can ask questions and talk about the type of bikes and cycling topics you like.
Bicycles Network Australia
Forum Information