I was coming through Dandenong as it has a bike lane but found the thing to be too narrow for cars and a bike.There is enough room but a cyclist has to stay well left in the lane.Still ok .
These pics are from google just for interest. I found some drivers still came way too close.
Then there is the disappearing bike lane a bit back from that top pic. The bike lane just featherers out , and right on a bend in the road.
They must have a narrower section just there, so the cyclist has to do a disappearing trick.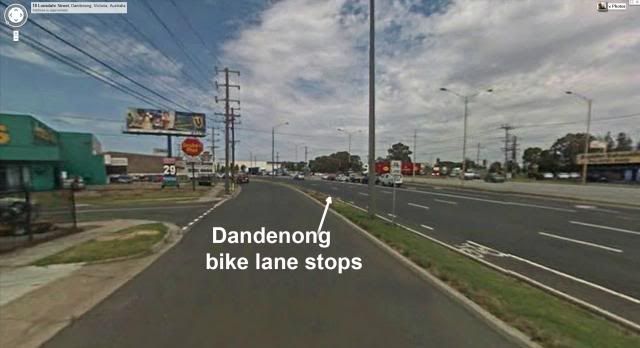 So suddenly you find yourself in no bike lane and have to get out into the middle. I saw one bike have to stop and wait for the traffic to clear, then proceed, but stayed left.
I stayed in the centre of the lane and made the cars go around. I was tooted for that odd 50 metres and then the motorists too saw the bike lane start again.
It doesn't exactly make a bloke want to ride through there.