Hey all,
Thought it would be a cool idea to give people a chance to show off their rides
EDIT: perhaps for your caption you could include "my favourite thing about my bike is..." (thanks Munga)
I'll get the ball rolling with a pic of my inherrited-from-a-friend KHS (to answer the question I get all too often, yes, KHS used to make road bikes
).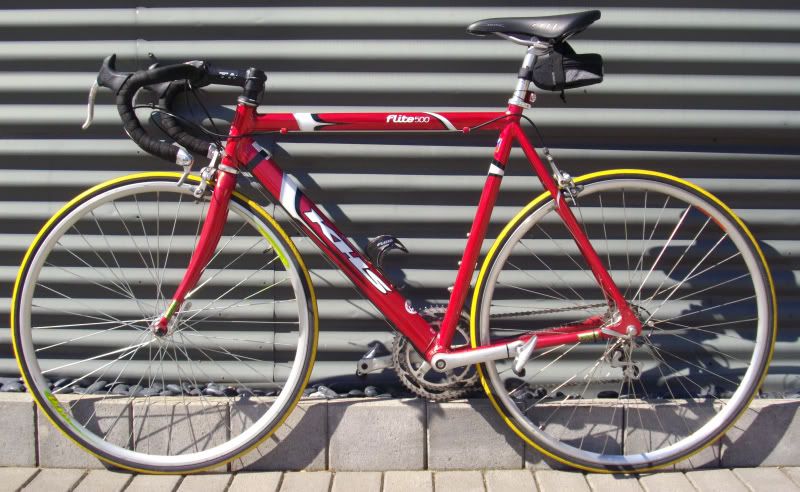 Slowly accessorising it (pedals, bottle cage, pump (not shown here), saddle bag with spare tube, cateye computer) but at the moment, its more than enough bike for me to commute to and from uni and to go on my weekend warrior rides
Its nothing flash, but it gets me to where i need to go and I love it!
EDIT: Favourite thing: its RED, +1 for going faster. oh yeh and it was a free
For any newbies, to post pics, you need to be a member of the forum for at least seven days and have ten posts to your name. Then, to post a pic, you have to upload your pic/s to any free photosharing service (i.e. photobucket.com). Once you do this, copy the URL of your image and paste it into your post. Make sure you hit the little button which says "img", once in front of the URL, and once again after the URL so the image code before posting will look something like this:
I'm not sure how clear my photo uploading instructions were but make sure you preview your post before hitting submit just to be sure.
Take care all,
look forward to checking out your bikes!!
EDIT: New bike...
Specialized Tarmac Comp... in terms of the feel of the ride, it's a major upgrade...
Favourite thing? Among many other things (i.e. pleasure to ride, it's great etc etc), it hangs above the desk that I spend a lot of time at (when im not on the bike)