Two new articles, one old one.
Freeing up the huge areas set aside for parking can transform our cities
The Conversation wrote:Parking may seem like a "pedestrian" topic (pun intended). However, parking is of increasing importance in metropolitan areas worldwide. On average, motor vehicles are parked 95% of the time. Yet most transport analysis focuses on vehicles when they are moving.

Substantial amounts of land and buildings are set aside to accommodate "immobile" vehicles. In Australia, Brisbane provides 25,633 parking spaces in the CBD, Sydney 28,939 and Melbourne 41,687. In high-demand areas, car parks can cost far more than the vehicle itself.

However, parking is not just an Australian problem. By some estimates, 30,000 square kilometres of land is devoted to parking in Europe and 27,000 km² in the US. This parking takes up a large part of city space, much of it highly valued, centrally located land.
Which leads to this house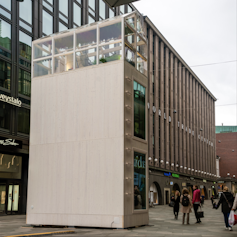 This Three-Story Tiny House Fits In The Footprint Of A Parking Space
(Fastcompany)
Adele Peters Fast Company wrote:In Helsinki, like many cities, there isn't enough housing to keep up with demand. Some people blame a lack of land to build new housing, but one design firm argues that there is enough land–if you know where to look. The firm's new building is designed to fit in a single parking spot.

"The city is not designed because of humans–it's designed because of cars," says architect Marco Casagrande,
Finally, from last year, some car-free apartments
These Swedish "Bike Apartments" Are Designed For Life Without Cars
If you don't spend money on a garage, there's lots of extra cash to add bike-friendly amenities to a new building.