Yesterday I went to the opening of the Kurilpa Bridge.
There are issues with the bridge I noticed yesterday,
eg, no center line,
poor landing intersection, this is going to be a major problem and re-aligned in the near future
Anna Bligh opening the bridge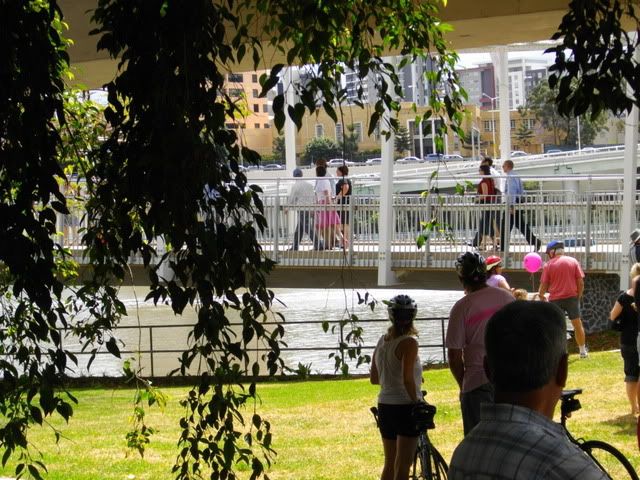 Anna Bligh leading the walk over
Crowds on the bridge.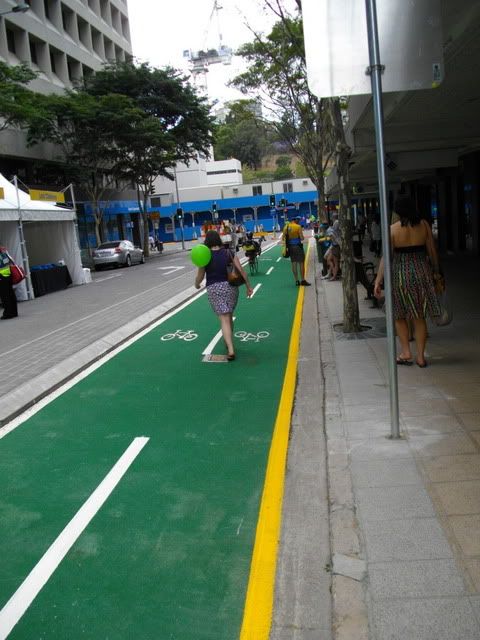 looking down from bridge landing to George st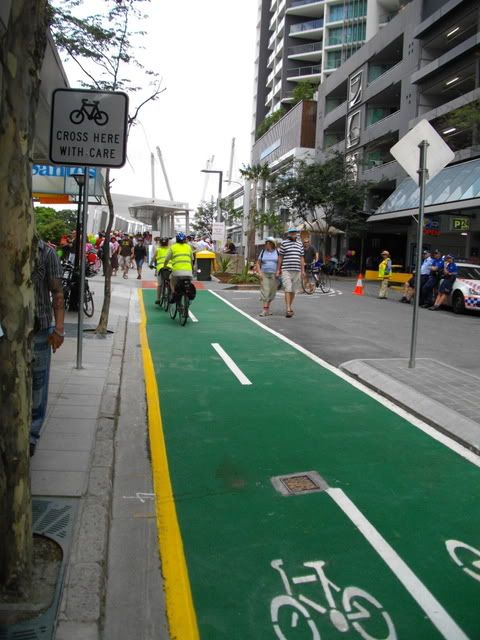 looking up tank to the bridge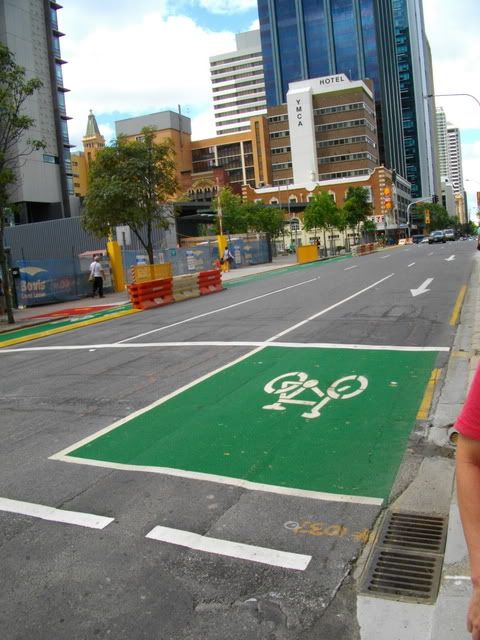 bike box on George st, Tank St intersection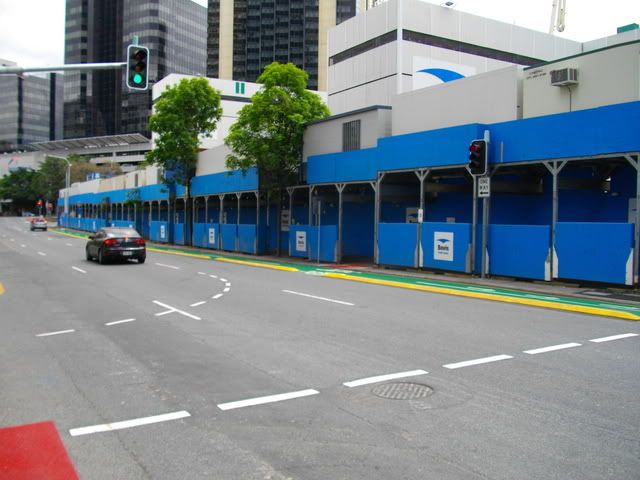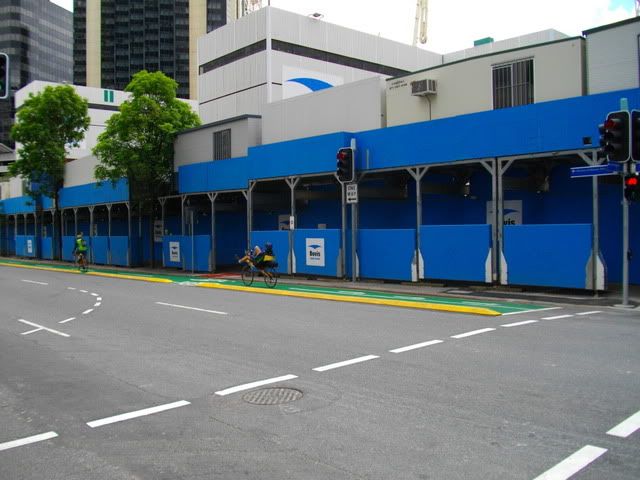 looking across George st at bike lanes, being used yah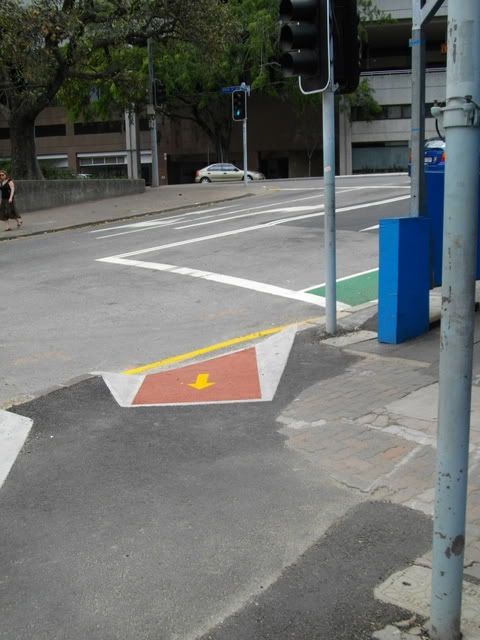 ramp off Hershal St for George St lanes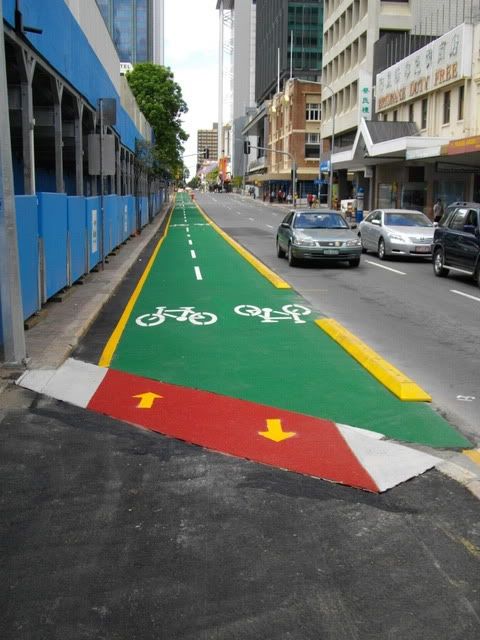 Looking down george from hershal. Notice the gap in the yellow barrier for cyclists ro re-enter general Traffic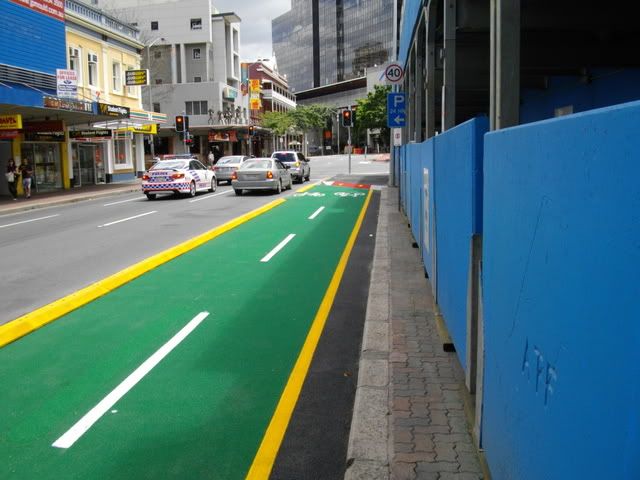 looking up george, notice the gaps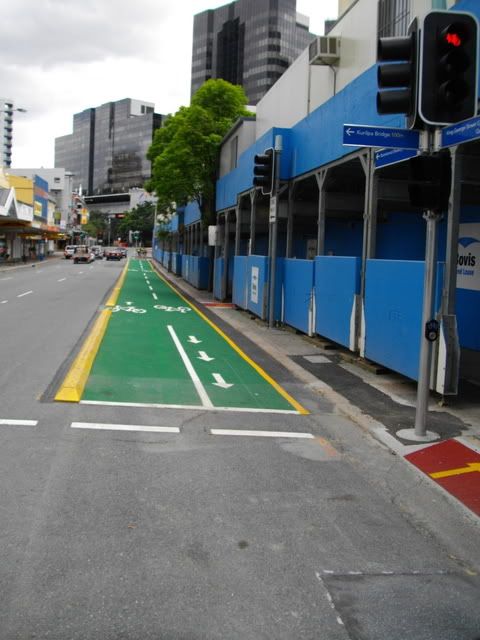 Looking up george from tank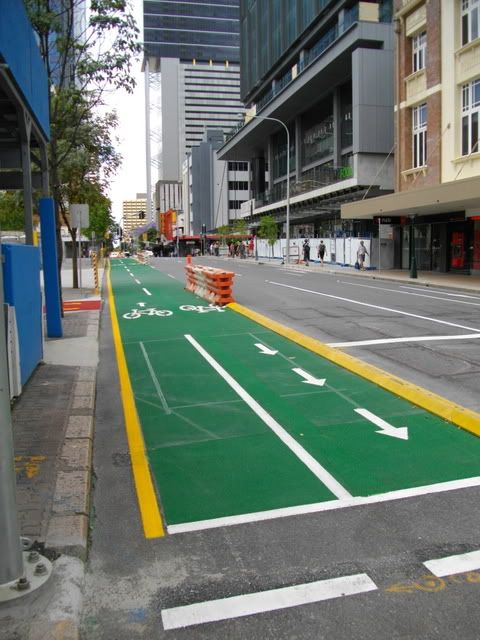 looking down george from tank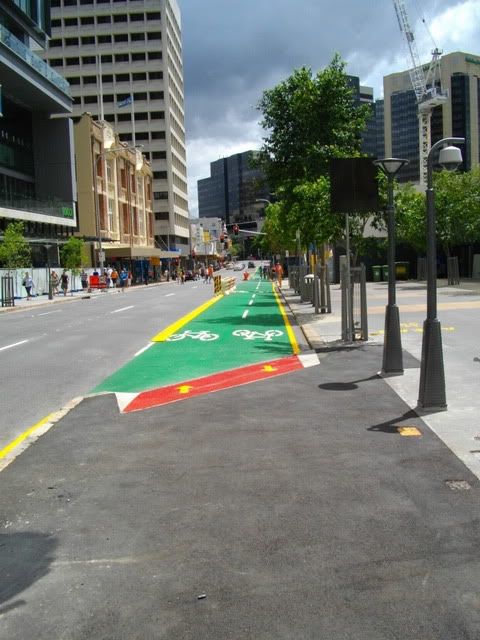 ramps off the bikelanes at Turbot St intersection.
Notice the gaps in yellow barrior for entry into bike lane for outbound cycle traffic.
Media release
http://www.qld.gov.au
Joint Statement:
Premier and Minister for the Arts
The Honourable Anna Bligh

Minister for Public Works and Information and Communication Technology
The Honourable Robert Schwarten

Sunday, October 04, 2009

Stunning bridge opens to the public


Queensland Premier Anna Bligh today officially opened the new $63.3 million Kurilpa Bridge linking the cultural precinct with the Brisbane CBD.


Up to 20,000 Queenslanders are expected to turn out for the opening with live music, entertainment and a traditional sausage sizzle.

"This is a stunning bridge which has been finished on time and on budget by more than 1050 people were employed on the project during these tough economic times," said the Premier.


"This beautiful piece of infrastructure is an example of the kind of lasting legacy our record is $18.2 billion building program is delivering for the people of Queensland.

"It is anticipated that around 36,500 people will use Kurilpa Bridge each week – to walk to work, to visit our magnificent cultural precinct or simply enjoy the Brisbane River.

"With 1500 people moving into South-East Queensland every week, the demand for improved pedestrian and cycle pathways will grow.

"I am certainly happy that we can meet this practical demand in such an eye pleasing way.


"This new bridge offers expansive views of the river, two large viewing and relaxation platforms, two rest areas and a continuous all-weather canopy for the entire length of the bridge.


"The design is a world-first and an exciting new landmark for our State."


Kurilpa Bridge is the world's largest tensegrity pedestrian and cycle bridge which balances tension and compression components to produce a light but incredibly strong structure.


Named after the Indigenous name for West End, the bridge's array of cables and flying struts are designed to resemble the ropes and spars of sailing ships and boats.

"At night, it is lit with a sophisticated LED lighting scheme which can be programmed to produce a vast array of different lighting effects, which will become a feature of our annual Riverfire celebrations," said the Premier.

Public Works Minister Robert Schwarten said the bridge had taken two years to construct.

"Kurilpa Bridge is not just unique in appearance, it is also unique in design and engineering," Mr Schwarten said.


"The bridge is 470 metres long with a width of 6.5 metres and a deck thickness of 25 cm.


"It is built from more than 1500 cubic metres of concrete, 550 tonnes of steel and extensive cabling in excess of 6.8 kms in length.


Mr Schwarten said the bridge promoted healthy lifestyles by encouraging pedestrian and cycling traffic by completing a pedestrian and cycle loop between the city and South Bank via the Goodwill Bridge.

"Not only does the bridge encourage active lifestyles, it is extremely environmentally friendly with 75 per cent of the power required to run the LED lighting in the fully lit mode provided by solar energy.

"In most lighting configurations, 100 per cent of the power will be provided by solar with any surplus power returned to the main grid.

"This will amount to savings of around 37.8 tonnes of carbon emissions each year – quite an achievement.

"No other bridge in the world supplements its power to such a degree – this truly is a world-class bridge in every sense," he said.

The bridge has been programmed to light up in a myriad of colours, and this will be seen during celebrations in Brisbane such as the future annual Riverfire festivities.

The design and construction contractors Baulderstone Pty Ltd constructed the bridge, which was managed and delivered by the Department of Public Works.

Local design consultants Cox Rayner Architects and ARUP Engineers, formed part of the company's design team and worked closely to finalise the design with the Department of Public Works' project team.

Contact 07 32244500