New Farm Bikeway missing link under construction
Posted: Tue Jan 05, 2010 1:41 pm
I have just come back from the Gym and noticed that the Missing link In the Riverwalk at New Farm is finally under construction.
Locals (me included) have been complaining that this need to be done for years and finally it is getting done. While it will not add many commuters (except for the very green) it will certainly help to increase the number of cyclists in the suburb. The missing link will link the death trap dead end boardwalk bikeway infront of the 'Cutters Landing' apartments to the powerhouse.
This is the first picture. I will take some more when the construction workers are no longer there.
Donald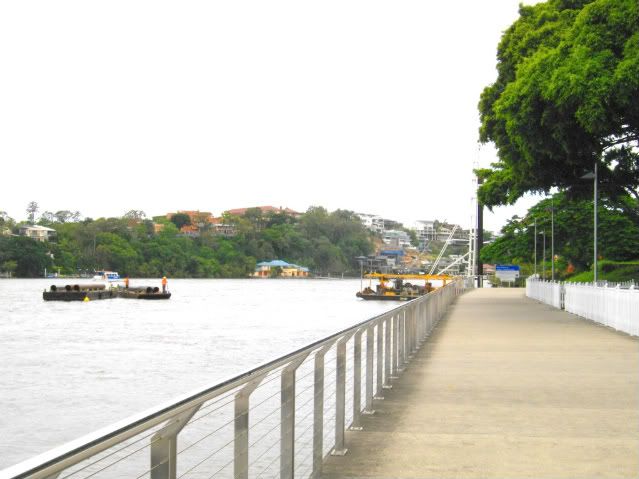 Here is the media release about it from mid last year
www.campbellnewman.com.au
New Farm's 'missing link' to be filled
Written on the 18 May, 2009

The missing link in Brisbane's popular RiverWalk shared pathway will soon be filled, with the design of the new Cutters Landing section ready to go to tender, Public and Active Transport Chairman Jane Prentice said today.

The project, which continues the existing RiverWalk pathway at Teneriffe past the Powerhouse and into New Farm Park, is part of Lord Mayor Campbell Newman's record $100 million four year commitment for new bikeway infrastructure.

Cr Prentice said the $2.6 million Cutters Landing project would fill a vital 300m missing link in the important pathway and encourage active transport in Brisbane.

"Once this new section is completed, pedestrians and cyclists will be connected to more than 20km of scenic RiverWalk pathways," she said.

"This is about linking communities and providing access to bridges and riverside parks."

The project will see a 3.5m-wide shared pathway constructed from Cutters Landing to the Powerhouse, connecting to the existing New Farm Park pathway.

It will include a 40m-long, 5m-wide boardwalk at Cutters Landing.

"RiverWalk has become an important social and cultural connection between the people of Brisbane and the Brisbane River," Cr Prentice said.

"A completed RiverWalk will provide for nearly 20,000 trips each and every day."

Cr Prentice said Council would keep the community informed about the project and will continue to provide updates as the project progresses.

The Lord Mayor's $100 million program represents a quadrupling of shared cycleway funding over the four year Council term.

[Ends] May 18, 2009