News & Reviews on BNA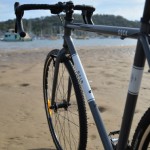 If you visit Melbourne, Sydney, Brisbane, Perth or Adelaide, you stand a good chance of spotting a Reid bike somewhere in these cities. The Australian company can still be described as a new-comer to the market, but they have expanded swiftly and are now selling in Europe and the USA as well. Reid's strategy is […]
---
Posts: 824
Joined: Sun Apr 25, 2010 4:33 pm
Postby you cannot be sirrus » Thu Jan 06, 2011 10:38 pm
H Cove to McLaren Vale via the Veloway/ S. Exy for coffee/brekky , up Willunga Hill along The Range and descend Wickhams. continue on to Meadows, Mylor, Aldgate Valley Rd, work my way through Upper Sturt back home, or descend the Freeway to the Bay for coffee and a beach ride home. Something along those lines, route varies a little depending on who I'm riding with.
Kuota Kharma, Fuji Altamira and an MTB thingy.
---
---
Posts: 230
Joined: Mon May 16, 2011 9:14 pm
Postby bongo » Fri Jan 07, 2011 10:16 am
Solirossi wrote:Up Montacute, then up Woods Hill Out to Carey Gully then Deviation Rd back towards Loberthal and then run down to Cudlee Creek and back to the suburbs.
Have not done that exact route but ridden all mentioned roads, nice ride indeed
---
Posts: 7266
Joined: Tue Feb 20, 2007 9:29 am
Location: Adelaide, South Australia
Postby MichaelB » Fri Jan 07, 2011 1:14 pm
Too many to mention, but a low traffic one I like is :

Belair Rd (early morning), down through Blackwood and Craigburn (?), up Acland Hill, down to Clarendon and back. Eraly on a Sat/Sun morning - BUGGER all traffic, and nice hills.
---
Posts: 1000
Joined: Fri Nov 28, 2008 10:12 am
Postby alex » Fri Jan 07, 2011 1:56 pm
a nice short one is norton summit/marble hill/little italy/basket range/back up marble hill then down montacute
if i get killed while out on my bike i dont want a 'memorial ride' by random punters i have never met.
---
Posts: 165
Joined: Sun Aug 15, 2010 4:16 pm
Location: Narangba, Brisbane North
Postby betterthanwalking » Sat Jan 08, 2011 6:35 pm
Starting in Flagstaff Hill, Main Rd up and then down into Clarendon. Out to Meadows, Ashbourne down Bull Creek. Up to the Goolwa road. Left or right depending on the distance I am looking for. Back through Strath, Macclesfield, Meadows, Clarendon, Main Road.
It's a good ride out to Meadows, Echunga, Macclesfield and back. Or Echunga, Hahndorf, Crafers, Sturt Valley.
Plenty of hills, some good flat sections. Excellent all round. Not to busy if you start at 7am. Often ride out to Mac Vale as well.
Gavin
PS Doing Meadows, Ashbourne, Strath and back in the morning, comes out at just over 100k. All welcome, PM me for the meeting point No one gets left behind, just like the Marines.....
http://www.mapmyride.com/routes/view/26746882/
---
---
Posts: 165
Joined: Sun Aug 15, 2010 4:16 pm
Location: Narangba, Brisbane North
---
Who is online
Users browsing this forum: No registered users
About the Australian Cycling Forums
The largest cycling discussion forum in Australia for all things bike; from new riders to seasoned bike nuts, the Australian Cycling Forums are a welcoming community where you can ask questions and talk about the type of bikes and cycling topics you like.
Bicycles Network Australia
Forum Information