Popular Bike Shops
Wiggle
UK
Join the Cycling Forums on Strava
Australian Cycling Forums on Strava
Posts: 5394
Joined: Sat Nov 07, 2009 8:53 pm
---
Posts: 43
Joined: Fri Jul 26, 2013 4:37 pm
Postby TheDon » Mon Nov 02, 2015 11:50 pm
Light rail will fix all of this
---
Posts: 1426
Joined: Fri Jun 07, 2013 8:51 pm
Location: Canberra
Postby lobstermash » Tue Nov 03, 2015 8:13 am
Hilarious. Our department (Environment) has had a bike fleet (about 20 bikes all up) for about 8 years, including a couple of electric bikes (but most of them hybrids). When they first came in, there were about 12-20 regular users, but now there are only about half a dozen. These sorts of schemes only work with effective champions promoting their use, including by example. I've yet to see an EL2, let alone an SES, use a bike fleet bike to get to meetings.
---
Posts: 5735
Joined: Sat Jan 14, 2012 1:10 pm
Location: Lake Macquarie
Postby bychosis » Tue Nov 03, 2015 9:17 am
We have a couple of bikes at work too. Supposedly used, but as they are at another site to me I don't really know. The only thing I've heard them used for is doing inspections on the Fernleigh Track sharepath.

You also need to be inducted prior to using them so rules out some of the spur of the moment trips.
bychosis (bahy-koh-sis): A mental disorder of delusions indicating impaired contact with a reality of no bicycles.
---
Posts: 804
Joined: Wed Aug 15, 2012 7:08 pm
Postby Howzat » Fri Nov 13, 2015 12:22 am
Office Staff, Canberra, 1942. Frank Hinder.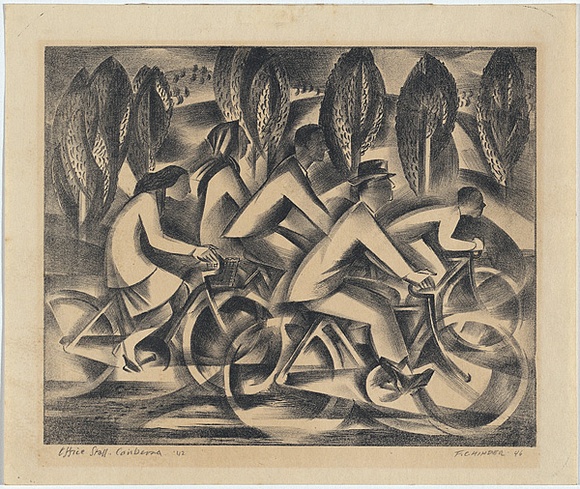 ---
Who is online
Users browsing this forum: Noviss
About the Australian Cycling Forums
The largest cycling discussion forum in Australia for all things bike; from new riders to seasoned bike nuts, the Australian Cycling Forums are a welcoming community where you can ask questions and talk about the type of bikes and cycling topics you like.
Bicycles Network Australia
Forum Information
Connect with BNA