News & Reviews on BNA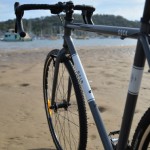 If you visit Melbourne, Sydney, Brisbane, Perth or Adelaide, you stand a good chance of spotting a Reid bike somewhere in these cities. The Australian company can still be described as a new-comer to the market, but they have expanded swiftly and are now selling in Europe and the USA as well. Reid's strategy is […]
---
---
---
Posts: 1669
Joined: Mon Sep 07, 2009 4:55 pm
Postby Baldy » Wed Mar 30, 2011 2:33 pm
What is it with the Goss tribes and cycling! I saw in the results for the Longford to Campbelltown race there was a Goss in the junior girls. I dont think Belinda and Matt are related ? So not sure what tribe the girl comes from
The media dont mention it but Matt has been flying ever since the Launceston crit. Im glad I was there to see the start of a great run of form and it has been exciting to watch him build on it.
One is gorgeous and the other looks like an old sandshoe but they both go like the clappers
---
Who is online
Users browsing this forum: No registered users
About the Australian Cycling Forums
The largest cycling discussion forum in Australia for all things bike; from new riders to seasoned bike nuts, the Australian Cycling Forums are a welcoming community where you can ask questions and talk about the type of bikes and cycling topics you like.
Bicycles Network Australia
Forum Information