One of the ladies in the Infront Hartley team liked the look of Enzo - and asked if I could build something similar for her. So, a quick trip to the tip shop was in order to see what I could find.
This was the second frame that I picked up ...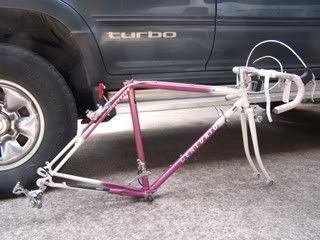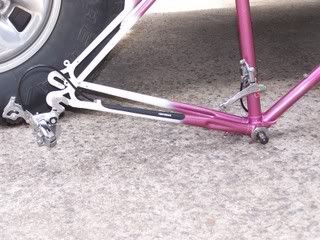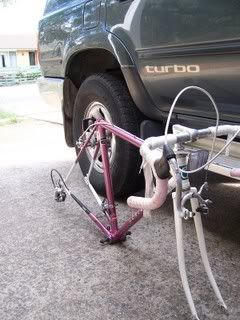 At this stage, it's had nothing more than a quick squirt and a wipe down.
It only had one wheel (and a very basic one at that) and the seat / post are the usual plastic and steel monsters, but the rest of it seems pretty sound.
A nicely shaped no-name but Cinelli look-alike stem, alloy bars, Shimano indexed 6-speed down tube shifters and SIS derailleurs, Diacompe brakes and alloy cranks.
Tange Infinity (there's the link to Enzo) frame, cro-mo forks and Tange bottom bracket and headset.
It's metallic purple with white highlights and the paintwork has only minor scrapes - it should polish up pretty well.
Now all she's got to do is to decide whether or not to try and get a Campagnolo groupset / wheels like Enzo or go with Shimano (I've got a full Exage groupset - the anodised blue ones). Oh, and whether to stay 6-speed or reset the rear stays and move up a bit.
It probably isn't all that old - the only real clues (other than the usual meaningless serial numbers) are that the store sticker on the frame has a pre-8 digit phone number. I can't remember when the change to 8 digits happened, but I remember it happening! Failing that, it's a local store so I could always ask if they have any idea when they would have sold it. I suppose the 6-speed SIS shifters are some sort of clue too, but I don't know when they started to phase out.
I'll let you know how it goes.