Well, this turned up in the mail today.
I must have done something rash, like bid, ... when I was having a rush of blood to the head last week.
The packaging contained a frame, forks & handlebar with stem, ... probably the originals but exactly the same as the original ones from my 1951 5 Star.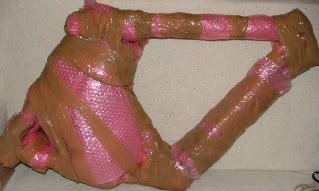 I had a quick rummage through the parts bin & added a few bits to it just so it looked more like a bike.
It's an early to mid 50's frame & is currently mocked up with Stronglight steel cranks wearing a new Hiduminium chainwheel & Brampton B8 pedals. The Campagnolo Gran Sport low flange hubs are holding the forks apart while a pair of GB Hiduminiums fill the brake mounting holes & clamp to the bars. I found a scruffy, but period correct alloy seat pin of the right size & stuck a new saddle on it. It too is the same as the correct one for my 5 Star.
The rims are Dunlop alloy & are the only pair I have ever seen from this era.
[Hiduminium = HIgh DUty aluMINIUM, developed by Rolls Royce aero engine division in about 1929. They built the Concord with it.]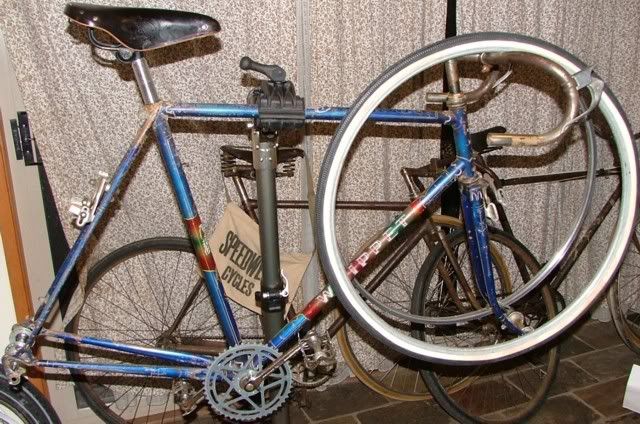 The rear fork ends are Cyclo road types & while I have the correct type Campagnolo, Simplex or Cyclo derailleurs for it, I don't [yet] have the correct nut that goes on the inside to secure it. [the hole was never threaded] It was intended to be a 3, 4, or 5 speed bike as the position of the lower pump peg precludes the use of a more conventional type of clamp-on FD. This was not at all uncommon in the late 40's & early 50's & in fact this particular bike was built new as a 3 speed.
It will go into storage for a while untill I complete some others & then I will see if I want to keep it.