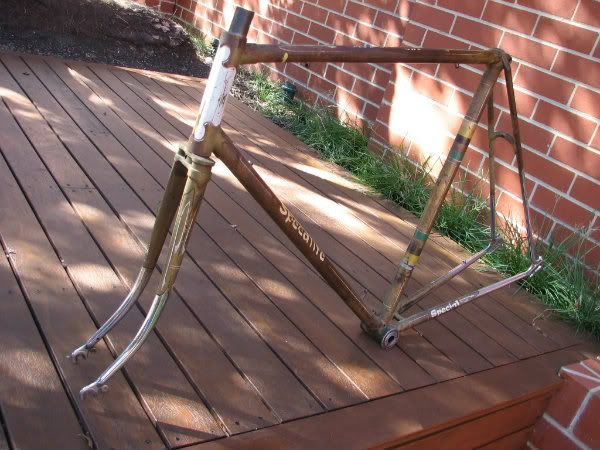 I posted here a while back after chancing upon this 1958 Speedlite Special Frame. Thread here:
viewtopic.php?f=23&t=27455&hilit=speedlite+special#p394373
Sadly after being loved, cherished and ridden hard on a daily basis it lasted exactly 335 days before the vintage bicycle gods exacted revenge. Here is the story of those 335 days condensed into a few [briefer than this one] posts which I will spread out over the coming days - feel free to comment along the way.
So, the beginning....
While I wasn't necessarily looking for a vintage frame at the time, I was keen to move on from the 1980's Apollo IV that I was riding and racing – firstly because it was too small (it was 56cm and I'm 6 foot 1 –so there was a lot of seatpost and the handling was...ummm, exciting!), and secondly my father bought it from new and it was getting scruffier the more I commuted, trained and raced on it.
The Speedlite was listed on that popular auction site with a few small low-res shots and with a description of "needing minor repairs". I could see some fancy lugs and it was a 59cm and "most likely Reynolds 531". It was local so there would be no postage so I slapped down a max bid of $100 and won it for the princely sum of ......wait for it...... $36!
Remarkably the seller was 2 streets away so the next day it was delivered. The first thing I noticed was how relatively light it was and as I said in my original thread, was complete with original paint including box lining and pinstriping, a curved brake bridge, a twin plate fork crown, simplex dropouts and a magnificent "vibe" – chrome, rust and a very dirty shade of gold, olive and brown replete with riders name on the top tube.
The angles were slack (by modern standards) and the repairs required appeared to be a left hand fork tip.
I originally thought of turning it into a tweed bike, and to continue the search for a trainer/commuter but I gotta say, it really grew on me. I mocked it up with a few modern bits and pieces from the parts bin and crunched a few numbers and realised that with not a lot of expense I could build a one of a kind commuter/trainer/audaxer under 9kg.
As it was bought as a frame only with no real idea on its provenance or original running gear, I felt less guilty about going down this path however I did give myself some strict caveats which were:
• Original paint and patina to be retained
• Nothing to be rubbed back or ground off
• Must be able to be returned to original 1950's guise in case L'Eroica calls"
So... first purchase was a Stronglight A9 headset – simply the lightest 1 inch headset I could find at 88 grams with an added bonus of having a vintage feel. Next it was a visit to the highly regarded Wayne Kotzur for the required repairs and modifications:
• trim 4mm off the top of head-tube and face
• recut lower race to 26.4mm and inserted headset and tightened
• Heated and re-bent front LH tip and filed to a better interior shape
• aligned front fork blades and pulled out 4mm each side and realigned tips to suit.
• brazed on rear English hanger after realigning rear triangle before widening to 130 mm and aligning tips