I cleaned the shed this arvo and I found a few stuff that I will not use anymore, but who could make a vintage bike enthusiast happy. Make me an reasonable offer for any of the items and it could be yours. I would prefer not to have to ship anything but if you are desperate we can certainly arrange something.
#A pair of the very first Look pedals (1985). the same model Bernard Hinault used to win his 4th TDF.
WARNING the tread is Italian (14x1.25) so it would not suit a common crank.
Ayou can see they have seen some road but still in working order.
SOLD
#To suit the treads of the look pedals I have a Mavic crank (170mm-pedal thread 14x1.25) Three chainrings supplied:52/44/42.
SOLD
#A set of Mavic Derailleurs with downtube shifters, the coating is chipped on the FD and the jockey wheels are cracked on the RD, probably could do with new ones
SOLD
#A set of Mavic caliper brakes in good nick.
SOLD
#A set of Shimano(
) 105 brake handles in good nick.
SOLD
# A set of Mavic hubs, The rear one still has a rim, spokes and a maillard 700 screw on free wheel on it
# A maillard 700 screw on free wheel with an assortment of cogs.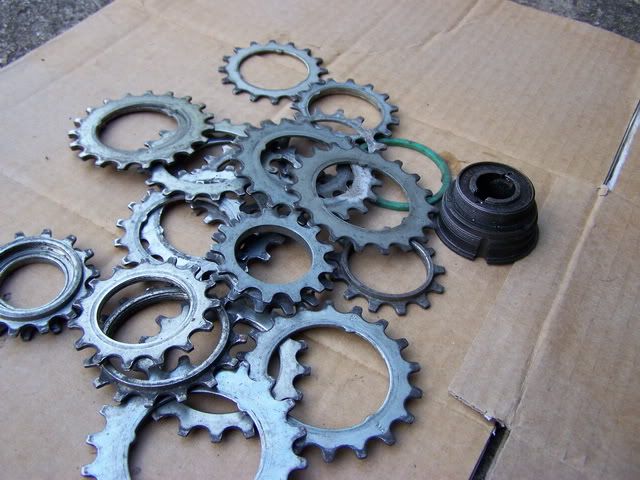 #Last but not least a set of wheels: Mavic hubs, GP4 rims (tubulars) suntour 7 speed free wheel, near new Clements tubulars on it.