News & Reviews on BNA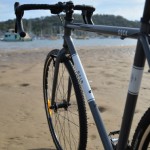 If you visit Melbourne, Sydney, Brisbane, Perth or Adelaide, you stand a good chance of spotting a Reid bike somewhere in these cities. The Australian company can still be described as a new-comer to the market, but they have expanded swiftly and are now selling in Europe and the USA as well. Reid's strategy is […]
Forum rules
Post Title Format: [Your City/Region] Item Title
NEW MEMBERS, read the
Market Place Rules
first before posting.
Posts: 111
Joined: Fri Dec 05, 2008 2:14 pm
Postby Rek » Thu Apr 23, 2009 3:17 pm
My fork is somewhat bent (wheel doesn't align with the brakes) and my headset is badly pitted. I'm not sure how much I have to match as far as sizes go - it's about 14.5cm from the top of the fork bridge to the top of the headset locknut. Wheels are 27x1 1/4", but my brakes should be ok on a 700c fork. I'm not too concerned about colour, I just want my brakes to work properly. Anyone have something suitable lying around?
---
---
---
Super Mod

Posts: 5933
Joined: Thu Oct 23, 2008 10:29 pm
Location: Geelong
Postby im_no_pro » Mon Apr 27, 2009 10:38 pm
pm kukamunga, if anyone has one lying around it's him (actually, he will probably have several
)
master6 wrote: Moderators are like Club Handicappers; I often think they are wrong, but I dont want the job.
---
Posts: 106
Joined: Wed Oct 22, 2008 4:25 pm
Location: On the plains, west of Melbourne
Postby mpa61 » Tue Apr 28, 2009 5:24 pm
I have a 27" chrome fork here you can have. The steerer is 148mm and I should be able to put a no-name headset (new bearings maybe req'd) together for you. The chrome is in good nick and they appear straight, but there is a small shallow dent (5mm dia) in one of the legs.

If you want it and are prepared to come out to Werribee, it will only cost you the price of your transportation.

MickP
---
Who is online
Users browsing this forum: snortin
About the Australian Cycling Forums
The largest cycling discussion forum in Australia for all things bike; from new riders to seasoned bike nuts, the Australian Cycling Forums are a welcoming community where you can ask questions and talk about the type of bikes and cycling topics you like.
Bicycles Network Australia
Forum Information