Looking to consolidate two wheelsets into one. Getting rid of the carbon tubs and the Mavics with the alloy rim. Looking for a set of carbon clinchers.
In an ideal world I would love if someone would take the two sets off me and give me something like a set of Reynolds Assaults instead.
In the likely event that doesn't happen then I'll sell each separately and buy my own.
Would prefer to start local; I like people to see stuff first.
First is a set of FSA RD-488's. De-stickered.
Reason for sale: Not running Campag atm and despite best efforts can't relax with tubs for long rides out in the boonies.
Carbon tubulars. Campag freehub but the Shimano freehub is available -
http://www.bikeonlineshop.net/spare-par ... wheel-body
. Weight is 1397g according to Bikeradar which feels about right. As for the rest: Extra light and medium flange hubs • Sapim bladed spokes • External nipples for easy maintenance • Artisan built entirely by hand • Aluminium cassette for Shimano, SRAM or Campagnolo • Spokes - 20 radial front wheel, 24 radial and 2 cross rear wheel • Rims - UDF Carbon weave • Hub - CNC anodised black with logos • Black spokes
Think these are 2012. I'm the second owner (got them on a bike) and to my knowledge they've only done a couple of ironmans(men) but are however still straight as a die. Also supposed to be strong enough for CX use which stands for something. Little wear on brake track.
Will also include an unused spare Vittoria tubular. Can't remember what it is. Will update later. And there's more... also throwing in my tin of Vittoria Pit Stop. And... including the Campag 10 speed cassette w/ the spacer behind.
$480 which I think is about fair. Currently on special for about $1200 on
CRC
although admittedly you can pick them up for less than that.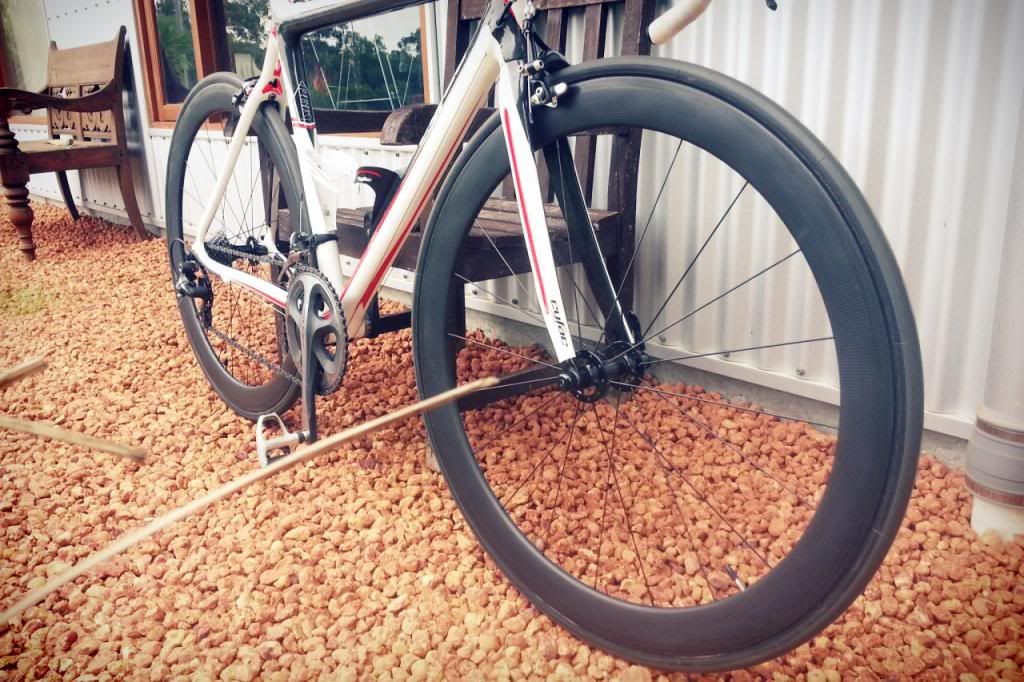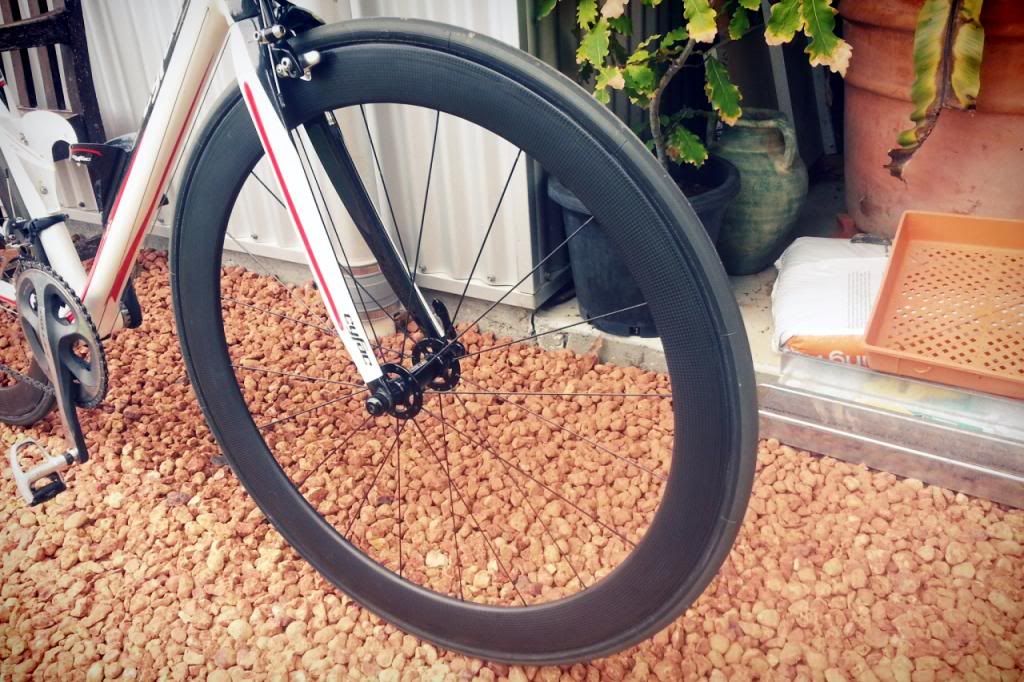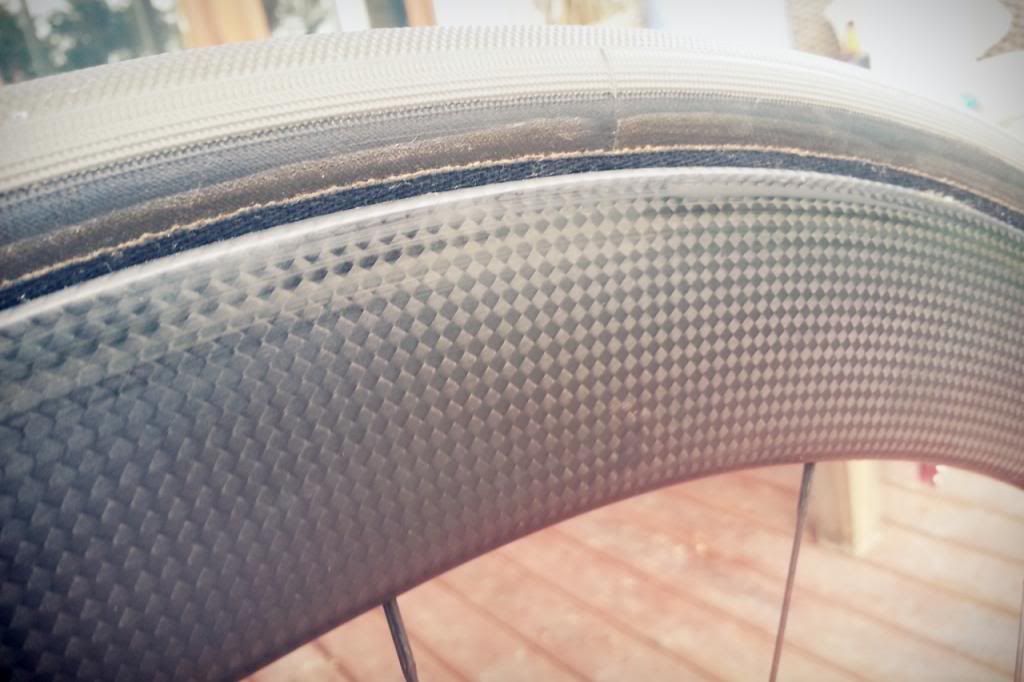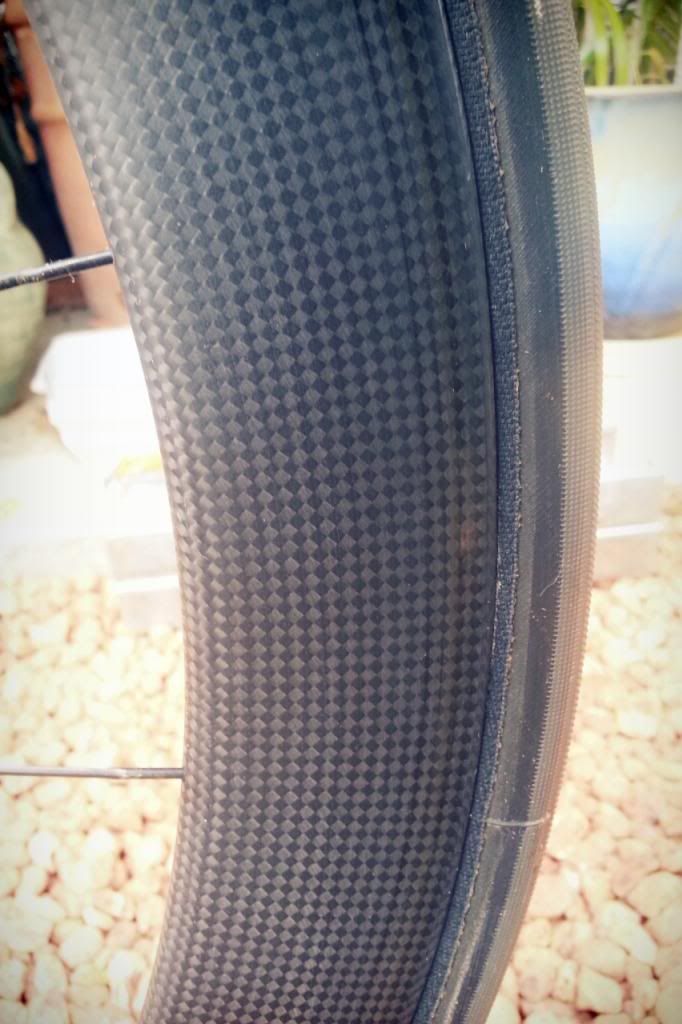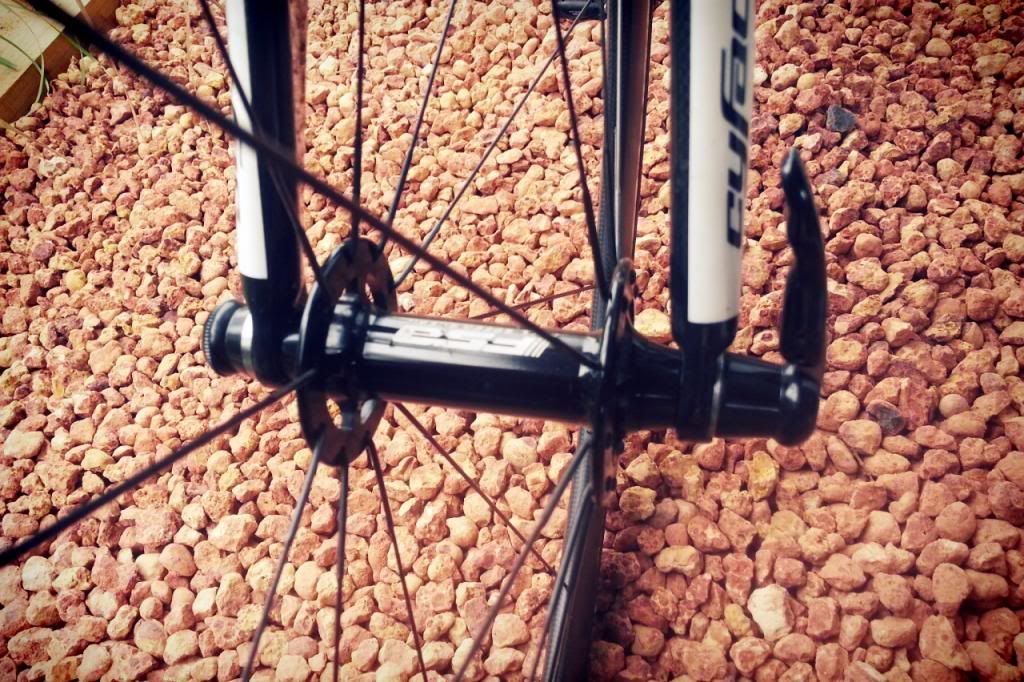 Second is a set of Cosmic Carbone SL's. De-stickered.
Reason for sale: A bit heavy for the kind of mixed rides I do but really if I'm honest because they don't look good on the current weekend bike.
Pretty much bombproof. Ally brake track. Clincher. About 2012. Second owner. Not used heavily as can be seen from the brake track which is only lightly worn. Previous owner was a skinny girl doing tri's. I've probably only done 500k's on them in the last 6 months. Despite being pretty much bombproof I have managed to put the back one out of true by about 1 / 1.5mm. Lateral only. My LBS charges 30 for a true. Hasn't been a priority for me so I haven't gotten around to it. Price I think is discounted accordingly. Taking the tyres off these. They're new and I've got plans.
$580.