Took me a while to get this thing done, but im glad i finally did, just went on my first 25km ride on it... legs are fine... my fitness as it turns out isnt
My first attempt at building a fixie went horribly wrong and ended up messing things up wrong size etc, (picked it up in my council clean up) Fleabay took care of that...
Next was after a new frame to start working on, found a gorgeous frame and forks set from Scattante in the US, but couldnt get it over here because our privacy laws dont allow people to look at home addresses from names on credit cards... (no wonder America is soooo insecure...)
that flopped, posted a wanted add on here and Martin answered my call! picked up the frame from him at the station, took it home and got to work on it!
was in great nick (besides paint...) i was originally going to paint it matte black with green bars and a brown saddle, then decided to do something different...
used paint stripper and my trusty wire brushed angle grinder and made butter from the paint and crappy hi fill! (god i hate that crap...)
(Freds heart)
Took it all off then lightly acid'd the frame to get rid off and bad crap, wax and grease remover'd it, then painted with Permalac (a clear solvent designed for use on steel and what not, UV protection, rust preventative etc...)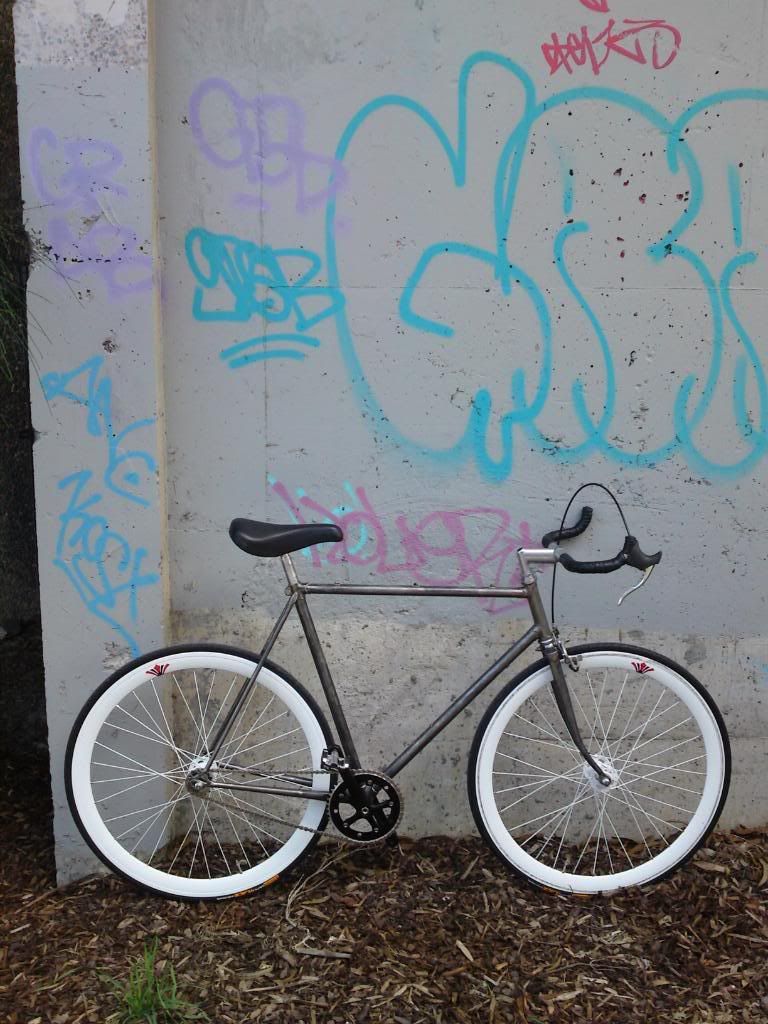 Made a bull horn bar, taped it, put front brakes back on.
Done.
Running a 46t 16t ratio,
700c star wheels (thanks fleabay)
Conti Race tyres 700x23
saddle and seat stem nfi came with it
front stem quill 90mm
brakes came with it, re positioned to suit bull horns
(
looking for new pads though... these old rubbers leave to much crap on wheel
)
Chain is a Yaban - YBN SFL410 number from
Here
Pedals are wellgo, sort of flip flop (one side for clips the other for normal shoes)
All in all im pretty pleased with it, ratio seems about right for my area, just need to get a few more hills so i can get that fitness on track!
Cheers,
Matty