News & Reviews on BNA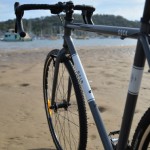 If you visit Melbourne, Sydney, Brisbane, Perth or Adelaide, you stand a good chance of spotting a Reid bike somewhere in these cities. The Australian company can still be described as a new-comer to the market, but they have expanded swiftly and are now selling in Europe and the USA as well. Reid's strategy is […]
---
Posts: 166
Joined: Fri Nov 12, 2010 11:01 am
Location: Northern 'burbs, Adelaide
Postby PeteV » Sat Dec 04, 2010 4:19 pm
WOW! Very nice! Reminds me of that movie 'The World's Fastest Indian"
Merida Ride Lite 93 2012
Mojo Urban fixed
1984 Christoff R.I.P
---
Posts: 5657
Joined: Sat Dec 19, 2009 11:12 am
Location: Sanstone Point QLD
Postby foo on patrol » Mon Dec 06, 2010 7:53 am
Good job!
Plug the bar ends though, because there is a whole lot of hurt there, if you connect with them.
I don't suffer fools easily and so long as you have done your best,you should have no regrets.
Goal 6000km
---
---
Posts: 145
Joined: Sat Jun 19, 2010 10:29 pm
Postby hewey » Tue Dec 07, 2010 1:36 pm
Thanks guys.
Still working out what I want to do for grips and will plug the bar ends at the same time.
It's a Kustom Kruiser I bought off
ebay
, and its one of the early ones which is essentially a Dyno. Basically GT owned Dyno, Scwhinn bought GT and sold off the Dyno brand which then became Kustom Kruiser. These days Kustom Kruisers have been modernised and they look terrible, and word is the quality has dropped significantly too.
---
---
Posts: 5298
Joined: Wed Apr 16, 2008 2:30 pm
Location: Cromer, NSW
Postby familyguy » Wed Dec 08, 2010 9:10 am
Top shelf, good sir. Some white leather grips for everyday use, and this is a real winner.

Jim
---
---
---
Posts: 145
Joined: Sat Jun 19, 2010 10:29 pm
Postby hewey » Fri Dec 31, 2010 5:43 pm
Went for a cruise around Narrebeen Lakes with my girl the other week, the bike rode really nice. But sunscreen and no grips makes it hard to hang on, so I levelled out the bars for now
Still working out what to do for grip tape, I liked the idea of white but next to the bike it makes the tyres look really dirty in comparison. Thinking I might just go black grip tape and a matching black seat.
---
---
---
Posts: 6916
Joined: Mon Jan 28, 2008 3:17 pm
Location: wowe
Contact:
Postby munga » Sun Jan 02, 2011 10:55 am
or these:
take my advice - i don't need it!
---
Who is online
Users browsing this forum: No registered users
About the Australian Cycling Forums
The largest cycling discussion forum in Australia for all things bike; from new riders to seasoned bike nuts, the Australian Cycling Forums are a welcoming community where you can ask questions and talk about the type of bikes and cycling topics you like.
Bicycles Network Australia
Forum Information