News & Reviews on BNA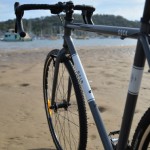 If you visit Melbourne, Sydney, Brisbane, Perth or Adelaide, you stand a good chance of spotting a Reid bike somewhere in these cities. The Australian company can still be described as a new-comer to the market, but they have expanded swiftly and are now selling in Europe and the USA as well. Reid's strategy is […]
---
Posts: 82
Joined: Mon Feb 04, 2013 12:28 pm
Postby apollocreed » Fri Mar 28, 2014 1:26 pm
Not until you try it will you know, too many factors (chainring/cog size and distance from dropout to BB)

I doubt it will unless you get the perfect chain length which is pretty hard

Just buy a tensioner if it's SS. They're like 30$ and will work alot better.
---
---
---
Posts: 82
Joined: Mon Feb 04, 2013 12:28 pm
Postby apollocreed » Fri Mar 28, 2014 5:21 pm
If you're set on this frame, it's not impossible to get it right.

You may need to try a combination of chainring and cog sizes but it's doable.

Alternatively, use a WI eccentric Eno hub and problem solved
---
---
---
Posts: 3471
Joined: Thu Jan 10, 2008 1:39 pm
Postby rustychisel » Sat Mar 29, 2014 12:42 am
1/2 link chains are seriously sh*t. A half link in a chain could make that frame work easy peasy. It depends on chainring and cog combination and chainstay length, but I reckon it'd given enough adjustment
---
Posts: 12
Joined: Sun Sep 01, 2013 9:41 am
Postby holywater » Sat Mar 29, 2014 12:33 pm
acb wrote:Thanks guys, that actually helps a lot (after checking out the WI hub etc). Soooo tempting
Another option is a Trickstuff Exentriker eccentric BB. They fit a British threaded BB shell and give you about the same adjustment as an ENO eccentric hub. They're pricey but probably cheaper than building an ENO wheel, and leave you free to choose whatever wheels you want. I have one and they're simple to adjust and work really well.
http://www.trickstuff.de/en/products/exzentriker_KL.php
---
Who is online
Users browsing this forum: No registered users
About the Australian Cycling Forums
The largest cycling discussion forum in Australia for all things bike; from new riders to seasoned bike nuts, the Australian Cycling Forums are a welcoming community where you can ask questions and talk about the type of bikes and cycling topics you like.
Bicycles Network Australia
Forum Information