I love my recumbent but frankly it's hard to transport. Got to put the rack on the car and its a fiddly thing, bike hangs off two feet either side, etc. You all know the story. I would love to have something that I could fit in the boot of my car and leave there.
I've been checking out the Cobra from TW Bents in Taiwan (sold as the Actionbent Cobra in the US). It looks amazing and there are a few good reviews of it online.
It folds up amazingly small for a recumbent (they say it will fit in the boot of a smart car).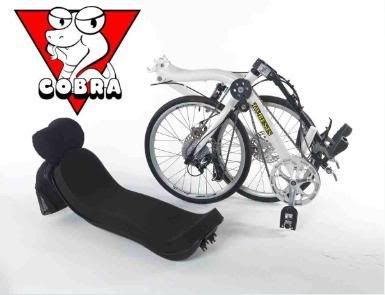 I am reluctant to get one shipped to Australia without ever having ridden or seen one though. They aren't cheap (US$1300 plus shipping probably means $2500 Aussie or so by the time it gets here).
So, does anyone in Australia have one of these things? What do you think of it?
Any alternatives available locally that anyone knows of?
regards
Danny