Hi folks,
Thought I'd say hello and show off my home-built recumbent trike, built using almost entirely scrapped, found or donated materials. This project had 3 main goals:
1. Teach myself to weld. I did some basic welding in a tafe course many years ago, but I was pretty terrible at it, so even now my welds are solid, but ugly as sin. That said, I'm in the process of building a smaller trike for my 8yo son, and they are
slowly
getting better.
2. Give myself some low-zero impact exercise for my hips and knees, while keeping my weight off my shoulders. I have an auto-immune condition that makes even light impact (such as walking for more than about 1/2 hour) pretty painful, coupled with arthritis in my shoulders. A recumbent trike seemed an ideal solution, but due to disposable income considerations, saving to buy one would take much longer than building one, even if the result looks like it should be in a Mad Max movie.
3. Give myself a project for mental health. Before my joints fouled up on me, I was a chippie, and I love building things (especially things a little outside the box). I now work very part-time, and the lack of things to occupy my mind/time was depressing me.
The only items (other than some new tools) I had to buy new were the chain and gear/brake cables, and I also had to buy two second hand (ancient) bikes to find
almost
matching kingpins, though I later bought some lights and a flag for visibility. Once my boy's frame is completed, this one will get stripped back for painting.
So anyhoo, without further adieu, here is my prototype, the "Grizzly" (so named after the design issues I encountered during the build process)...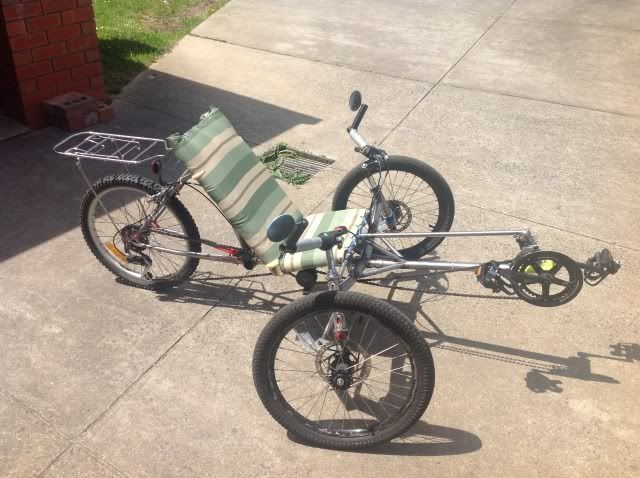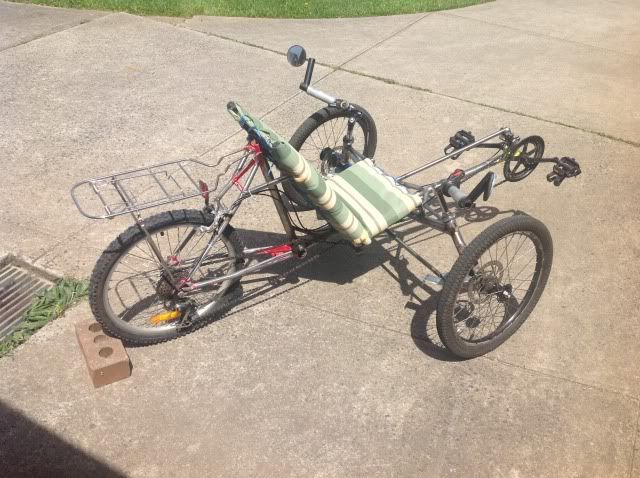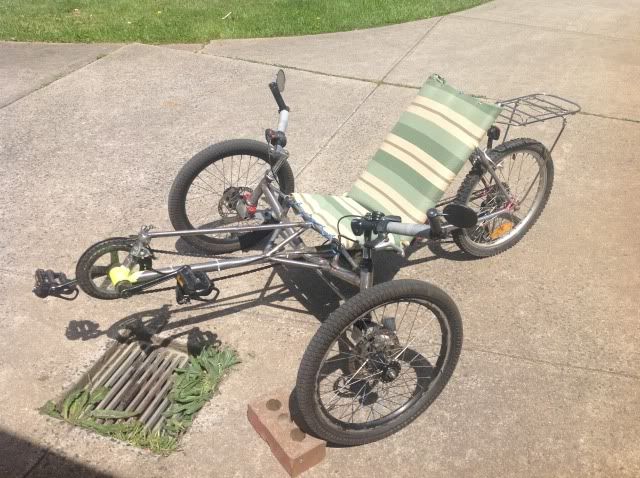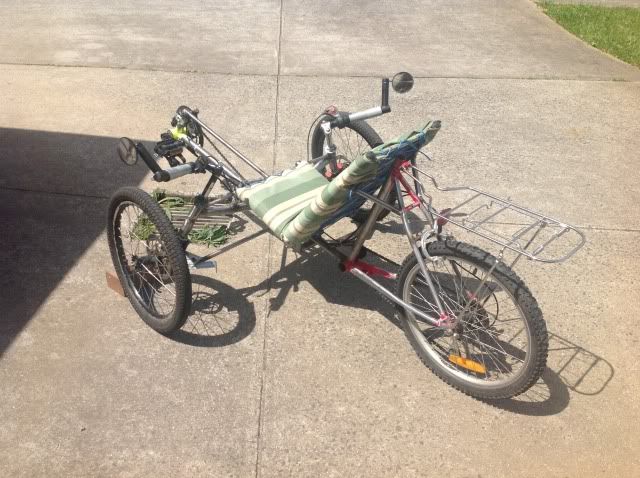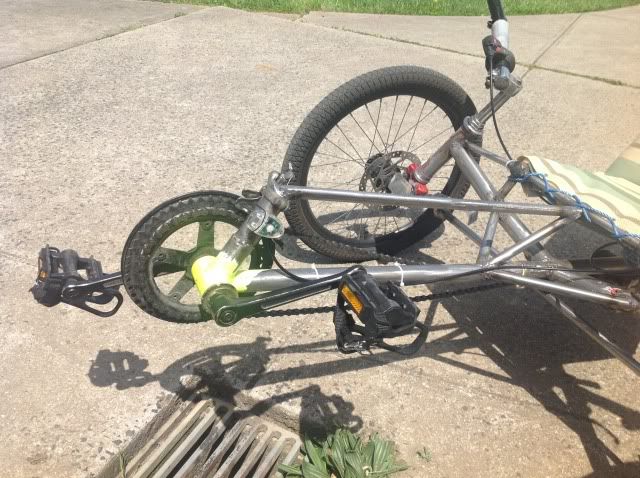 ... and what first post would be complete without a question or 2?
The idlers were sourced from an old, incomplete trike built by the students at a high-school, and I have no idea where I could find some for my son's (or future) trikes. I'm currently planning on putting some chain-grooves into nice fat skateboard wheels, but I'd prefer proper idlers, if anyone can provide a source?
Also, I'm planning a third build with rear suspension for day-trips or possibly camping, and am considering a larger rear wheel, but I prefer the look of like-sized wheels. Does the larger rear wheel add substantial comfort, given that this one would have rear suspension anyway?
Comments and suggestions would be welcomed
Cheers,
Dent.