News & Reviews on BNA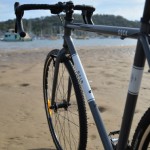 If you visit Melbourne, Sydney, Brisbane, Perth or Adelaide, you stand a good chance of spotting a Reid bike somewhere in these cities. The Australian company can still be described as a new-comer to the market, but they have expanded swiftly and are now selling in Europe and the USA as well. Reid's strategy is […]
---
Posts: 1152
Joined: Thu Oct 23, 2008 5:02 am
Location: Spearwood, WA
Postby just4tehhalibut » Sat Jun 15, 2013 2:59 pm
That'd be the one listed after all the EasyRacer porn in the OzHPV for sale section. I'd also like to know what it's like to ride but further questions: what was it built for? Racing? Commuting? Can it take and would it handle pannier racks?
---
---
Posts: 40
Joined: Sun Dec 16, 2012 9:35 pm
Postby stevenurseau » Thu Jun 20, 2013 10:41 pm
Hi
Pete Heal makes the Lizard bikes and trikes himself. He sells on ones he's not using himself and there are a few different Lizards kicking around. At ozhpv gatherings involving the Canberra mob, there are often 2 or 3 Lizards, usually lowracer bikes with tailfairings. There is a photo of this trike in action on my blog post,
http://modularbikes.blogspot.com.au/201 ... -lake.html
Regards
Steve Nurse
---
Posts: 40
Joined: Sun Dec 16, 2012 9:35 pm
---
Who is online
Users browsing this forum: No registered users
About the Australian Cycling Forums
The largest cycling discussion forum in Australia for all things bike; from new riders to seasoned bike nuts, the Australian Cycling Forums are a welcoming community where you can ask questions and talk about the type of bikes and cycling topics you like.
Bicycles Network Australia
Forum Information