Are you talking about something like the old Flevobike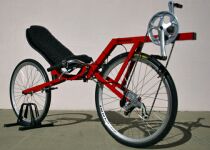 the Culty rear wheel-steered trike with lean
or the Sidewinder tilting rear steer with added lethality (according to the guy owning the Sidewinder I tried. I agreed.)
Legend is that the Flevobike was only sold from the factory, you'd first get half an hour of instruction from the resident pro rider then off in the carpark yourself. If you both survived and were happy with the bike you could buy one. Nowadays clones proliferate everywhere on Evilbay and life is much shorter for buyers. You can still buy a Culty, I had an email from them two years ago giving a price around 4000 Euros plus shipping and taxes. Sidewinder, probably defunct. If you want to look for other designs find copies of the old
EnCYCLEopedia books
, a cornucopia of bikes, trikes, tandems, recumbents, folders, interesting new products. I had already paid Greenspeed for an upcoming 2004 edition when Open Road folded up but the website now promises a 2014 print.
Build a Culty, not much welding required just many, many handlebar stems to bolt everything together. And it rides best with a beer crate underneath.
PS I have the 7 EnCYCLEopedias in Perth but on loan to HappyHumber, since he's grown a beard and aerogut and keeps annoying the velomobile thread I thought that he should learn about recumbents, they are his destiny.