Many years ago when BMX was taking off a number of Aussie manufacturers got into the scene manufacturing their own frames & providing them through retail outlets [bike shops] as either frame kits, or complete ready-to-ride bikes, or anywhere in between as per the buyers desire.
By the mid 80's the BMX fire had flared brightly & had settled down to a steady but smaller flame, resulting in a number of shops & manufacturers withdrawing from the market.
One of these frame welders, displaced when his employer withdrew from the market at the end of 1983, designed & built his own frame in 1984. It was never assembled into a bike & it remains with the builder.
In 1985 an improved version of this frame was made with two down tubes to help ensure a more distinctive design. This one was built into a bike & it was raced, .... nay, flogged by a number of riders with mixed success which was about as good as the vast majority of riders could boast.
Fast forward to 2010 & a new, 'improved version of the 1985 frame has now been built, firstly from stainless steel as a 'dimensional mockup' to ensure that the old school parts would all fit.
They did.
Next, some serious work was done to produce a couple of professional quality assembly jigs to allow manufacture of a small number of 'production' frames. One jig to assemble the rear triangle components & another for the front triangle & also to mount the rear triangle for final assembly.
This new frame is now known as the TTR for "Twin Tube Racing". The first 'pattern' frame has been made & I am assembling it into a bike for the purposes of it becoming the photographic model to allow enthusiasts to see what it looks like. After this it will be dismantled & the frame will be stored for use as a pattern to ensure that the adjustable jig can be reset to the correct dimensions after it has been used for repairs to other frames.
The remaining four of the first five are allocated to the frame builder & three fortunate recipients.
Anyone who has an interest in these would be advised to read through the relavant thread in this
Aussie BMX forum
for a much more detailed story & contact details.
After the first five have been built the builder will make these frames available to customers order.
This is the first, & at this time, the only frame.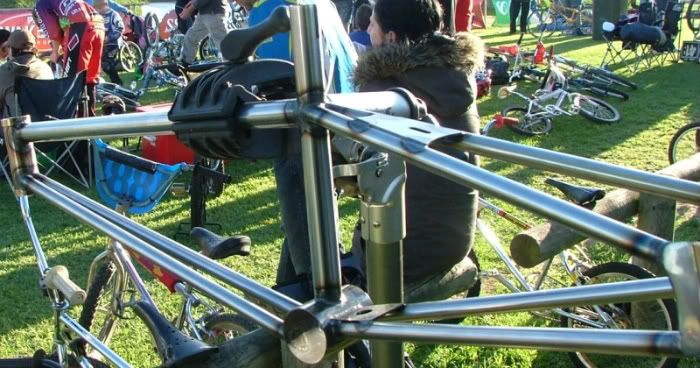 This is it partially assembled. It must be remembered that it is an old school frame of recent design & manufacture. New school parts are, in the main, not compatible.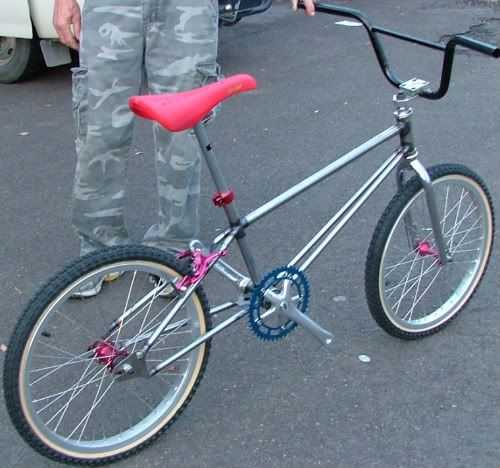 TTR, brings back the good times.