My brother and I have been getting into leather-work of late so the other week we decided to combine our love of bikes and leather and make some saddle bags. I've found that leather is such a great material to work with as there is so much you can do to it and you're only limited by your imagination. It took some time to work out how to make it and designing it to fit our needs, especially how to go about making the side pieces. After a few nights of sketching and researching we got started. Down to the local leather store to buy a whole hide of vegetable tanned leather (it doesn't come cheap). We decided that we wanted the side pieces to be recessed and as such spent an afternoon making a jig out of wood to mold the side pieces. Each piece took a few days in the jig to ensure that the leather would stay in shape.
The pieces were cut out from a template my bro had drawn up in Autocad. All the edges of the leather have been bevelled and burnished to get a nice smooth edge and to lock the fibres in and avoid fraying.
We ran the stitch groover around the edge for both aesthetics and to recess the stitching.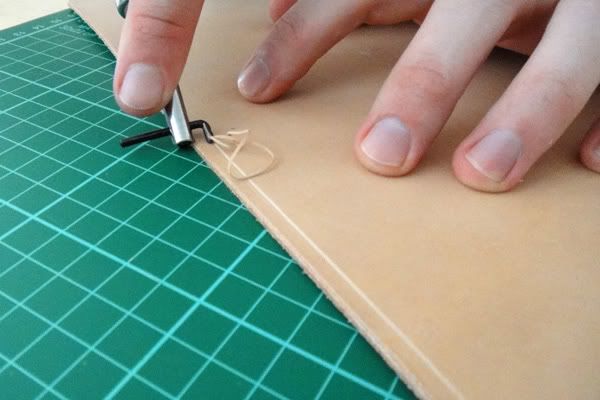 Every single stitch hole was marked out and punched separately by hand.
After all the pieces were ready we had the dilemma of which colour to dye it. I went for a dark walnut which has really drawn out the grain in the leather giving it a really cool look. My brother opted for a deep brandy which I feel looks very classic and timeless. There are lots of different coloured dyes out there; black, tan, natural and in particular honey, which I reckon could all look great. We polished it up to a gloss with some leather polish to seal in the dye and to protect the leather. With time and wear I can imagine that it will really bring out the true character of leather as I've already noticed on my brothers one. There's some subtle crease lines starting to emerge where the lid folds over the top as well as where the buckles are on the straps. I'm looking forward to see how it weathers in a few months time.
We used a stitch called a saddle stitch and is apparently one of the strongest in the world and can only be achieved by hand sewing. It's kind of therapeutic to sit for an hour or so in the afternoon, with a cold beer, slowly stitching away.
We used rivets in each corner for added strength and to lock the stitching in place. The leather store had heaps of buckles and rivets to choose from. We decided on the bronze style rivets and brass buckles to really accentuate that classic feel. All together it took nearly a full day to make one of the bags (not including the time to mold the side pieces) but we're really excited about the outcome.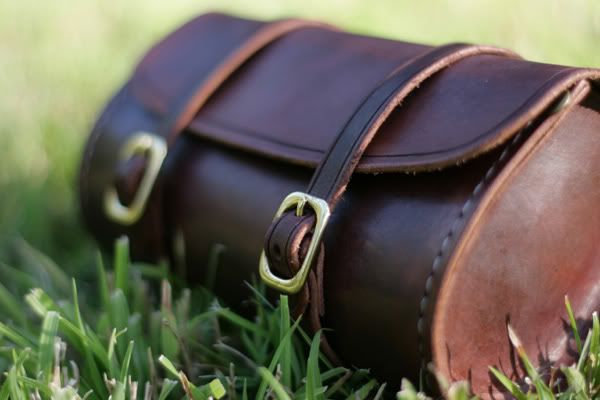 There's enough room in there for all the necessities, or perhaps a packed lunch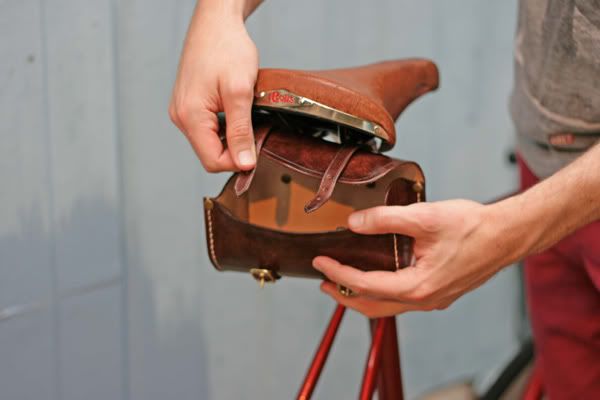 I reckon it goes quite well with my recovered Selle San Marco Rolls saddle.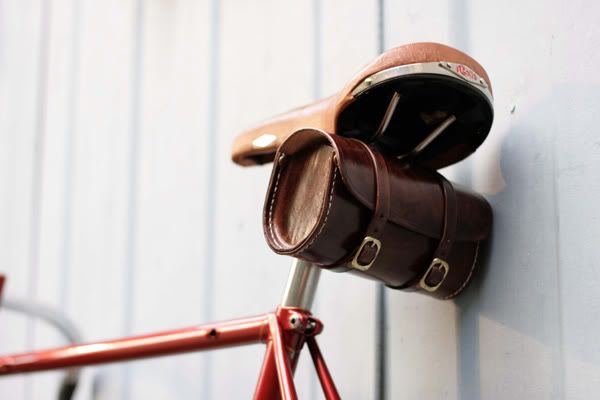 The photos doen't give an accurate portrayal of the colours. In person they are really deep and rich. There's a tan coloured one in there as well from my first attempt.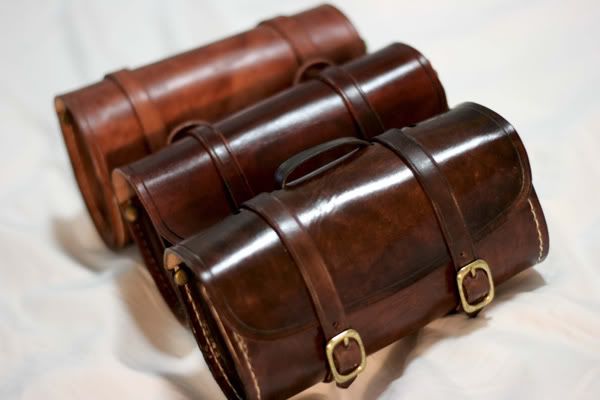 100% cut, bevelled, burnished, dyed, polished, stitched and assembled by hand
After all the hard work it's time to go for a ride and enjoy the spoils.
We might be looking at making some more. If anyone is interested PM me.