News & Reviews on BNA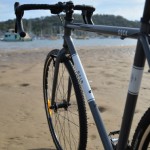 If you visit Melbourne, Sydney, Brisbane, Perth or Adelaide, you stand a good chance of spotting a Reid bike somewhere in these cities. The Australian company can still be described as a new-comer to the market, but they have expanded swiftly and are now selling in Europe and the USA as well. Reid's strategy is […]
---
---
Posts: 1186
Joined: Sat Jul 21, 2007 12:45 pm
Location: Canberra ACT
Postby thomas_cho » Sun May 11, 2008 10:10 am
A set of hex wrenches will do 80% of the parts.

You then need specific tools to remove your crankset, and bottom bracket.

If you want to remove the headset as well, there are some DIY instructions on the web, otherwise there are also dedicated headset removal tools that you can buy, as well as the installation tool.

Or you can just strip as much as you can with the hex wrench, bring the bike into your LBS and ask them to remove the rest. My LBS will do it for me free, as its just a 5 min task with the right tools.
---
Posts: 17152
Joined: Thu Aug 31, 2006 7:31 am
Location: Sydney AU
Contact:
---
Posts: 1935
Joined: Wed Jan 09, 2008 9:20 pm
Postby Crawf » Sun May 11, 2008 5:15 pm
I'm finding my Cell Team frame to be a very harsh ride hence the move to a new frame.
It's running full 105 group set, should I expect the bottom bracket to be the hardest part? And assuming it's english thread right?
Absolute newbie here, but I'd like to give it a crack then hit up the LBS if I hit a wall.
---
Posts: 2025
Joined: Mon Nov 05, 2007 12:36 pm
Location: Alice Springs, NT
Contact:
---
---
Posts: 2025
Joined: Mon Nov 05, 2007 12:36 pm
Location: Alice Springs, NT
Contact:
Postby sandman » Sun May 11, 2008 9:16 pm
I got it from
Chainreaction
The tool on
ebay
is for Hollowtech II which is exactly what the park tool is for therefore it should do the job. Just note, its made out of stamped metal, they can be a bit flimsy. I've used cone spanners made the same way and they wear out pretty quickly, the Park tools are **definately** a cut and of course price above the rest but they will last.
Cheers..Pete
---
---
Posts: 21392
Joined: Tue Jun 05, 2007 1:55 pm
Location: Fremantle, WA
Contact:
---
Who is online
Users browsing this forum: No registered users
About the Australian Cycling Forums
The largest cycling discussion forum in Australia for all things bike; from new riders to seasoned bike nuts, the Australian Cycling Forums are a welcoming community where you can ask questions and talk about the type of bikes and cycling topics you like.
Bicycles Network Australia
Forum Information