Just in case anyone is interested, I'm in the process of converting my bike to a drop bar.
(I'm documenting this and not out there doing it right now because I'm waiting for a new front brake to turn up in the post, one that suits a drop lever)
Why? well, I'm up and down some hills on my regular ride (daily commute), so some different hand positions will be nice. And, just because
Here's the unwitting recipient, an Avanti Blade 8 from 2007 (not the 5 year old). It runs a Shimano Nexus-8 hub gear (an older version one, SG-8R20). I've already done a front fork swap and disc brake conversion, and a suite of commuter-y additions.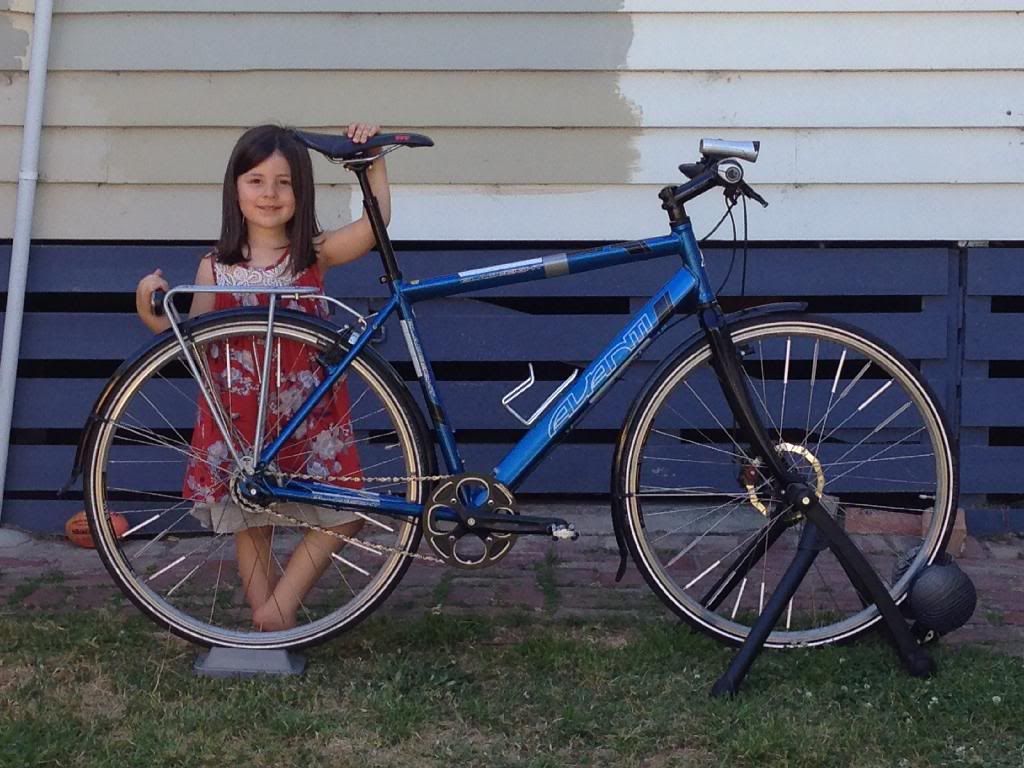 Being a flat-bar, the (effective) top-tube length is greater than a typical frame of that size, about 600mm; I estimate I should be on about a 58 cm frame under normal circumstances. Since the stem needs replacing anyway (due to a change of handlebar diameter) I went for an 80mm stem (existing one is 110mm).
The levers are Versa VRS-8, which are a modified Microshift lever; different cable pull for the hub gear and the left lever is gutted as it doesn't need to do anything except brake.
The only other real options are the Jtek bar-end shifter, and Shimano's own Di2 hub-gear components, but I'm not quite ready (able) to cough up for that!
Feeling them, the upshift lever (the big one, reverse of a derailleur cable pull) requires a decent swing to click to the next gear; this wasn't really news to me as it has been commented on by others. The downshift (cable release) lever just requires a quick tap of the knuckle; great for dumping several gears at once.
Here are the bars being built up: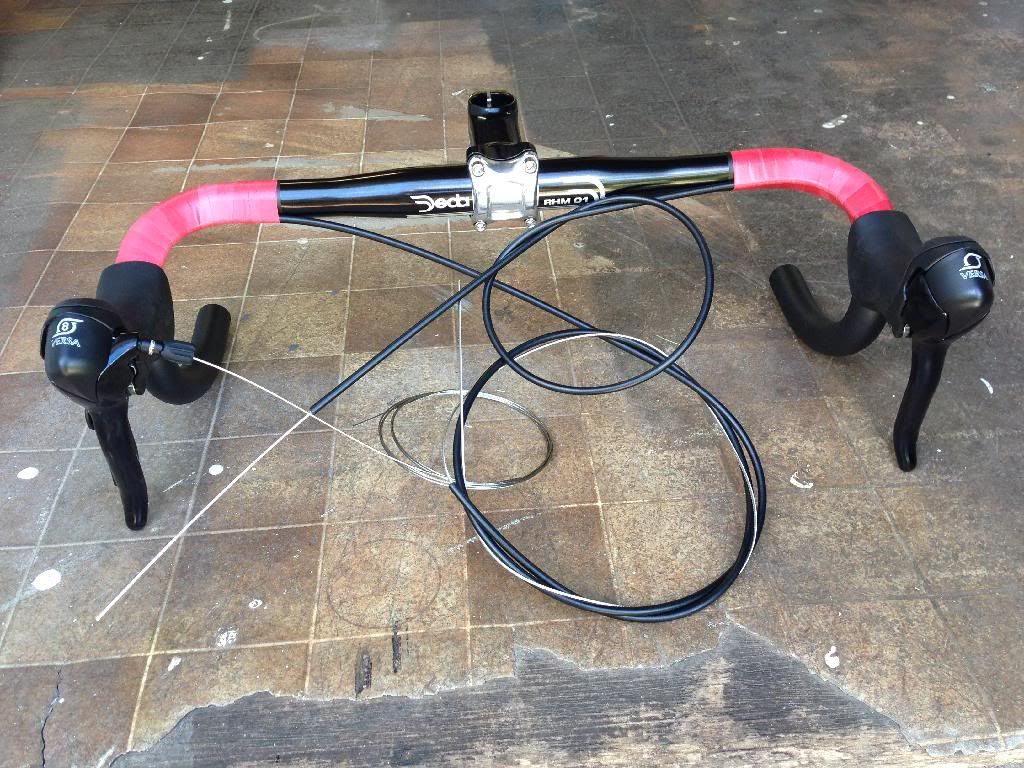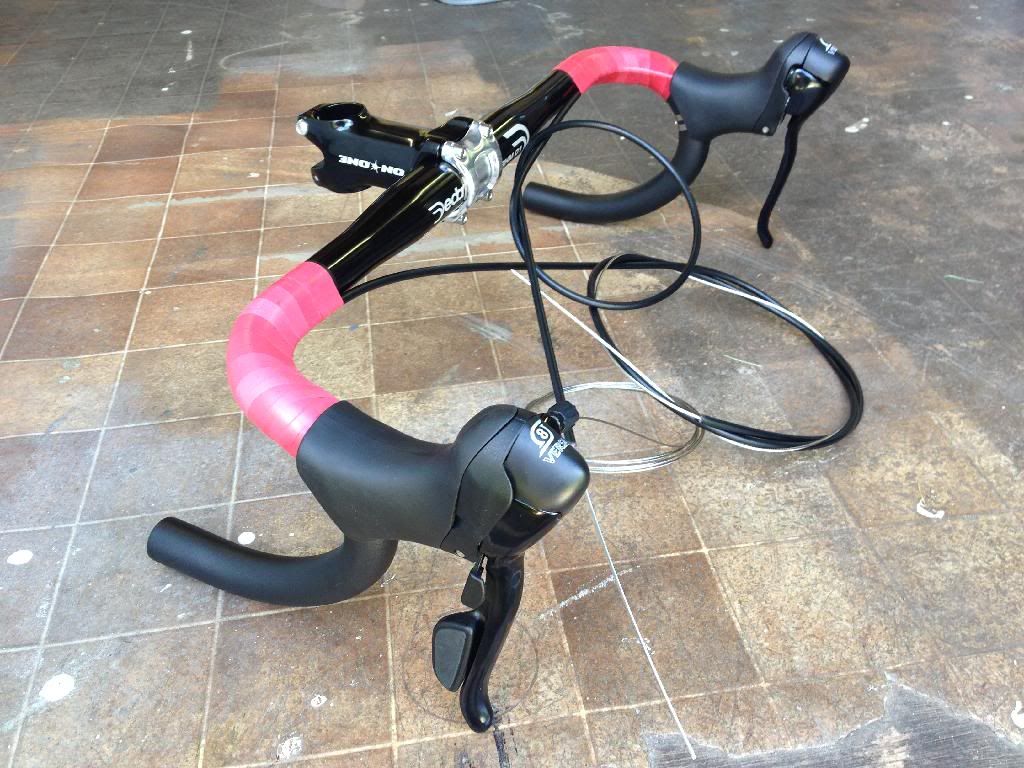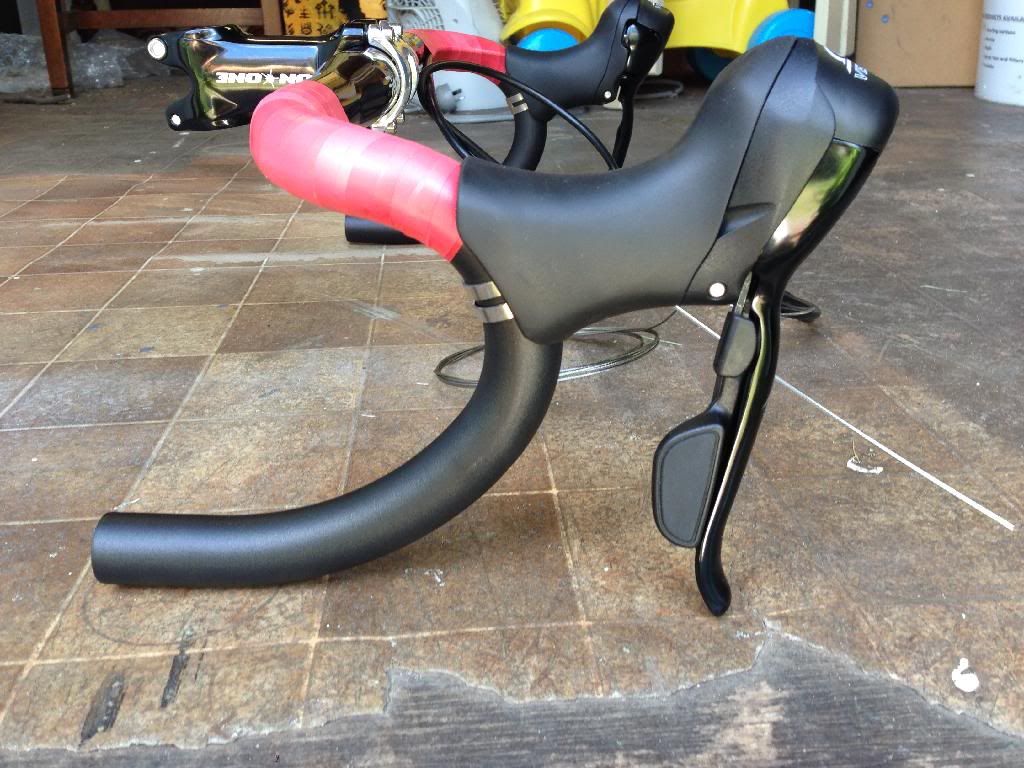 Bars are Deda RHM-01, nice shape and very cheap.
The levers come supplied with the shifter inner cable, which I believe uses a Campy-size head (not a Shimano sized one). I had to add an outer shifter cable (full length) to the shopping list.
Brake cables are a Clarks kit; nothing particularly special about them apart from being stainless and low cost. Pondered compressionless cables but they aren't very cheap in the required (full) lengths.
I've got an Avid BB7 Road brake on order (existing one is the MTB version of the same). I also pondered a TRP Hylex brake on the front end (Mmm, hydro!) but the hood shape is quite different. Again, not quite up for getting Shimano hydro road brake Di2 levers, which aren't even on the market yet...
The rear brake is a Tektro RX5 (mini-V with 85mm arms, similar to a cyclocross sized v-brake) so it should be fine in combination with the new levers. I have an adjustable noodle to install, as I would otherwise lose cable adjustment with the new levers.
Next step is learning how to tape the bars, though I might leave this until I have the front brake and can mount the stem on the frame instead of working with it on my lap/bench. And maybe after confirming that all my brake cabling is good...
More soon I hope!